REVIEW OVERVIEW

SUMMARY
Industrial Hemp Farms is a company based out of Colorado, offering a variety of hemp-based products including delta 8, CBD, THC-O, and other alt-cannabinoid consumables in forms such as pre-rolls, edibles, dabs, and dry herb flower. They were good enough to send us along samples of some dry herb delta 8 flower for us to try out.
To cut to the chase: I'd rank the outcome in the firmly mediocre category. You have likely had better. However, I have also had worse. If this came from some other state, like Michigan, I'd consider this product more of a standard average. But from Colorado? Come on, you have to have better resources there that would allow better quality than this.
Pros:
Ships across the US
Decent potency
Cheap
Cons:
VERY dry
Brick-weed quality
Grassy taste
Weak, artificial flavor
Recommendations: Put some TLC into this instead of the bare minimum.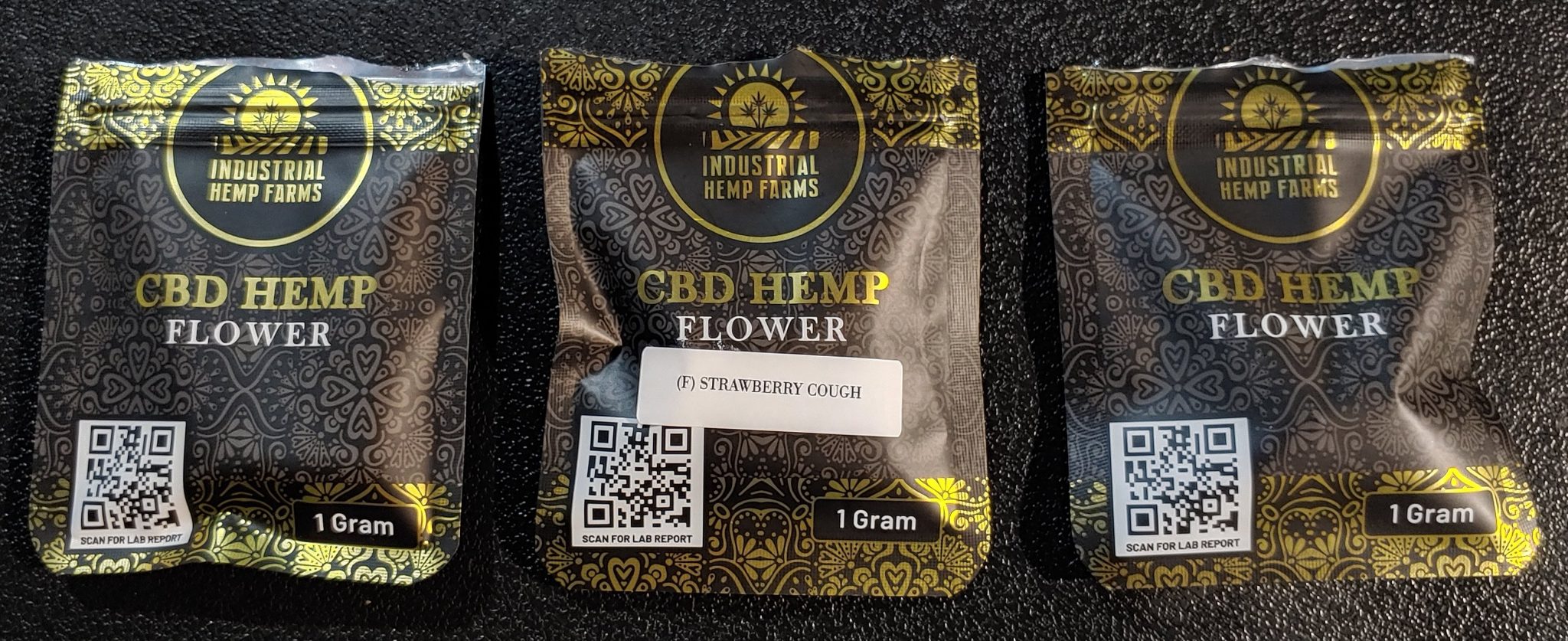 If Prison Commissaries Sold Weed…
Before we go on, most of the issues I found with this product might be with packaging.
When I go on the Industrial Hemp Farms website, I see that their product comes in various sizes up to an ounce. For all I know, they might graduate packaging up to sealed jars, which is how some delta 8 flower ships that I have seen. The tiny 1-gram packages, in any case, are these little cheap ziplock numbers that look exactly like the kind of packaging you would expect for K2/Spice type products and sketchy gas station offerings.
This dry herb, all three varieties, arrived DRY. Like, the driest flower I have ever seen. They were brown little nuggets that crumble to the touch, no grinding required. The consistently was that of dusty wind-battered tumbleweeds blowing through an old Gold Rush ghost town at high noon. There was no little moisture-protecting agent / terpene shield in the packaging.
Maybe this isn't the case with sizes bigger than a gram. I've seen other reviews with different packaging. And to be fair, Industrial Hemp Farm's prices for a gram run as low as $4 and change. So at rock-bottom prices like that, I can't expect too much.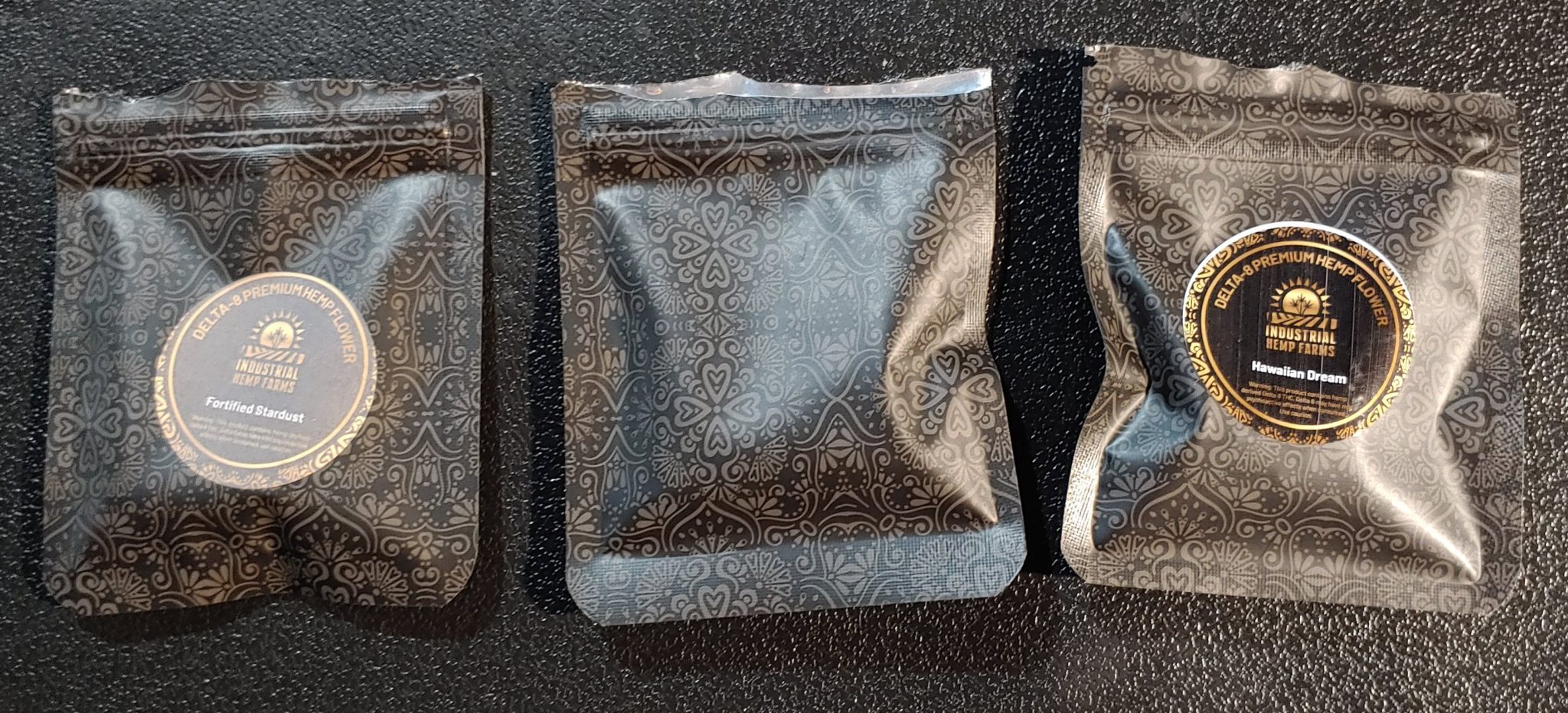 Labeling and Testing is a Jumbled Mess
The strains before me were Hawaiian Dream, Strawberry Cough, and Fortified Stardust. Now, there seems to be a lot of confusion in the packaging. For one thing, you will notice from the photo that they seemed to run out of Strawberry Cough labels. Then the packaging says "CBD Hemp Flower" but the stick-on label says "delta 8 premium hemp flower."
On the site, there seems to be some difference between "fortified" delta 8 strains and regular ones. I'm going to assume, like all delta 8 hemp products, that it was produced by applying distillate of delta 8 to regular hemp. Perhaps this is what "fortified" means to them, but the site isn't clear on strain info either. Fortified Stardust is marked as having "28.52% Total Cannabinoids" while the other 2 strains lack this information.
I'm further baffled by the quantities for sale. They range from the 1-gram packets all the way up to one strain sold by the pound only, priced at $1000/pound? That's "Fortified Sour Glue" rated at 6.7% delta 8. Meanwhile the Fortified Strawberry Cough (no non-fortified listed) is only listed available as an ounce or a pound – yet you see I have Strawberry Cough in a gram packet. I have no idea what is going on with that.
Really, the website and packaging both just have sloppy, slapdash standards of organization. There are QR codes on the packaging that didn't work with my scanner, but I did find lab results for just the Fortified Stardust.
Still Gets the Job Done
With all of the above having shot down my expectations into the pit, I was at least picked up a little when I tried the flower. It smokes decently smooth, but still a little harsh. The Hawaiian Dream had a far more potent, skunky aroma while both Strawberry Cough and Fortified Stardust had weak aromas. The taste on all three were nearly indistinguishable.
The effects were potent enough that I'd trust all three strains had delta 8 in the 20-30% range, with very weak entourage effects. All of them left me feeling like they were Indica, giving me a lead butt anchored to the couch, very relaxed. The high comes quickly, but also wears off quickly. My sense is that this might have been older hemp with some of the cannabinoids degrading into CBN.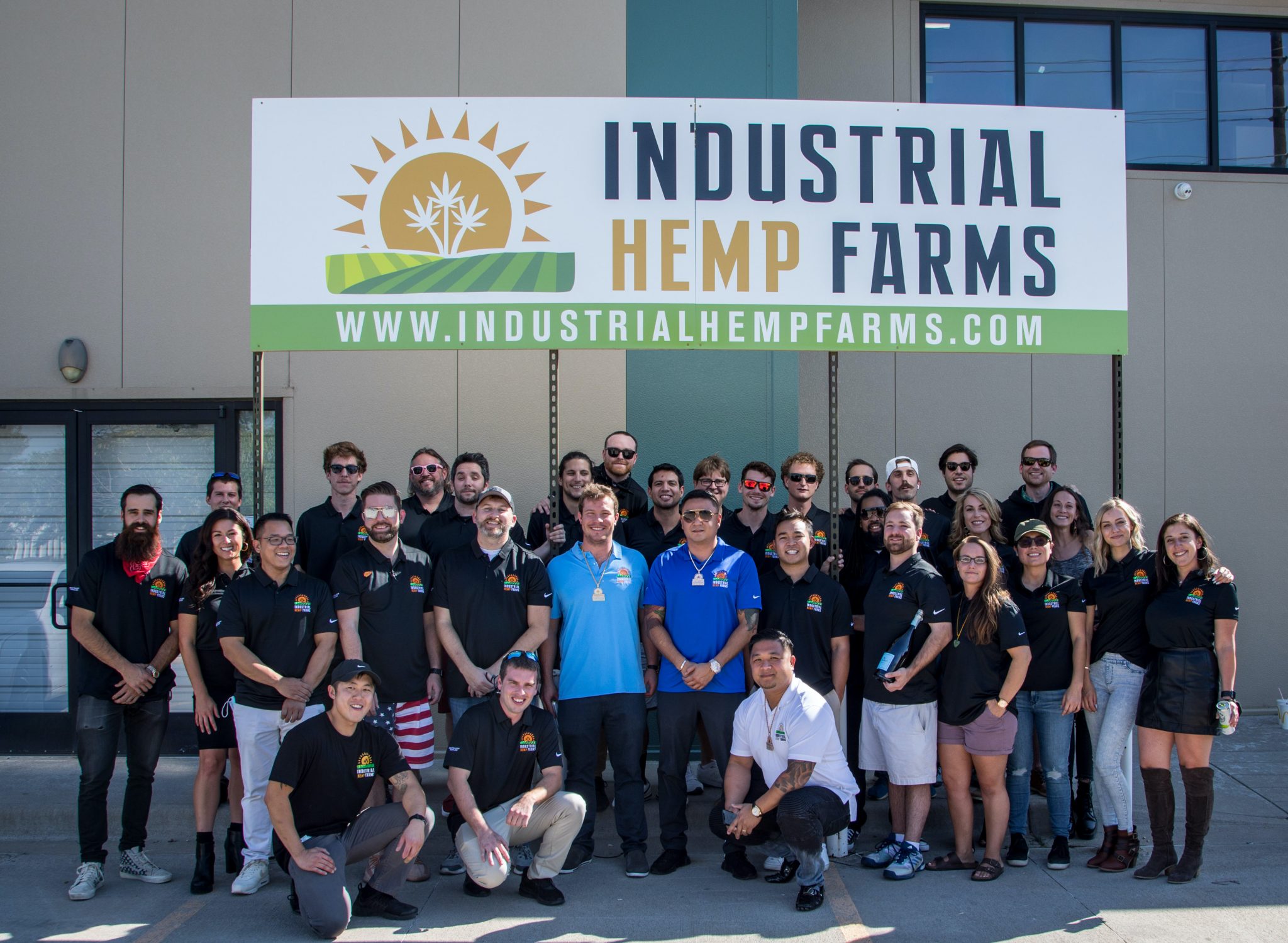 I Just Expect Better From Colorado
Industrial Hemp Farms share on their About Us that they are "Top 3 worldwide distributors of hemp flower and extracts" and boast sales of $30 million annual. Well guys, you had me guessing, because I have tried flower from companies one-tenth that size that had superior quality. This was about as poor as you can get and still call it "delta 8 hemp."
I also detect some affiliation between Industrial Hemp Farms, 3Chi, and Plain Jane.
The sole saving grace with this hemp flower is that I have had worse, such as Hemp Living USA, whose standards were rock-bottom ghetto when I first met them and have dived lower since. Industrial Hemp just manages to flail itself above the lowest bars for quality. I've had far better from Botany Farms and with PharmaCBD.
Bottom line: A very mild recommendation if you are in the market for very economical hemp flower. However, look, they're based out of Colorado, one of the weed meccas of the world. I have had flower from Colorado that made my whole month. You just have better options out there. Find their products for online order here.
Readers, share your buzz about Industrial Hemp Farms, delta 8 flower, and general herby matters here in the comments or in our wild west of weed forums.