REVIEW OVERVIEW

SUMMARY
Here we are back again, my flock of merry stoner Christmas elves! This is our 3rd Hemper product review of the week, this time with the Vapor Station, the latest thing in dab straws (or nectar collectors, honey straws, etc.). I'm pretty sold already, even though dab straws are second to dab rigs in my personal preference.
Check out our full video review of the Hemper Dab Straw here.
Pros:
Looks awesome
Efficient
Easy to use
Comes in 4 colors
Reasonable price
Cons:
Questionable durability over time?
Recommendations: Add a bit of detail to the instructions, regarding disassembly. Otherwise, outstanding!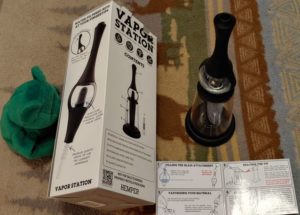 Well Designed All-in-One Setup
Given that most dab straws tend to be just the unit itself, the Hemper Vapor Station is a one-stop deal which makes using a dab straw so pleasant, you just might switch from your dab rig. Unpacking from the handsome box, you have 3 main parts: The dab straw itself, the base, and the quartz tip which is taped separately in the package. You stick the quartz tip into the end of the rubber unit and assembly is done.
Wait, there's one more step before you start dabbing. You have to fill the glass sphere with water, about 1/5th full should do it. The instructions are clear on that, they show it freed from its rubber housing. Well, if you're stumped at how that comes apart, let us demonstrate (my spouse Mrs. Penguin helps demonstrate):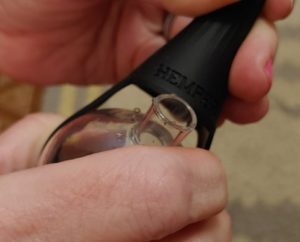 That rubber is stretchy! You just pull from one end so the ball and its two stems on each end are clear, move it to the side, and the ball is freed. Fill it from the top side (the inner percolator is on the bottom) and replace.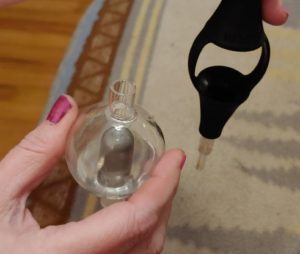 This is my only concern about durability of the unit over time. The rubber stretches like a bungie cord, and we all know that rubber loses some elasticity under continued stress. However, my guess is that you're not going to be changing the water every time, and the rubber seems resilient enough to withstand a few tugs. It is an interesting and innovative design choice, for sure, and simple to use. So I can't fault them for taking a chance on this element.
The base is a sturdy construction of glass and rubber, and the dab straw fits into it like a rose in a vase, while it's also perfectly balanced so it can rest securely sideways on the glass sphere. This is a thoughtful design, letting you set it down in between dabs and before cleaning it. The quartz tip pops out, so clean-up is a simple isopropyl bath for the tip.
The base also disassembles into a dab tool, concentrate cup, and the glass part of the base, which still functions as a stand for the dab straw. You see where the design all comes together, minimalist and yet just the right bit of features.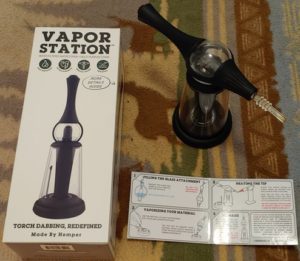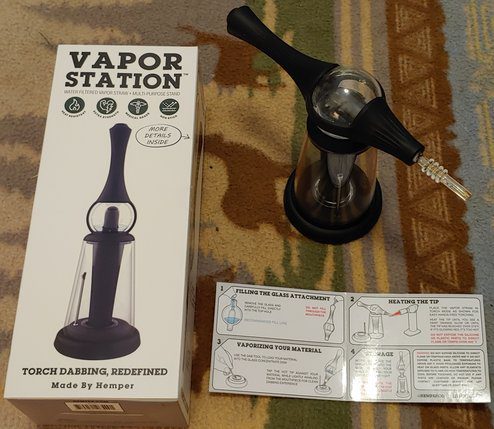 Dabbing is a Breeze With the Hemper Vapor Station!
Most honey straws I've tried before seem to have hit on either end of an extreme spectrum, either so feature-poor that they're primitive, or so over-featured that they're fiddly. The Hemper Vapor Station just hits that sweet spot, and looks outstanding while doing it.
Despite the provided concentrate dish, I opt to vape straight out of the original containers. One difference between using a full dab rig and a nectar collector is that you can switch concentrates and take a puff here and a puff there. With a dab rig, you're doing a whole dab for a whole session. Dabbing out of your extract collection is like a little buffet.
The airflow is great, taste comes right through. The rubber is also flexible, which allows you to bend the neck a bit for a good vapor-sipping angle. Every part breaks down so it's a cinch to maintain, and the glass is nice and thick, while even the bubbler ball is encased in thick rubber, so it might survive the occasional drop.
The unit, even at rest, has a vaguely space-age aesthetic. It's just good clean fun to use.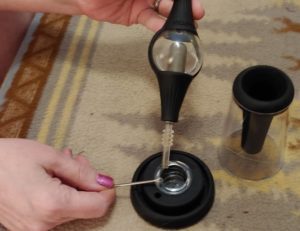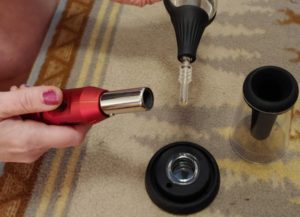 The Hemper Vapor Station Gets a High Recommend
At $59.99, the Vapor Station is reasonably priced for what you get. Notwithstanding my skepticism about the enduring elasticity of the rubber, this dab straw is easy to use, easy to maintain, fully featured, and looks absolute boss on your coffee table. (When can we start calling it a "dab table"?) If you've been waiting to try out a dab straw, this is great for beginners and will please veteran cloud-chasers alike!
Find the Hemper Vapor Station here.