REVIEW OVERVIEW

SUMMARY

The FlytLab Stik is a smooth battery that performs amazing and potent hits. Having a large atomizer, each hit guarantees a satisfying experience.
The FlytLab Stik dab pen is a very simple, sleek and easy to use pen primarily made for concentrate. Giving strong and potent hits, this battery has a large capacity atomizer, allowing for a bigger and heavy pack. Although it does have a high price tag, its performance and efficiency is currently unmatched.
Pros:
Packs heavy hits
Burns smooth and evenly
Simple to use
Neat and discreet design
Cons:
Gets dirty easily and quickly
Mouth piece clogs up frequently
Price
Recommendations: A lower price would make it more attractive to more people.
Unpacking the FlytLab Stik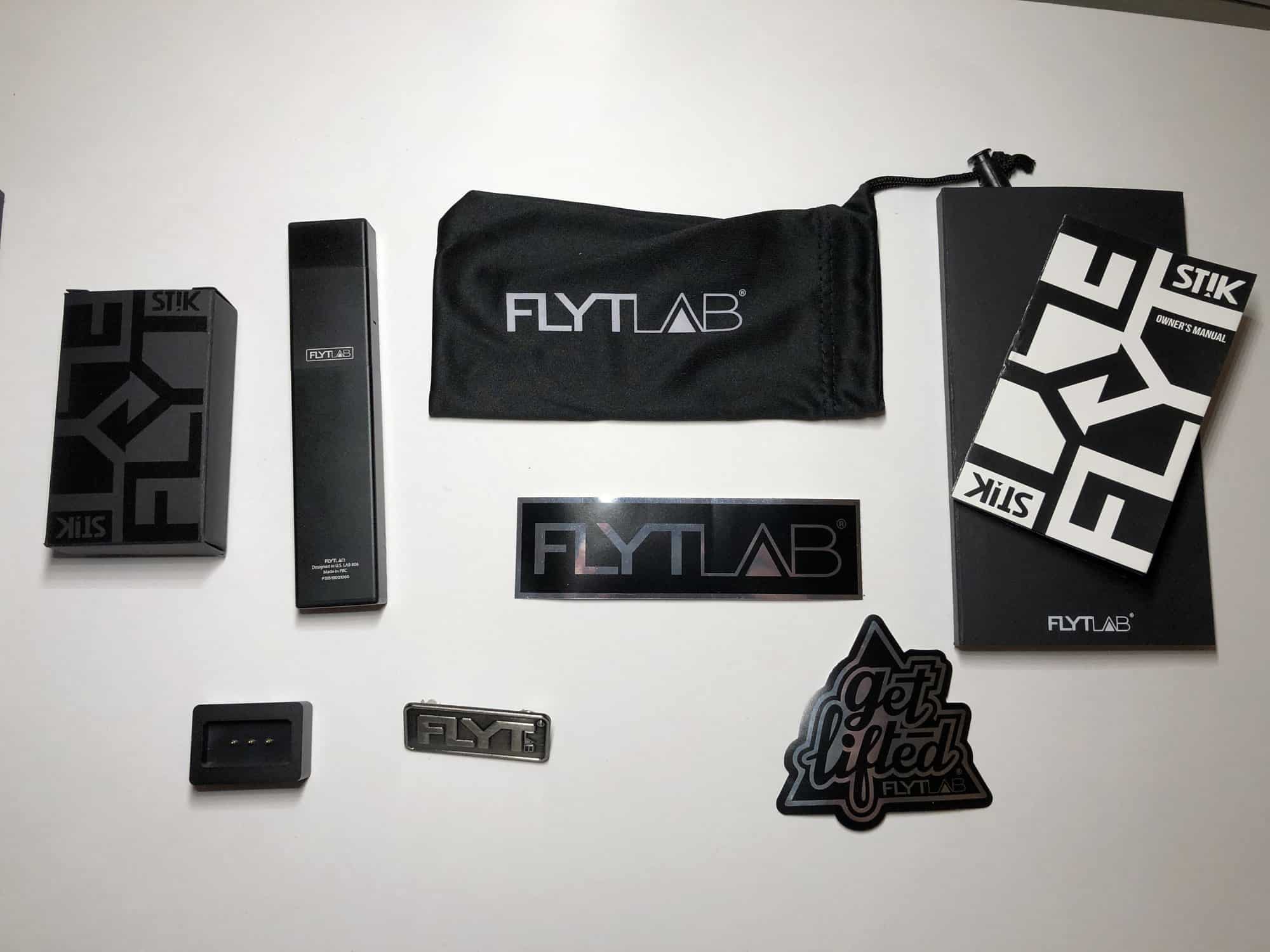 Unboxing the FlytLab Stik amazed me as to everything that comes with it. Furthermore, the FlytLab comes with the battery itself, two atomizers, and charging cord and dock. It also comes with a few nice stickers, a small portable dab tool and a hat pin! The fact that it comes with 2 atomizers is already nice, the other merchandise it includes is just a plus.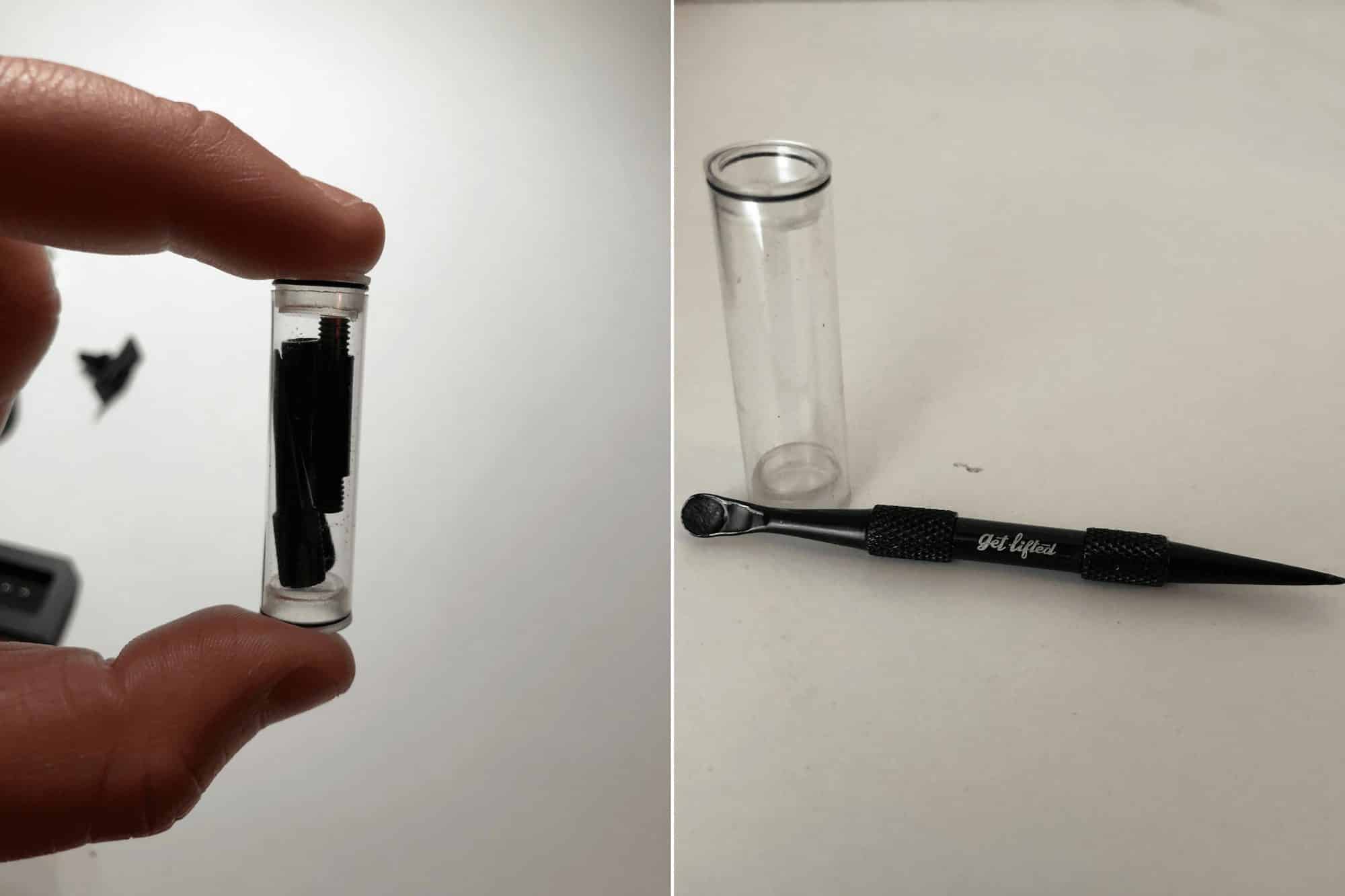 Another thing it comes with is a plastic cover to help enhance airflow. This battery already comes with one and is located underneath the mouth piece. At first, I had no idea what it was for but while cleaning it I accidentally pulled this piece off. I did try hitting it without this piece on, but each hit wasn't nearly as satisfying as with it on.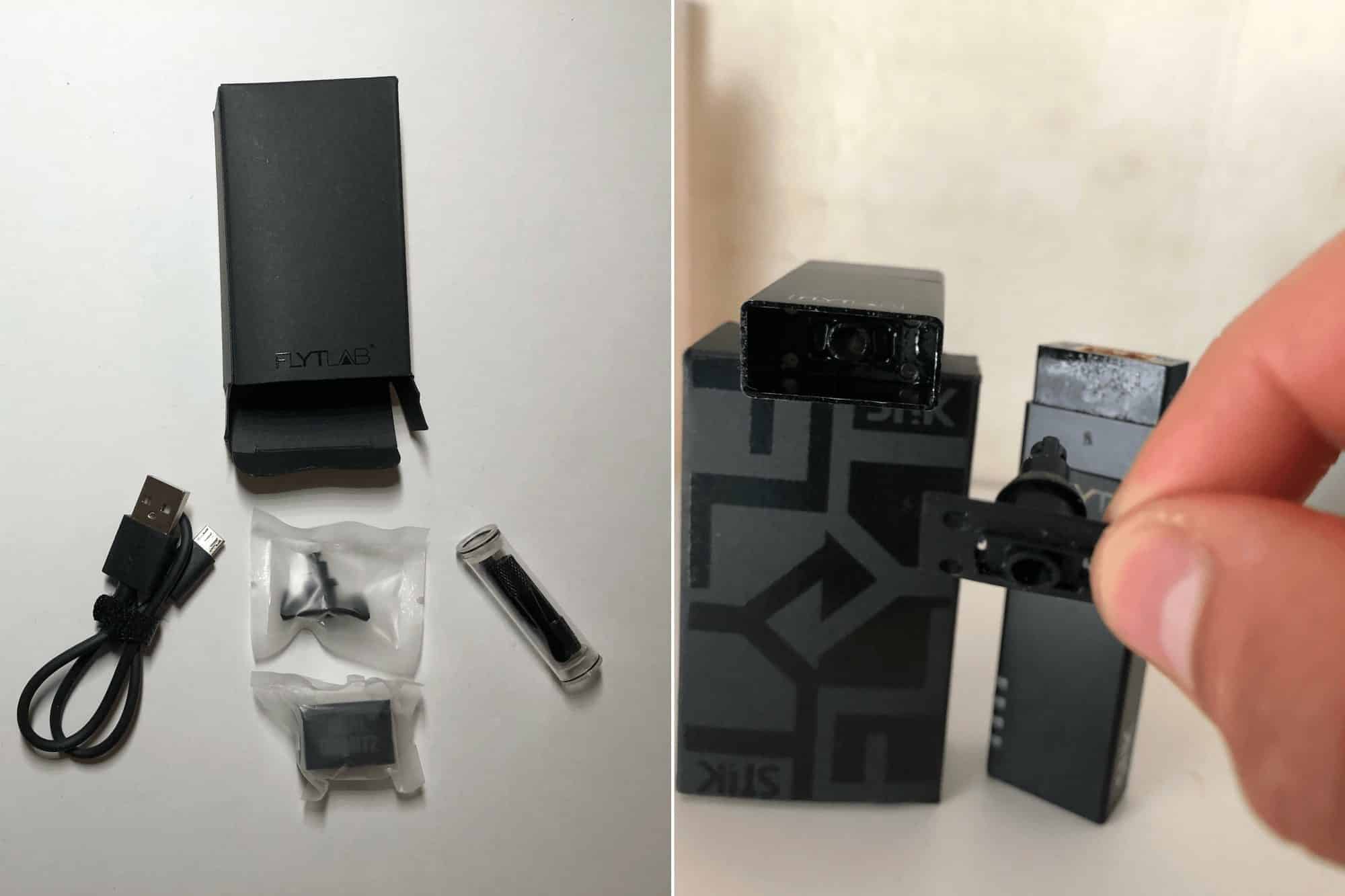 A simple and convenient design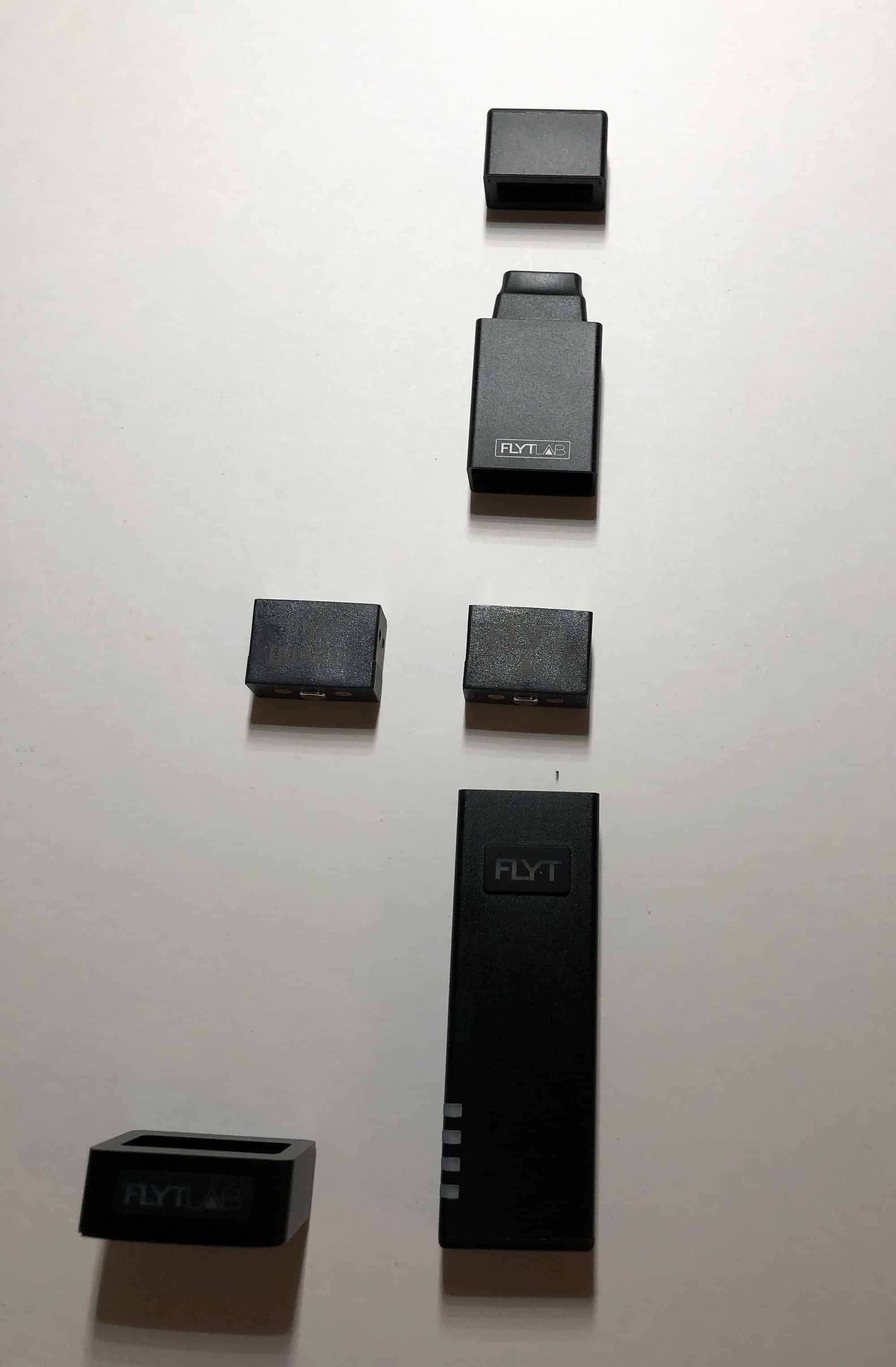 The FlytLab Stik is very straight forward, its simplicity makes it easy to use. For its price, I expected a more complex pen but it really isn't that complicated. With 3 clicks it turns on and once on, you can change the temperature settings with just 2 clicks. You can choose from 4 different heating temperatures, from lowest to highest. Another convenient feature it has is it tells you how much battery it has left. You can tell by holding the power button for a little over 5 seconds when the battery is off.
The FlytLab Stik has multiple compartments that magnetizes together
Something I like a lot about this battery is how it connects and secures magnetically. This FlytLab contains multiple magnetic connections, from the charging dock, the heating chambers and the mouth piece. This sleek battery will fit smoothly and discreetly on your palm or pocket.
Another feature I love is how the mouth piece is designed, it really does give smooth comfort on the lips. Additionally, the mouth piece comes with a cover, helping prevent dirt and dust getting inside. The only down side with this mouth piece is how clogged it gets. It doesn't clog up fast but when it does you won't be able to hit it at all and it'll just burn your wax. When this happens to me, I always end up taking out a bigger glob than I'd expect of straight oil, not resin.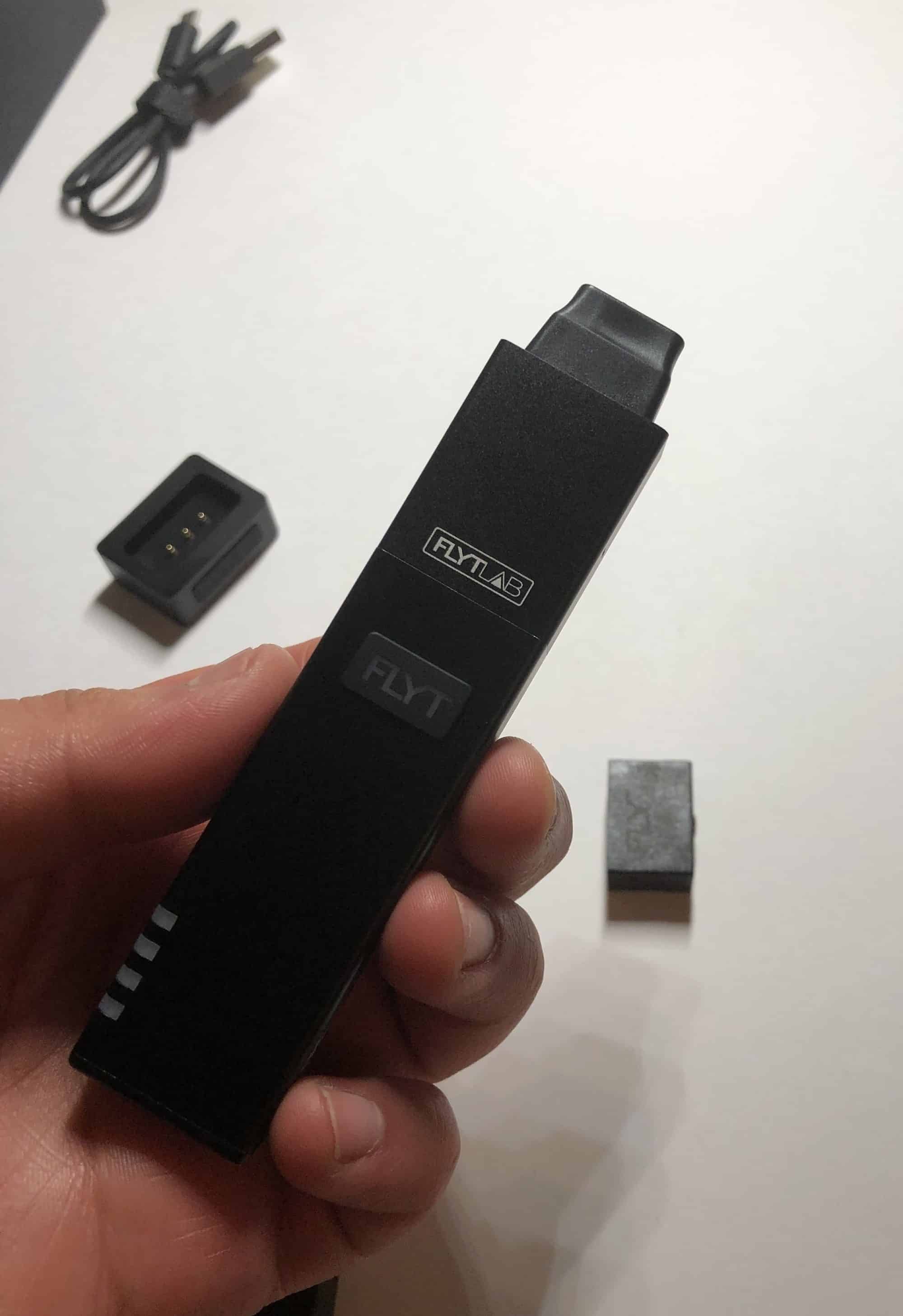 Atomizers pack big and heavy hits, regardless of which atomizer is used
The FlytLab Stick comes with two different atomizers, a ceramic atomizer and a dual quartz coil. Both atomizer have a broad heating chamber capacity, larger than most wax pens, allowing for big and heavy packs. I should mention that this battery does get dirty quickly for both of these coils. As long as you clean it frequently, it won't clog up or get messy as quick.
The dual quarts coil is my personal favorite for the fact that it gives very thick and heavy hits. I've always preferred quartz over ceramic coils just because of how it hits and how quick it gets me high. Depending the temperature you choose, this coil does rip and will get you high instantly. I should mention that you won't feel anything at first while hitting, just because of how smooth it hits. But after a long hit, you do feel it heavily in your lungs and throat once exhaling.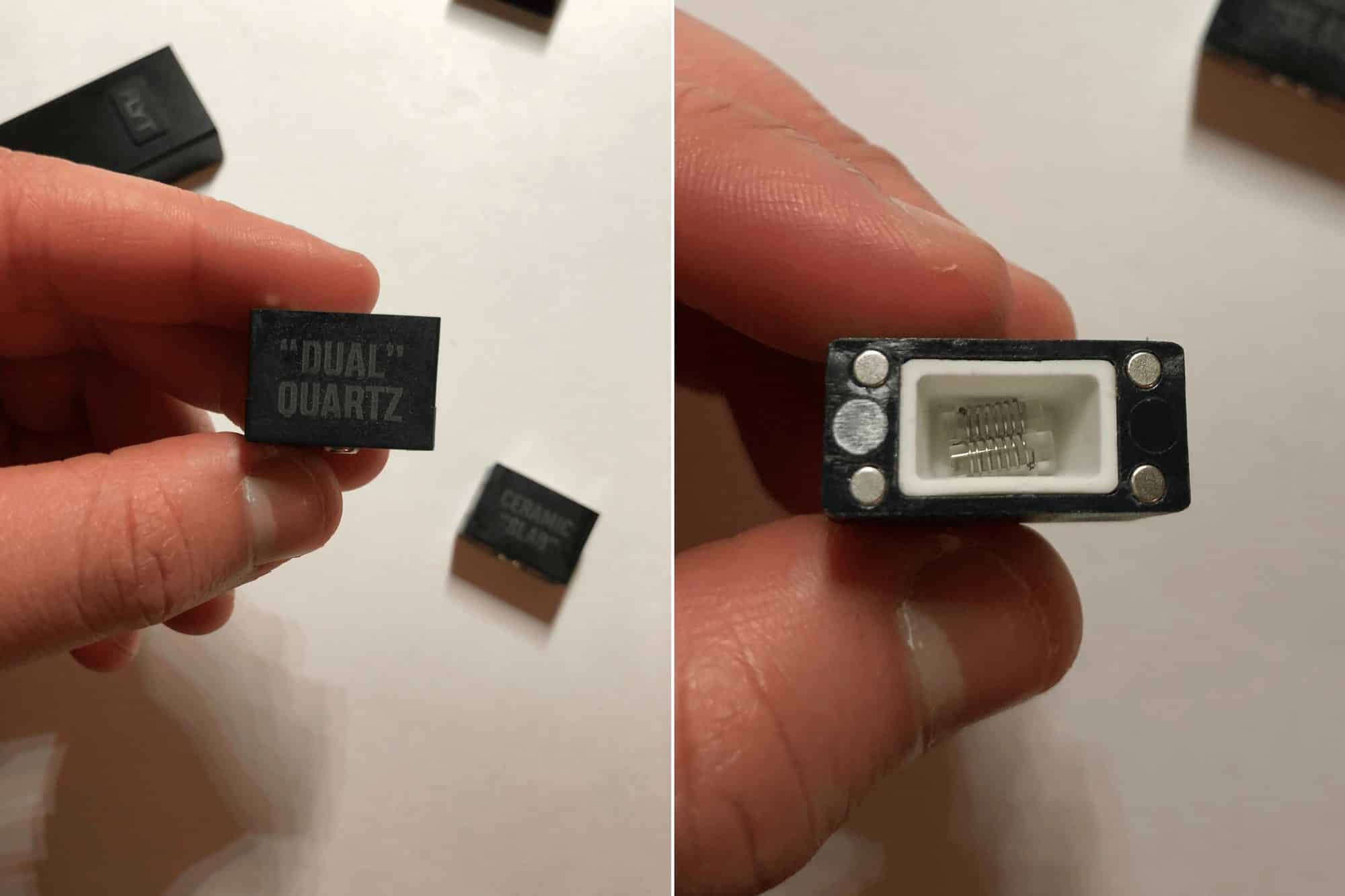 With the ceramic atomizer, it gives smoother and cleaner hits. As always, ceramic coils always give more gentle smoke, vaporizing the dabs more and allowing for efficient and tasteful hits. This coil has to be the best ceramic atomizer I've tried yet on any dab pens. We've reviewed other dab pens like the Ceram-x and the Saber, and we thought both ceramic coils gave too light hits. This coil that the FlytLab comes with gives thicker vapor than any normal ceramic atomizer would.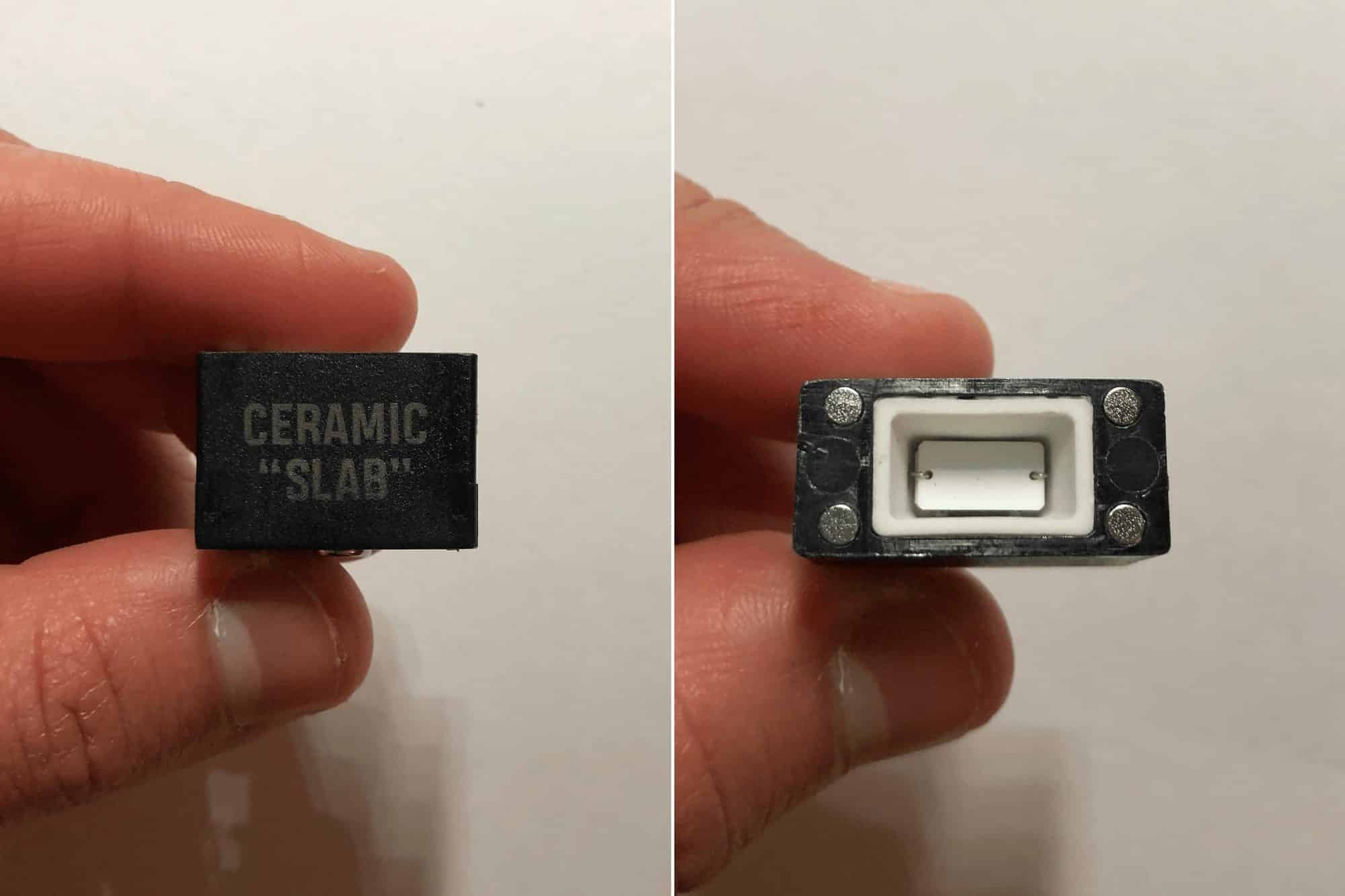 The FlytLab Stik is fairly efficient, but not as discreet when vaping
Because of the wide atomizer it provides, you can pack a heavy dabs that may last you a while. A feature this battery has is the "Flyt" mode, this mode is always on and can't be changed. All you have to do is press the button once to turn on. It will show a red light signifying that it's heating up and only lasts 2 seconds. After, you don't have to press anything and it will heat up for around 10 seconds than stops heating automatically. You can take a shorter hit by simple pressing the button once more while it's heating. This helps when trying to be efficient and conserve dabs.
On the other hand, I always take huge and heavy hits, which does finish the dabs quicker regardless which atomizer you use. Of course, it varies depending the temperature you prefer but the FlytLab does last a decent amount of hits. When it is on the highest two temperature, it tends to burn quickly within 3-6 hits. After that, it will still have some dabs left but it melts fast underneath the coil and will turn to resin.
Apart from that, this pen does smell loud when smoking and will leave a strong scent behind. It will sometimes even smell with just taking off the mouth piece cover or the heating chamber. This battery may be discreet and portable, but without a doubt leaves an odor behind after frequent uses. Disregarding how much it smells, I still think it's worth it because of how strong each hit is.
The battery had a decent life, average compared to others
Although the FlytLab needs a specific charger, it stands pleasantly when charging. This will vary depending how often you smoke, but personally I went through the FlytLab battery fairly quick. The battery lasted me around 2-3 days, which is decent but for it's price I expected it to last a little longer. Apart from that, the good thing is that you can check the battery life and it only takes 1-2 hours to charge. The charging compartment is magnetic as well and does stand nice and straight while charging. Something neat is how this battery turns off automatically after a while of not using it, helping conserve it's life.
For the price, is the FlytLab Stick actually worth it?
This vape does cost $100 which is relatively expensive compared to other dab pens. The biggest advantage to the FlytLab in my opinion is how much this pen packs and how strong it rips. But if it's worth it depends on preference and how often you will use it.
If you want something quick and easy, you can find a $20 dab pen that will get the job done anywhere. For instance, the G Pen Nova is an inexpensive and simple pen, but you sacrifice quality. The thing is that it only lasted me a few months and didn't give nearly as heavy hits.
Overall, the FlytLab Stik is a potent and sleek battery that packs a punch
In conclusion, the FlytLab Stik is a convenient battery that I believe to be one of the strongest batteries we've tried. Disregarding the price, I do believe this pen can be worth it if you're a heavy dabber looking for a portable yet potent pen. If you prefer vaping cartridges over wax, than we recommend the Vessel battery for its smooth and tasteful hits, but I do highly recommend this battery for those who want to take heavy dabs anywhere on the go. I recommend this to every user that loves dabs as much as I do with big rips. You can find out more details on the Stik dab pen here!