REVIEW OVERVIEW

SUMMARY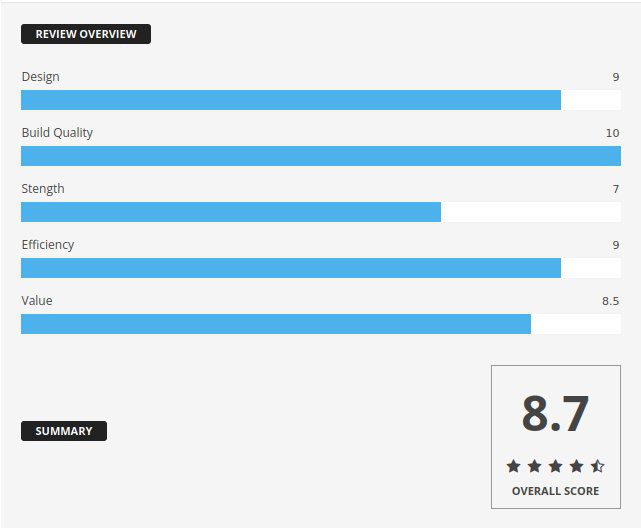 Vape after vape we've reviewed on this channel! So many vapes out there, but very few of them are paying attention to the aesthetics while they work out the fundamentals. But this time we're checking out the Cipher Nautilus dry herb vape and its accessories, which preserve the look of a classic pipe. Not only does the Nautilus look great, it performs well for a vape, with a couple small reservations. The Cipher Nautilus comes in one of six designs for $79.99, and the "Churchwarden Stem Kit," a couple of longer stems for the unit, goes for $34.99.
See us unbox and test out the Nautilus before your very eyes in our review video here.
Pros:
Looks great
Huge LED screen
Easy to use
Infinite cosplay potential
Cons:
Churchwarden extension kit is a bit pricey
Oven chamber is a bit small
Recommendations: I can see where the limitations are necessary to fit the form factor of a pipe, but maybe figuring out how to make the oven bigger would improve it.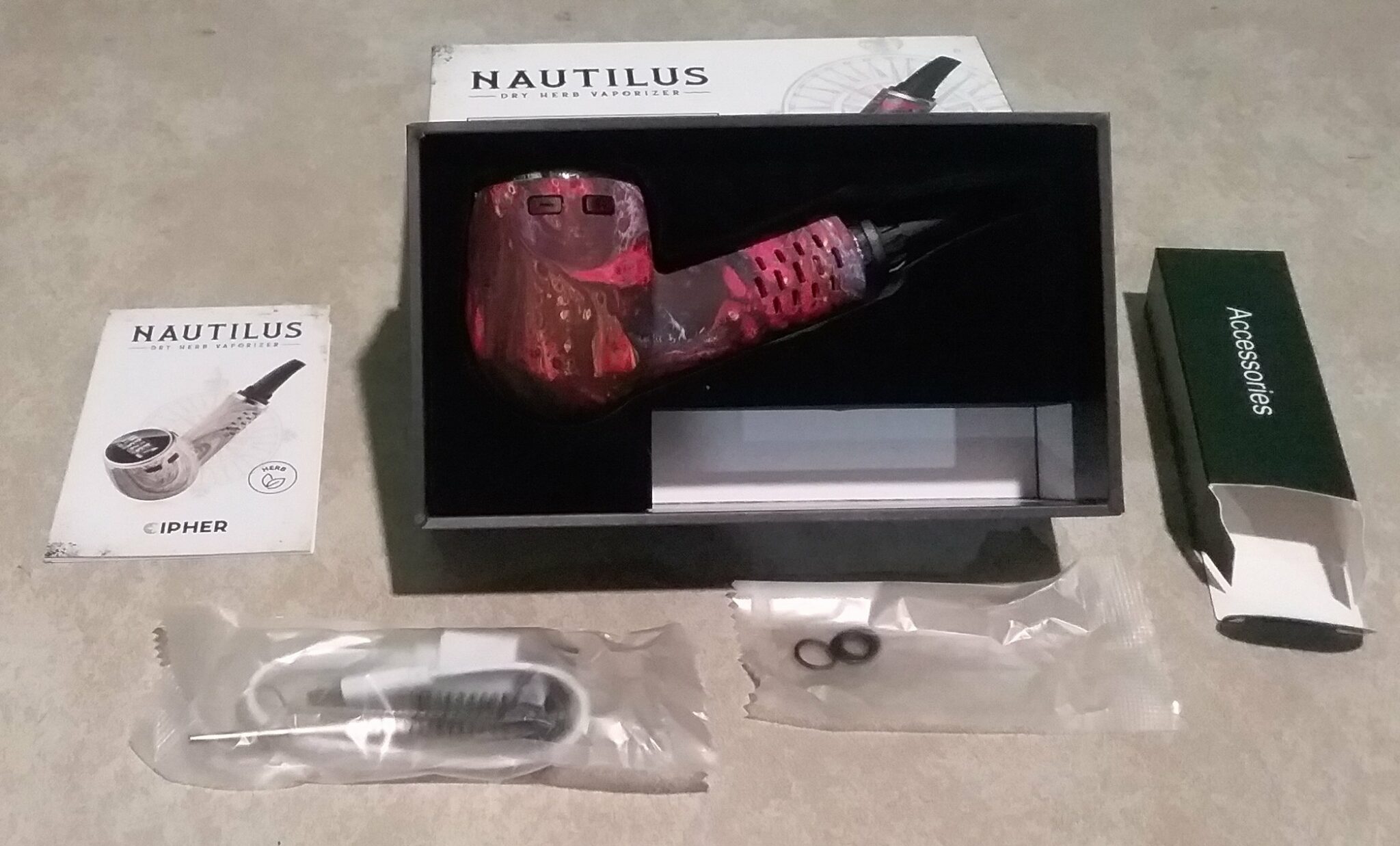 The Cipher Nautilus is the Dry Herb Vape for Pipe Lovers
By itself, the Cipher Nautilus is a dry herb vape with a smart design built into a pipe form factor, for less than $80. Some of you might be sold right there, because vapes run around $100 and none of them let you get your Father Knows Best on. The unit comes with a USB charger, cleaning brush, and spare gaskets. Three buttons around the rim of the bowl control it; 5x clicks to turn on/off, and two buttons which adjust the temperature. Starting the unit launches a 5 minute countdown of heating at your chosen temperature.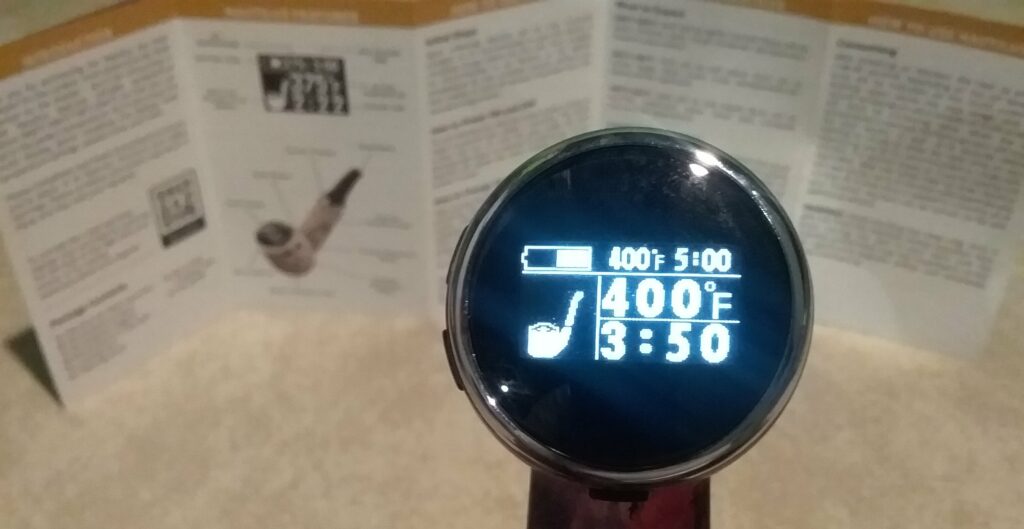 That LED screen is gorgeous! A big, clear readout of the battery charge status, temperature, and remaining time. I joke in the video that somebody's going to try to run Doom on that thing. You don't have a bright screen that big without attracting the mod community. This is also a clever use of the space on top of the bowl. However, we do not load material in the bowl…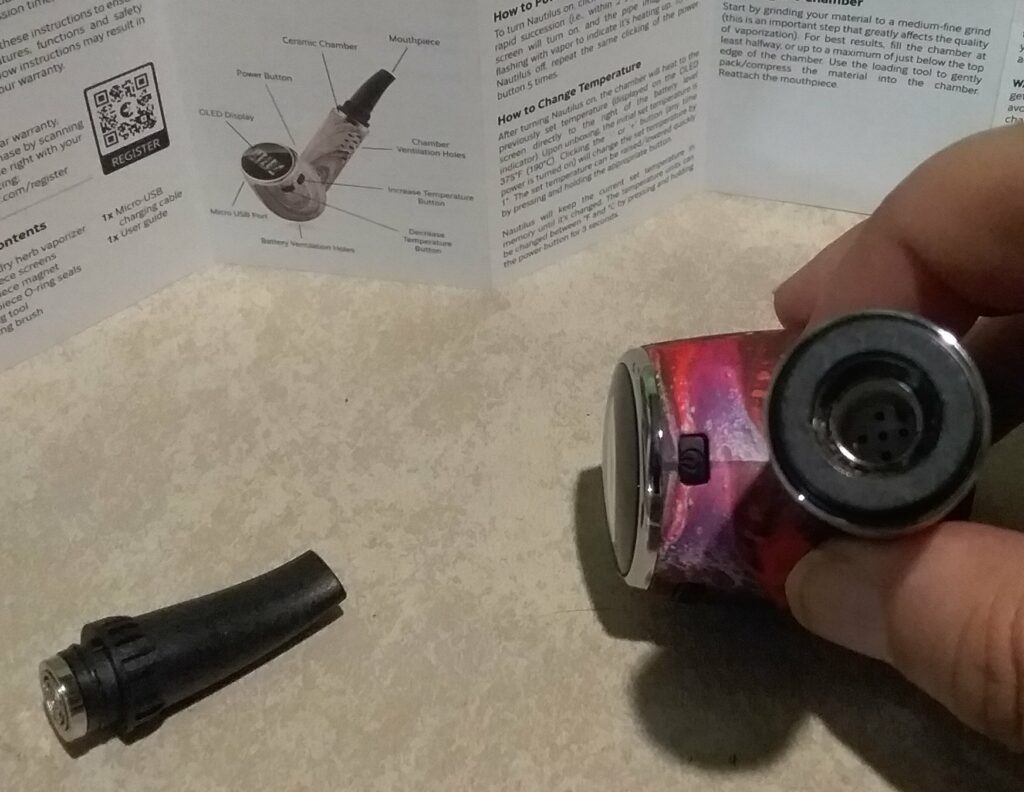 Instead, we pack it into the oven chamber which is inside the original stem. This chamber is deep, but narrow, with a capacity of maybe 0.3 grams. While I appreciate that the chamber has to be kept small in order to fit into the pipe stem, this does limit the unit in how much you can load up at once. And here we have a pipe, meant for relaxed, leisurely sessions, but it runs out of herb faster than a load in a tobacco pipe of comparable size. Oh well, draw slowly.
The Churchwarden Kit Takes the Nautilus to Cosplay Heights
If we're going for a pipe aesthetic, we might as well go all the way, and this kit sets the Nautilus apart from the competition. The kit contains two pipe stems, one medium and one large, plus an adapter. The socket in the top of the oven chamber is magnetized, so the stems just stick right on, and in the video you can even see me hot-swapping stem extensions while continuing to use it.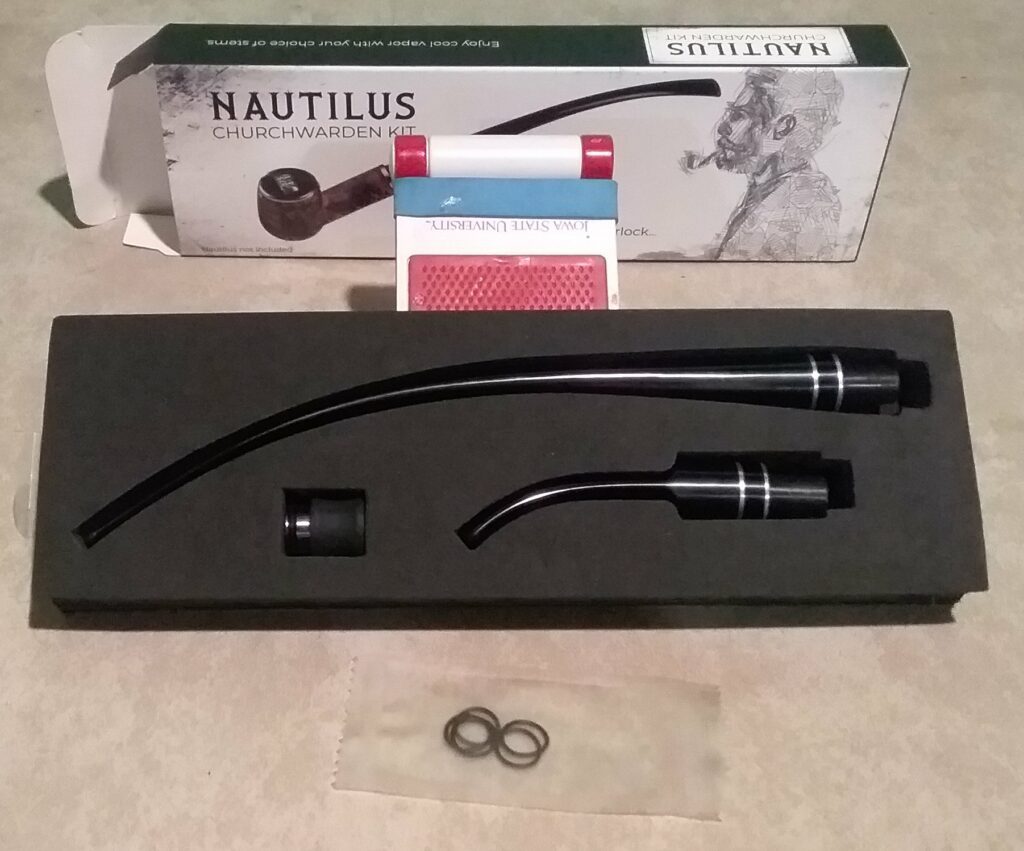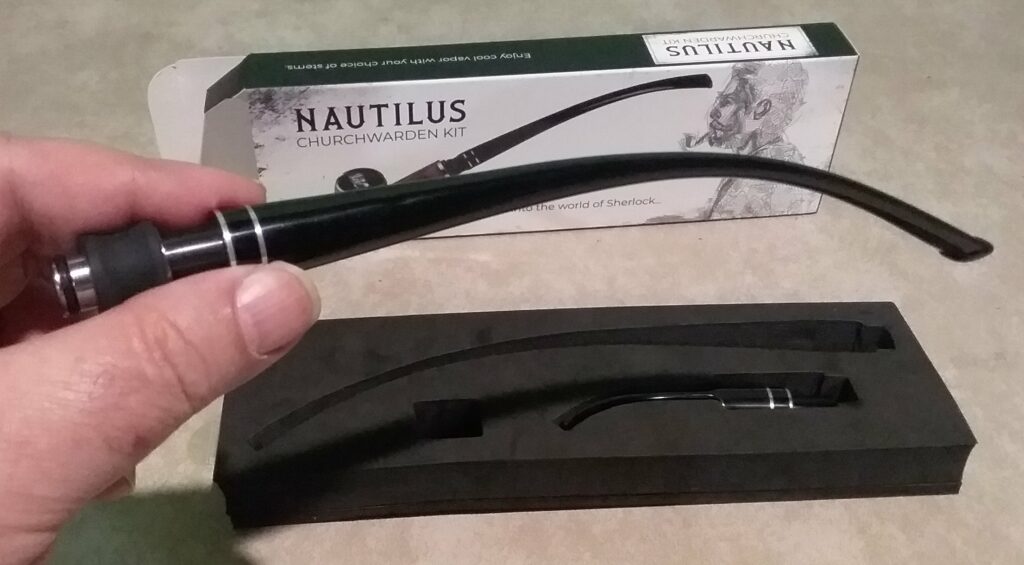 The adapter fits onto the end of either pipe stem. You get a medium-sized stem which makes the Nautilus look and feel like a standard-size pipe. Or you get the extra-long stem, which puts that over chamber nearly at arm's reach.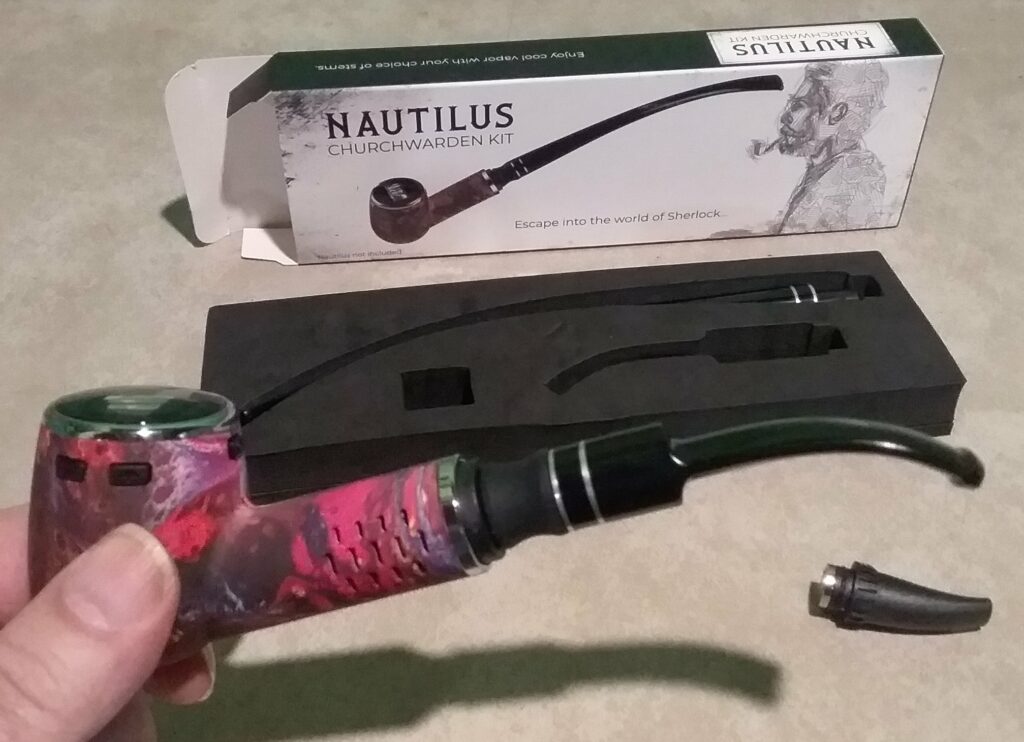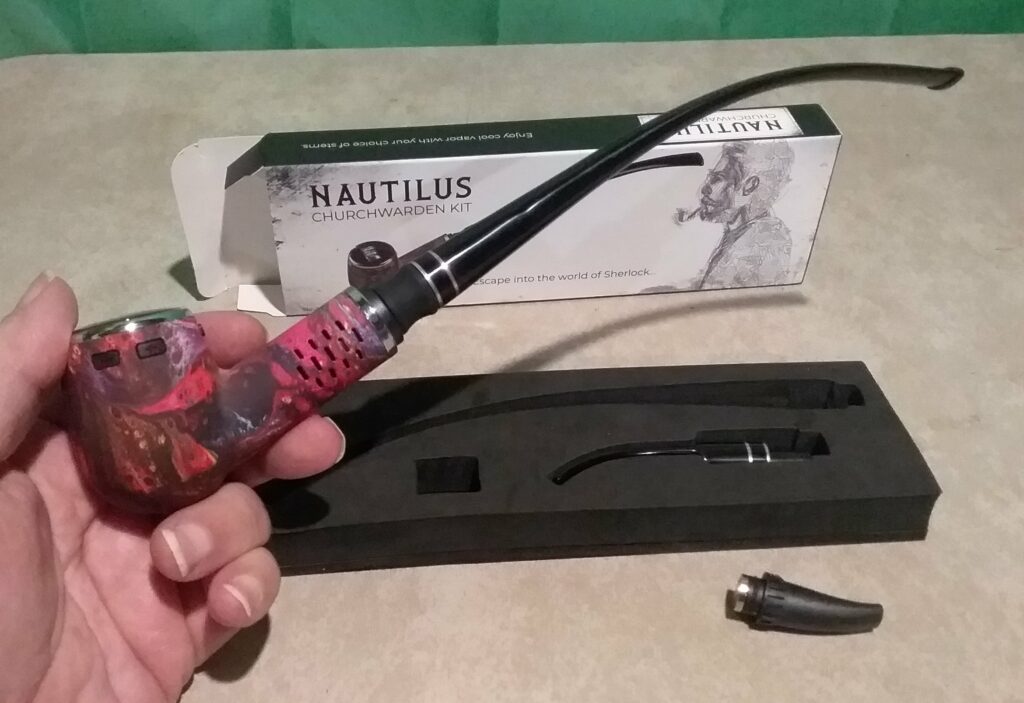 At its longest, the stem does attach a bit loosely, and it takes a little practice to smoke a long-stem pipe gracefully. It's a lot to balance in your hand, but experiment with the best grip and you'll be puffing away in no time. Cipher is marketing the Churchwarden kit as a bit of role-playing fun, with package copy alluding to Sherlock Holmes. That's great, but we can think of a couple other characters known for smoking a Churchwarden style pipe…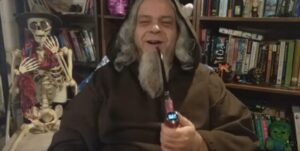 More specifically, the kind of character who would bring peace to Middle Earth. In practical considerations, the long stem allows the vapor to be much cooler when it reaches your lips. If you're tired of getting a hot pucker from using smaller dry herb vapes, this is the kit for you.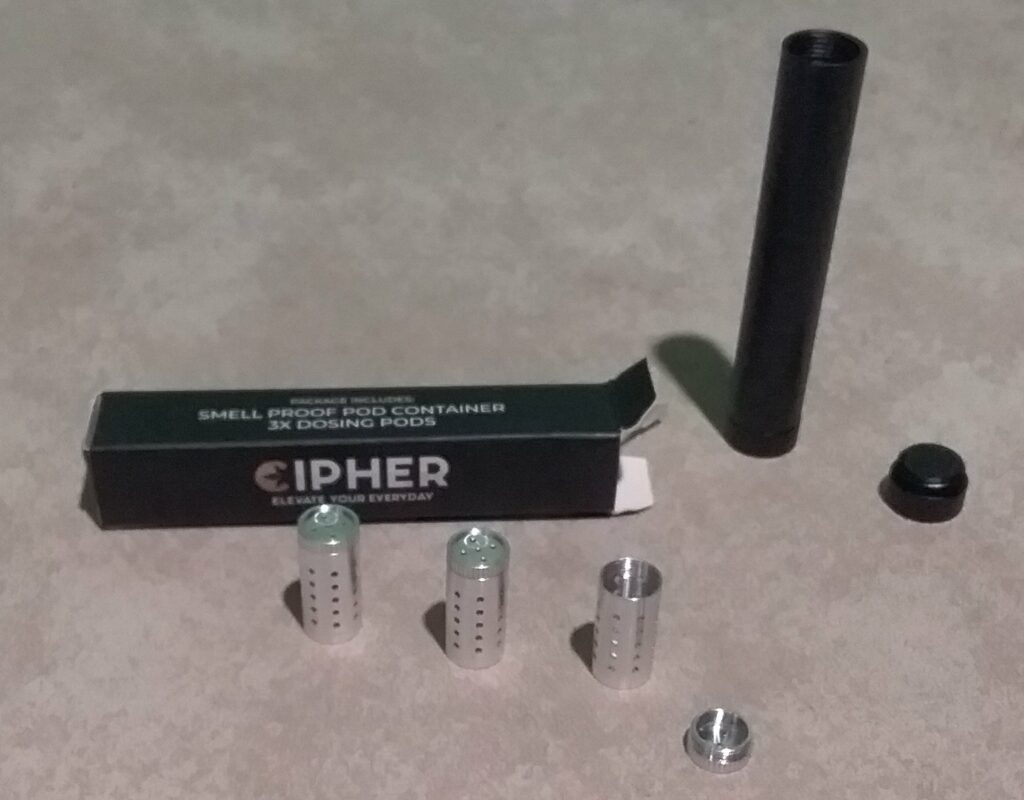 Dry Herb Pod Kit for Nautilus
But wait, there's more! If you opt for the $14.99 Dry Herb Pod Container set, you get this smell-proof containers with three dosing pods. This does mitigate the small chamber size somewhat, as you can easily pre-pack three pods for vaping on the go.
The Ultimate Pipe Hobbyist Kit
By itself, the Cipher Nautilus at just under 80 dollars is as good a dry herb vape as you'll find on the market at that price point, in any shape. By the time you get all the mods, that's $79.99 + $34.99 + $14.99, for a total around $130 before tax and shipping, which starts putting it in the high-end price range. You do get plenty of bang for your buck, especially since between the three stems and the pod system you have a lot of customization. It's up to you if it's worth the extra outlay for the accessories, but to me, it's worth it for a darned classic vape that lends a distinguished air to vaping herb.
Find the Nautilus and all its accessories here. Readers, what other characters smoke a Churchwarden pipe? Light us up here in the comments or in our kush forum.