Glas Werk Inc. specializes in quartz ware, quartz glass and scientific glassblowing materials. The company is ISO 9001 certified and based in Santa Margarita, California.
Name:       Glas Werk Inc.
Location:   29710 Avenida de la Banderas Rancho Santa Margarita, CA 92688
Phone:      800-745-2793 /  949-766-1296
Fax:           949-766-1282
Email:       info@glaswerk.com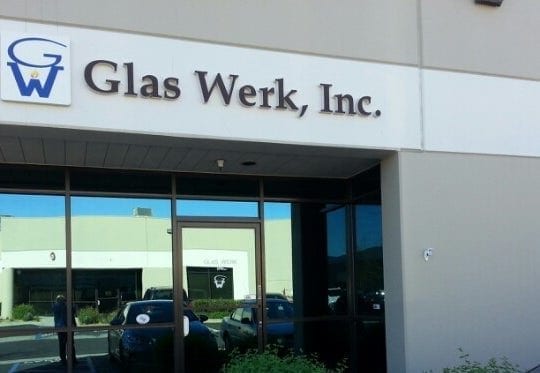 Glas Werk has been serving various industries for more than 20 years. They specializes in quartz ware and in fact, are ISO 9001 Certified. They have a state-of-the-art facility.
Accordingly, Glas Werk Inc strive to meet excellence and uphold the most stringent standards. They also offer competitive pricing. Furthermore, they promises an on-time delivery.
Even though they have been in the business for a long time, their glass blowers remained to be highly skilled. In fact, their glass blowers have advance skills and techniques in making quartz glassware. This is in line with the company's continuous training program (CTP).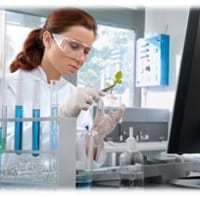 Quartz Glass, Laboratory Glass, Bullet Fittings™
Glas Werk offers custom quartz products made from high quality materials. These products can be used by the following industries:
solar energy
biomedical
biotechnology
pharmaceutical
semiconductor
fiber optics
modern laser technologies
medical research
and more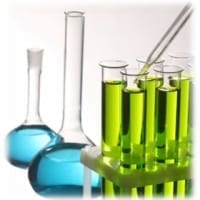 Quartz Glass
Quartz glass is one of the most exceptional materials used in industries today. It has a wide range of valued attributes and specific compounds. Therefore, it's a perfect choice due to its unparalleled chemical purity and resistance.
Laboratory Glass
The company provides complete solution for all laboratory glass needs. They offer many product choices that are competitively priced. Also, they have advance NMR tubes (nuclear magnetic resonance spectroscopy) and EPR tubes.
Bullet Fittings™
They are the creator of Bullet Fittings™. It's known as the next generation in quartz glass tube fittings, and the new standard of today.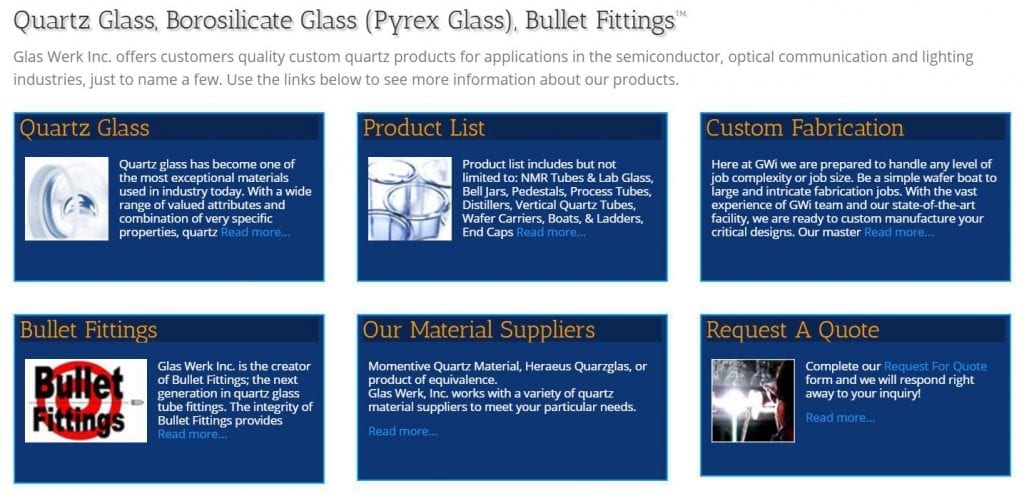 Product Listing and Other Offerings
Below are some of the products they make:
Process Tubes, Distillers, Vertical Quartz Tubes
Bell Jars
Pedestals
End Caps and Plates
Wafer Carriers, Boats, & Ladders
Lab Apparatus
Tanks (Regular or Plumbed)
Distillers
Injection & T/C Sheaths
Trays
and more
Capabilities and Service Listings
In addition, Glas Werk also offers custom quartz glass fabrication, full repair services, and complete precision machining. They have been doing custom fabrication for over 22 years. Glas Werk also repairs quartz glass.

For more information about Glas Werk…
To know more about Glas Werk Inc products and services, visit their website. You can also connect with them on LinkedIn.
Have you used Glas Werk? Leave a review below!