REVIEW OVERVIEW

SUMMARY

The Stone Smiths Slash vaporizer proved to deliver excellent quality. Being more on a light-hitting side, this dab pen doesn't deliver the strongest hits, rather smoother hits.
Here we look at the Stone Smiths' Slash dab pen. Being more on a high-priced side, this dab pen delivers great quality all throughout the battery. We found it to give smoother and more lighter, rather than stronger hits. The Slash delivers an overall great experience. But, unless you're going for smooth and tasteful hits, this wax pen might not hit hard enough for you.
To begin, DabConnetion does not receive compensation for reviews and this is not an affiliate review. We only tell you what we think of the product, share our experience, and the products' pros and cons.
Pros:
Very smooth and tasteful hits
Great airflow
Fast charging
Cons:
Battery dies fairly quickly
Doesn't charge upright
High price range
Recommendations: Longer lasting battery.
Check out our video review below, and read further in our in-depth review.
</div>
Stone Smiths' Slash has a great build quality, delivers smooth and tasteful hits, but not that strong
Overall, this wax pen is a well quality product that delivers flavorful hits. The Slash actually allows you to get the most out of the taste from your concentrate. With that being said, Stone Smith  Slash is more of a soothing hitting pen rather than a strong hitting one. It still gives fair strength, but definitely not one of the strongest. Regardless, this dab pen gives a great, mellow experience to the user.
Everything that comes with the Stone Smiths Slash vaporizer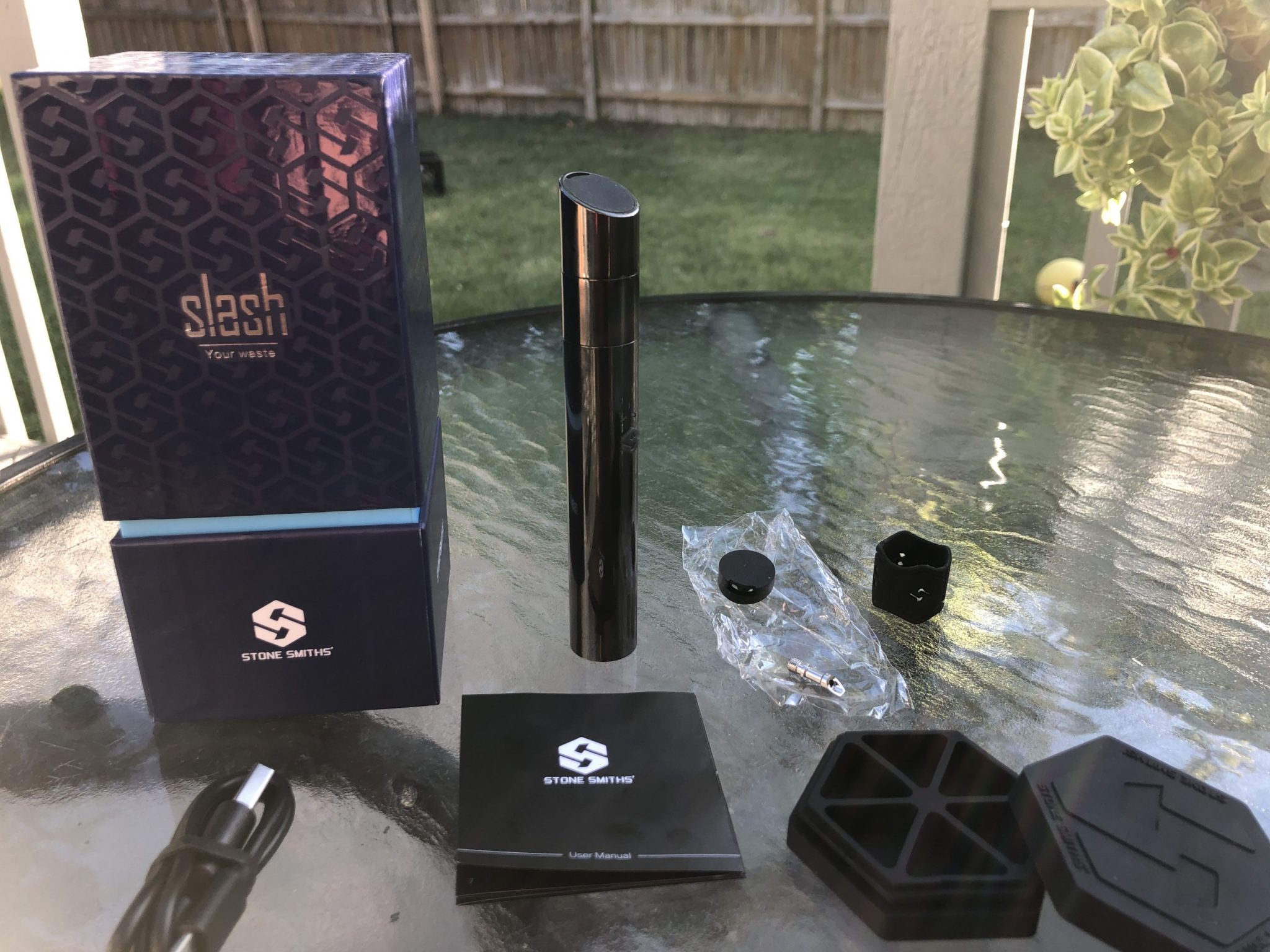 The Stone Smith Slash provides you with everything you need to take a dab on the go. Unfortunately, it doesn't come with an extra atomizer (purchased separately). It comes with the following:
1000 mAH Slash dab pen

Type C USB charger

Silicone ring attachment

Silicone container – dab slick

1 Extra Stirring tool attachment

1 Extra mouthpiece
Sleek design, overall great build quality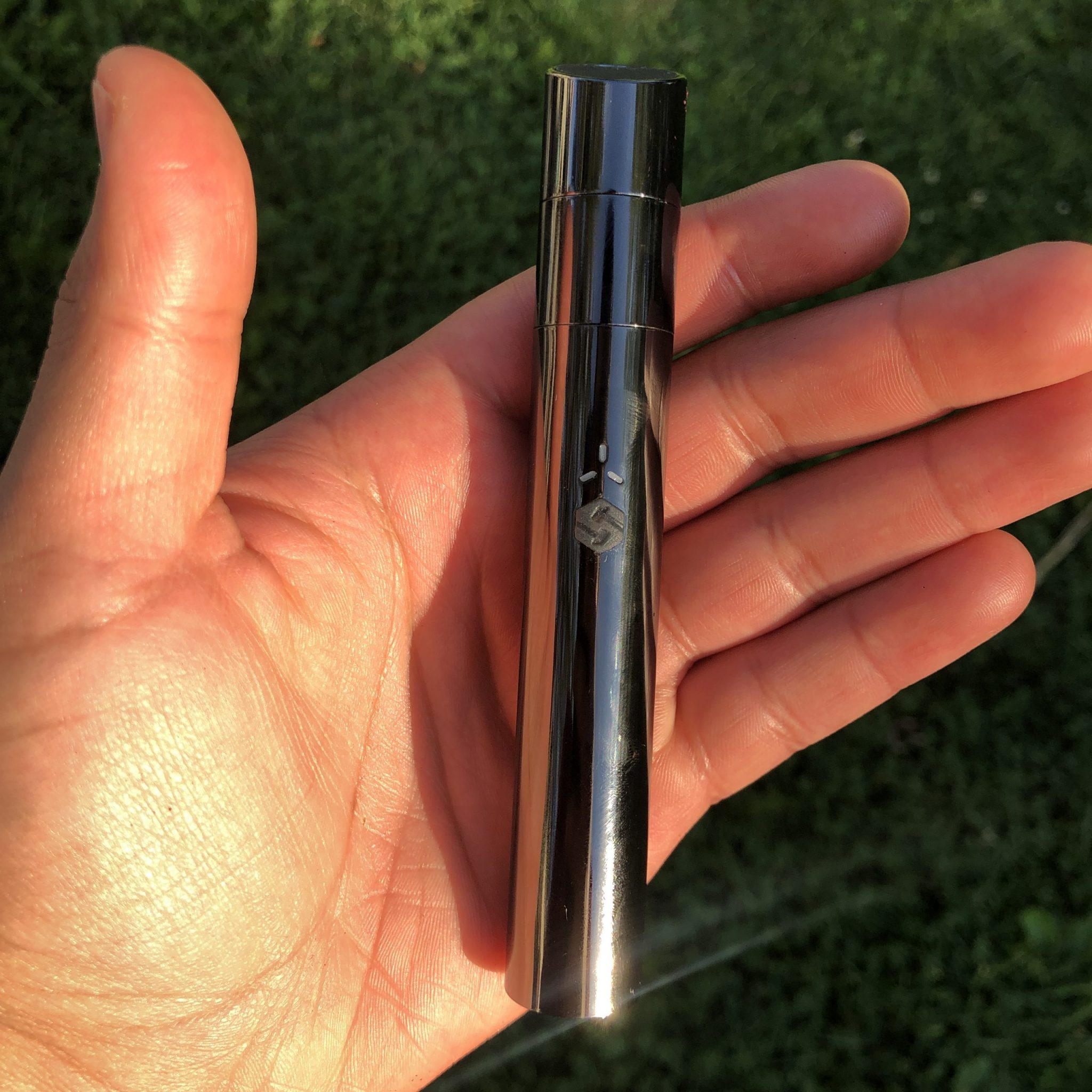 Opening this vaporizer, with just the look and feel, you can tell this is a well-built product. The Stone SmithSlash dab pen is made up of zinc alloy material and the mouth-piece is silicone. And yes this battery gives a great feel all throughout the pen. The mouth-piece is magnetic, so you can move around where you want the placement of it. Easy to come off, firm grip, and easy to pack. StoneSmith did a great job on the quality of these pens.
Convenient dab tool placed underneath mouth-piece, but may get messy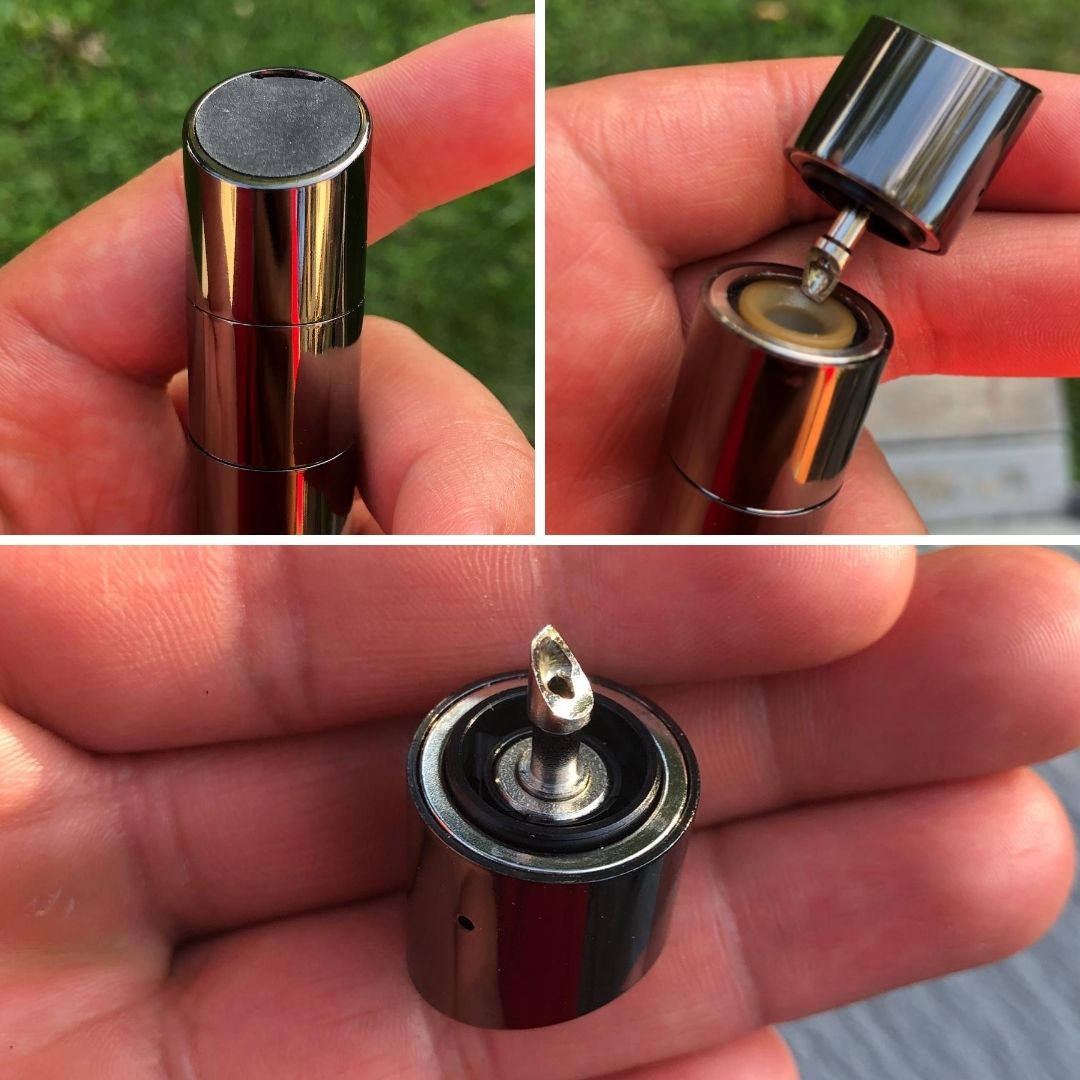 As shown above, you can see the dab tool attached underneath the mouthpiece. This is a very convenient feature, you don't have to worry about carrying a dab tool with you. What's also great about this tool is that it doesn't interfere with the airflow, so you don't have to worry about it clogging.
It does get messy after consistent uses, like with anything else. It also depends on the kind of concentrate you're packing, for instance, live resin or crumble would be way easier to pack. Whereas with straight shatter, oil, or distillate, it won't fall inside the bucket as easily, rather stick onto the tool. This can actually waste some dabs after a while, leaving a small glob sticking onto the tool. This is why I just use a regular tool to pack it inside the heating chamber itself.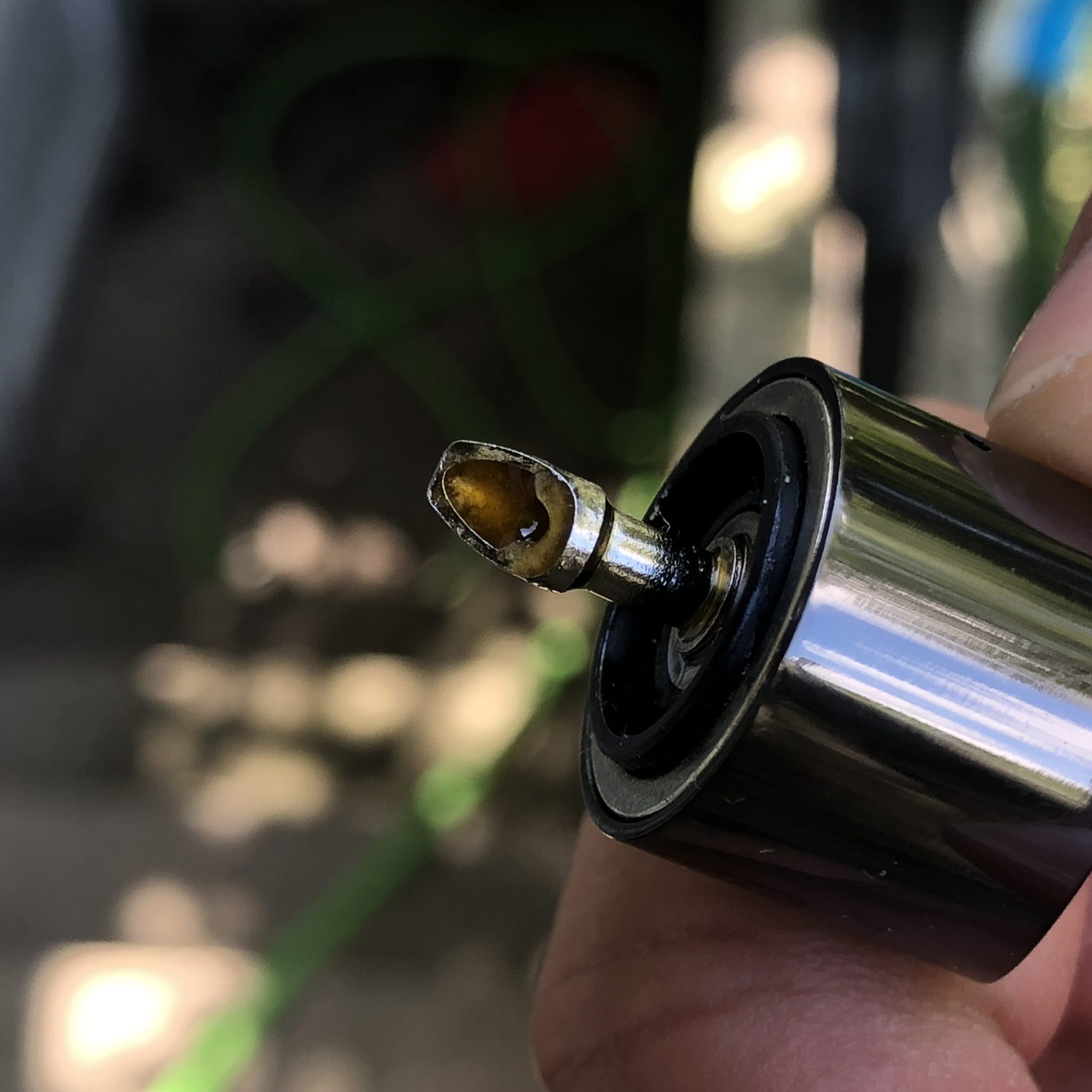 Unique, smooth airflow – doesn't get clogged easily
At first, I thought that the airflow went through the stirring tool, which wouldn't be the best idea because of how clogged it might get. But StoneSmith is a little different. There are actually two air holes on the outside of the mouth-piece. This unique airflow system really does prevent any sort of leaking when heating up your concentrate. Furthermore, I've been using it frequently and haven't gotten any sort of clogging problems so far.
Stone Smith Slash uses a ceramic heating chamber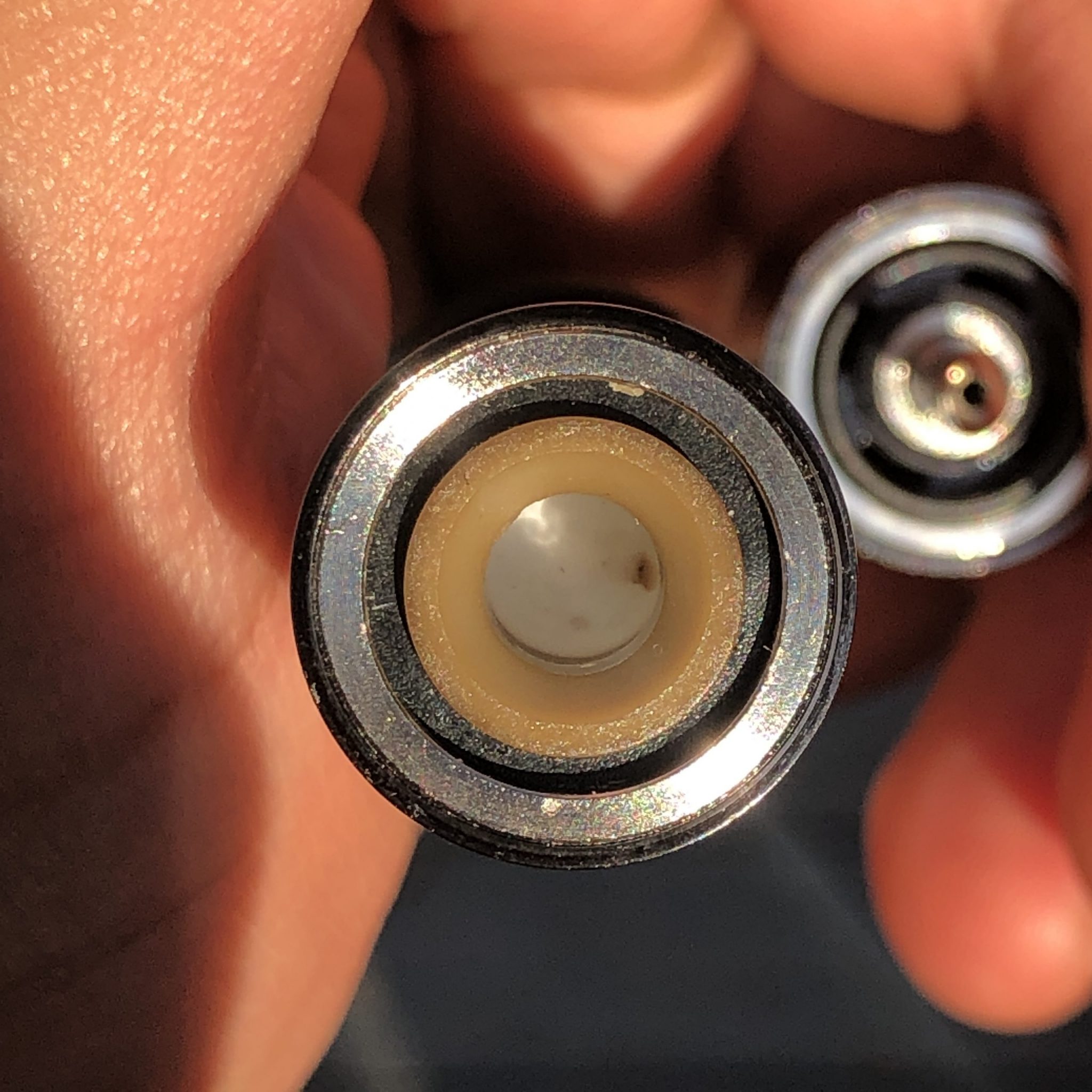 Ceramic atomizers are known for their efficiency and the flavorful hits they provide. Although the Stone Smiths Slash does provide very tasteful hits, it isn't as efficient. It does heat up nice and evenly, but you won't get big clouds from this battery. Also, I felt as if I burnt through my dabs fairly quickly. Either way, this is great for beginners' use since ceramic atomizers aren't always the strongest hitting. 
This dab pen delivers smoother and more tasteful hits
As a result of the ceramic atomizer, the Slash is better for those looking for smoother hits and if you're looking to enjoy the taste of your concentrate. Otherwise, the Stone Smiths Slash doesn't deliver strong hits. This pen is better for taking longer and slower hits. This is good if you have high-quality wax and want to get most of the taste, without killing your lungs.
1000 mAH battery capacity, but the battery dies fairly quickly
With the battery having a capacity of 1000mAh, I'd expect this battery to last a while. But after multiple uses, the battery can die pretty quickly. It lasts me about a days' worth of sessions, which isn't that bad. But I honestly think it dies too quick for a battery that has that much mAH. It charges with a USB-C charging port, so the good thing is it doesn't take too long to charge. 
Stone Smith Slash is more on the pricey side, but still good value 
You can find this vaporizer for $75, which is a bit more of a high-end dab pen. If you're looking for something inexpensive, this isn't for you and there are plenty of good cheap options out there. This vaporizer is more for the experience. It's more for those looking to enjoy the most of their dabs, to get the most taste out of the terpenes. Also, this may not be the product you're looking for if you prefer stronger hits and thicker smoke.
Concluding the Stone Smiths' Slash vaporizer review
The Stone Smiths Slash is a great quality product that delivers a smooth experience. Although it gives smooth and tasteful hits, it doesn't deliver the strongest hits. This may not be for a high tolerance user looking for hard hits. At its price, $75, I believe it to be fair value.
You can buy the Stone Smith's Slash here.