REVIEW OVERVIEW

SUMMARY
As they say in this business, a picture is worth a thousand words. Behold the banner over this very blog post; yea, the mighty cloud you verily see me blowing at the camera came off this very amazing device you behold before you today! My only caveat is that the Glass Bubbler and core unit should be considered a package deal, so consider this review of the two parts together.
Let's cut to the chase: Not only am I sold on wax pens as the finest dabbing method, but the Utillian 5 with Bubbler are in my top 5 devices I've ever tried, period.
See our full Utillian 5 Wax Pen and Utillian Glass Bubbler video review here.
A 2021 review of a bundled Utillian 5 and bubbler wax pen kit.
Pros:
Fresh, hot dabs sizzling right on the coil!
Bountiful clouds of vapor!
Pitch-perfect controls
Solid build
Perfect taste
Great battery charge and life
Bubbler unit is a great accessory
Cons:
Without the bubbler, the default mouthpiece takes the thrill down a notch
Maybe a bit top-heavy when set down (use a stand of some sort)
Recommendations: Either pack an extender mouthpiece with the Utillian 5, or just go back to the packaged kit?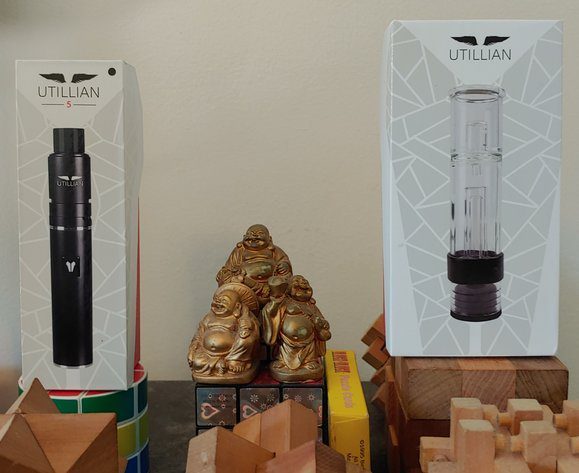 The Utillian 5 + Bubbler wins a Golden-Dab-Buddha Award!
The best thing to happen to wax since bees, the Utillian 5 wax pen delivers sizzling exposed coil performance and unbeatable airflow for perfect hits of your wax, shatter, budder, rosin, distillate, and beyond. For example, I've even tried CBG powder in it and that vaped in there fine too, so I imagine crumble and diamonds should be no problem.
By itself, the Utillian 5 is a perfectly functional wax pen – but I truly urge the Bubbler for that true cloud-surfer experience! Trust this rig with your strongest distillate, your gooiest shatter, your tastiest rosin, and the Utillian 5 + Bubbler will deliver deep pulls of vapor on demand. The taste is perfect, the unit is very efficient, and the performance is off the charts.


Utillian 5 + Utillian Glass Bubbler: From Box to Puff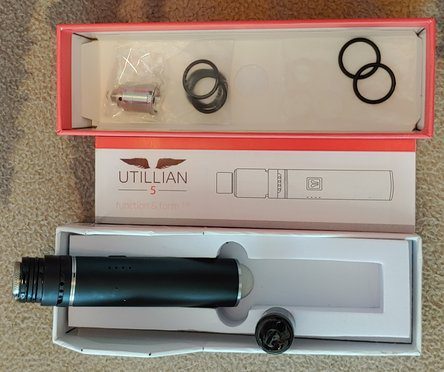 Charge the Utillian unit using the USB cable – couple hours should do
5x clicks on/off – 4 LED display shows charge state
"Perform a sanitation cycle" i.e. a dry fire, running the unit briefly heated while empty, to purge machine oils from manufacturing, etc.
2x clicks to cycle temperature (range 2.2-2.8V)
Dispense dab of your material on the coil under the removeable mouthpiece
Hold button to vape
The package comes with two coils which are swapped after unthreading, plus some O-rings.
Science geek note: that process of heating something to burn off impurities is called "Pyrolysis."
The mouthpiece has a dab nib on the bottom, and that is offered as a combo dab-tool function. The unit is perfectly functional that way, but the mouthpiece gets hot easily, being very short. So assembly part 2: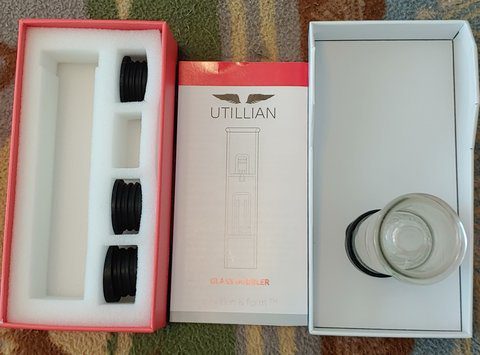 Use one of the four rubber gaskets to size the Glass Bubbler (it is made to fit 4 different Utillian models)
Mount rubber to glass tube
Run water into the bubbler (it's tricky how it stays in there, just keep running water through it, it'll get there)
Mount atop Utillian unit and fire it up
Now be prepared to take some mighty puffs off this rig! You can adjust the airflow by turning the little ring around the top of the battery unit, uncovering/covering four holes.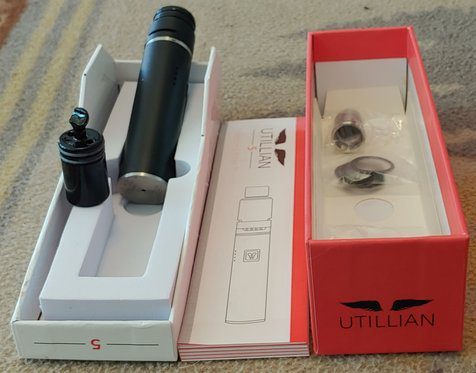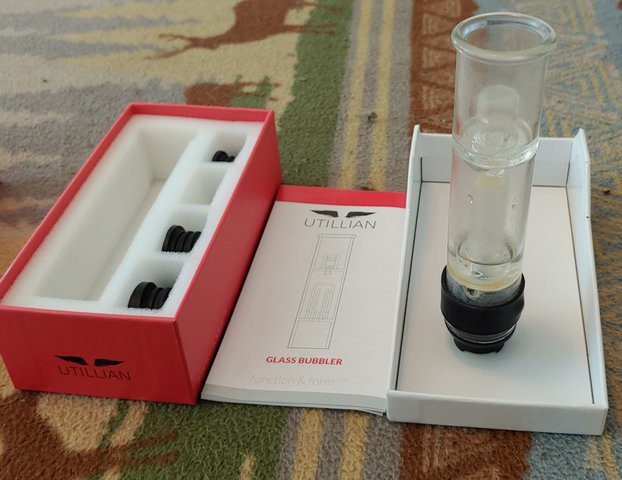 Next Time You Dab, Try Utillian!
Frequent readers here should be no stranger to the Utillian name, even up to a giveaway we did last summer. Through multiple reviewers and other word of mouth, we have found their hardware to be top-notch in quality and design. For those of you saying, "Pete, you don't normally gush like this" – well, contrasting how I've really ripped into some products on the site over the years, you know when I have something nice to say, I must really mean it.
Even the price works! Even sold separately, the Utillian 5 (V3) goes for $89.99 and the Glass Bubbler is $39.99. I honestly consider this as a unit, so figure ~$130 for the full rig. That's a reasonable price. Consider that you're doing essentially the same job as a Puffco Peak or an AUXO Cira. Or compare to your glass + torch rig; wax pens allow you to dab one-handed at the press of a button.
Readers, isn't it just sickening when Pete gushes all over a review like this? Share your experience with Utillian products, wax pens, or just random ol' dabbing stuff here in the usual comments or in our forum – new improved with 99% higher uptime!