REVIEW OVERVIEW

SUMMARY
The Utillian brand always lives to its expectations, providing excellent quality vaporizers at various price ranges. Here, we have the Utillian 421, one of their dry herb vaporizers that provides very efficient and effective hits. This budget-friendly vaporizer overall delivers an excellent experience for those cannabis enthusiasts.
Pros:
Great built design
Airflow control
Efficient sessions
Generous heating-chamber capacity
Cons:
Slightly longer heat-up time
Recommendations: Perhaps provide more/higher temperature settings. Otherwise, nothing really.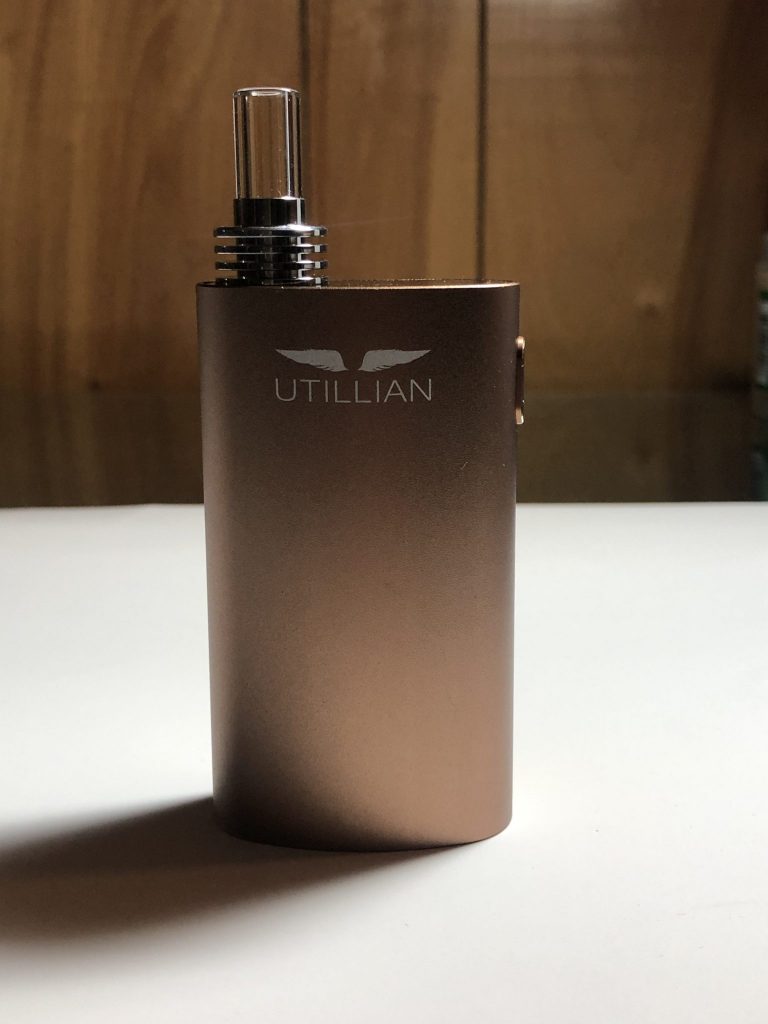 Utillian 421 is a simple yet effective vaporizer
To begin, everything about the looks and the feel of this vaporizer is great. It provides a comfortable grip and is also a fairly size, somewhat portable vaporizer. Along with that, this dry herb vape delivers pretty well hits. Not the most potent nor the thickest hits, but again very efficient.
Great design and well-built vaporizer is simple and easy to use
The Utillian 421 has a very nice, elegant design and great build quality. This vaporizer isn't a small compact design, but it does fit comfortably on your palm and is fairly portable. Providing a glass mouthpiece and a bright digital display, this dry herb vaporizer is well thought out and a fabricated battery. Furthermore, this Utillian is pretty simple to use, allowing you to be in control of the temperature and airflow.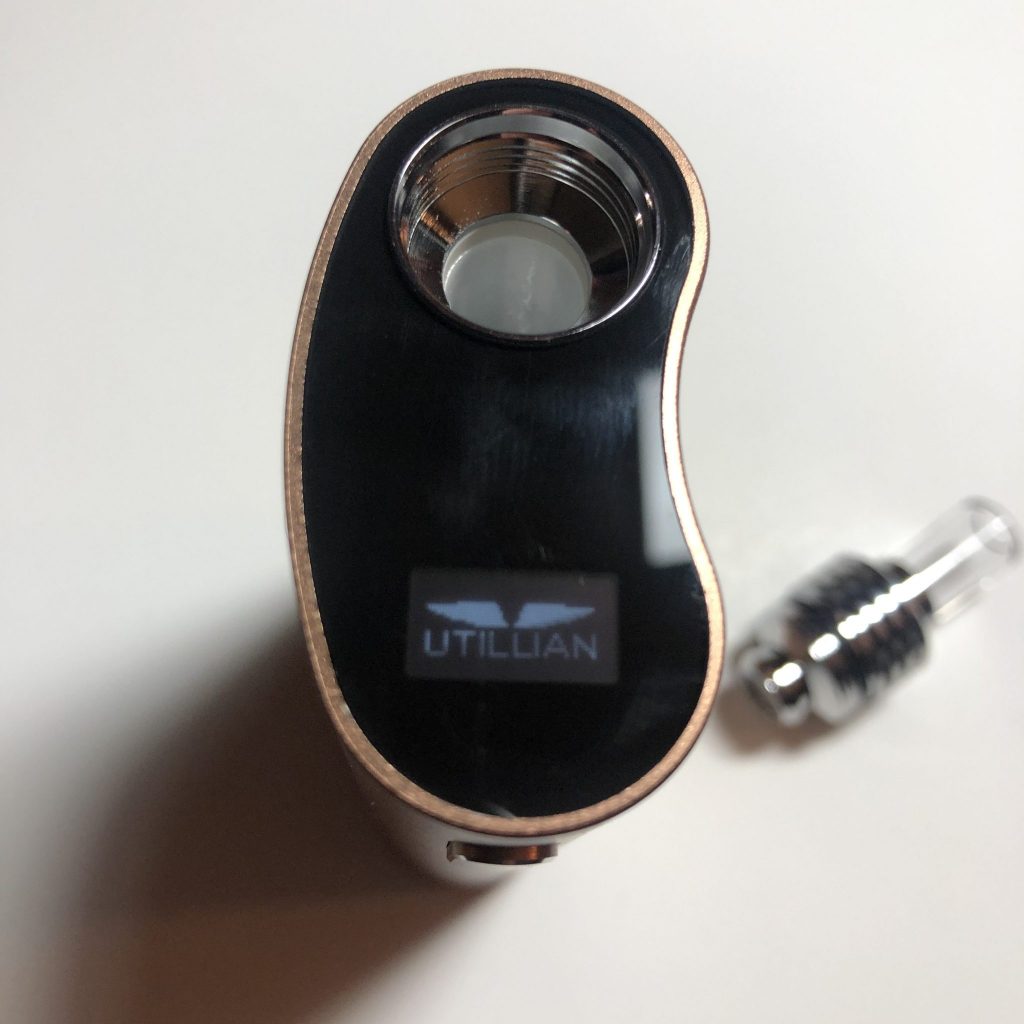 How to use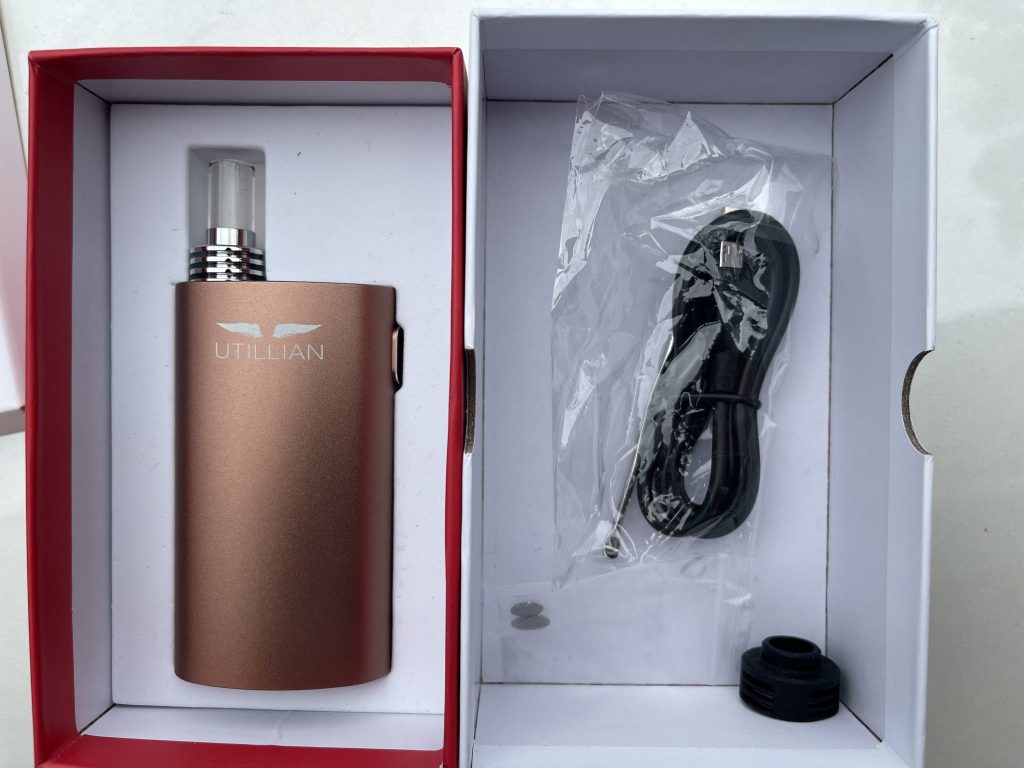 The Utillian 421 made is simple to pack and easy to use. Below is a quick guide on how to use it.
Unscrew the mouthpiece
Pack your herbs (make sure not to overpack or pack it tightly)
Turn on the Utillian 421 with 5 clicks, wait until it reaches your desired temperature, and start vaping
Press and hold the power button to change the temperature setting (180-230 degrees Celsius)
Different temperature settings
This vaporizer only comes with 6 different temperature settings. In addition, this is a good temperature range to get either smooth, low temp hits, or stronger hits. Below are the different temperature settings provided:
180

°C

190

°C

200

°C

210

°C

220

°C

230

°C
The Utillain 421 provides great efficiency and fair strength
As mentioned previously, there are only 6 different temperature settings with this vaporizer. Unlike the Utillian 620, you don't have full control of the temperature. Moreover, the best temperature setting to get optimal hits would be around 200-230 degrees Celsius. Moreover, The Utillain 421 delivers excellent hits, be it fairly thick smoke at a high temperature, or very smooth and light at a low temperature.
Sufficient heating chamber, efficient hits, and lasting sessions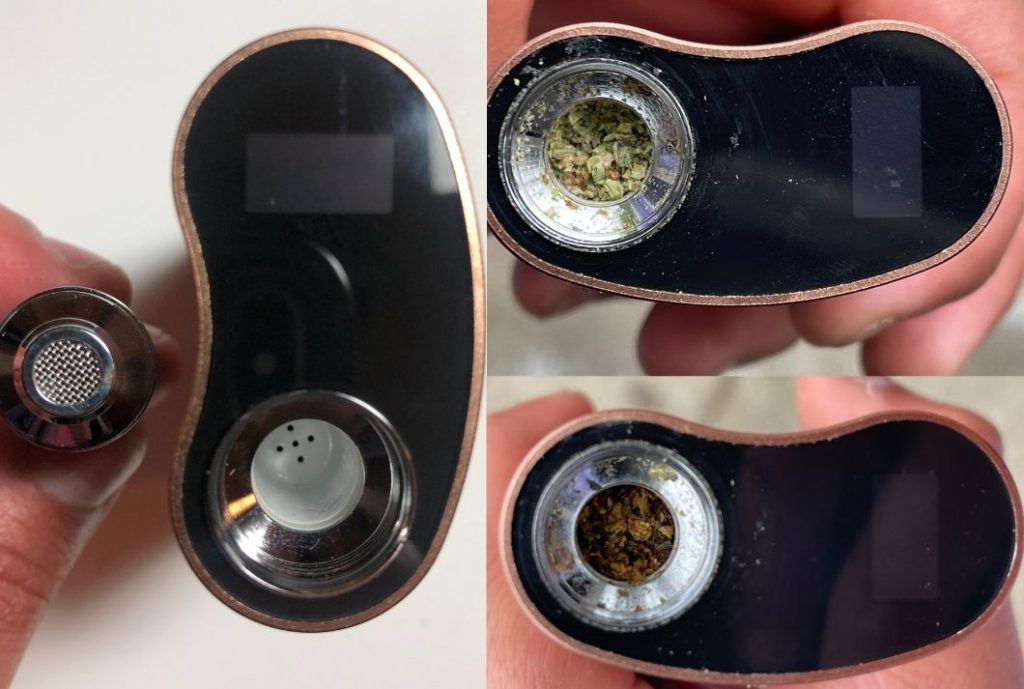 The capacity of the heating chamber on this vaporizer is great. Allowing you to pack up to .3 grams of botanicals, you can definitely get a lasting session for a personal session. For its size, the capacity on the Utillian 421 is amazing. Along with that, this dry herb vape burns evenly and efficiently, giving you the most of your session.
Unique vaporizer gives you a feature to change the airflow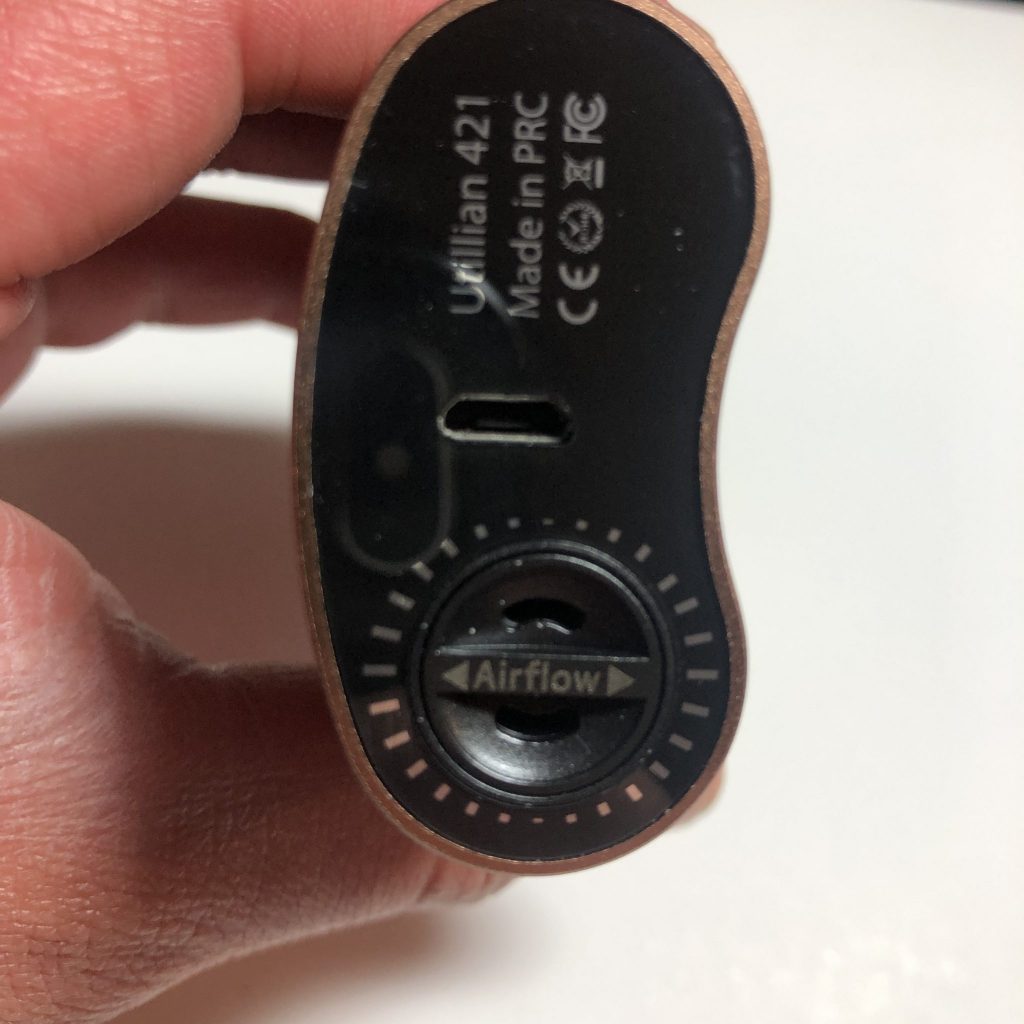 Unlike any Utillian vaporizer, a unique feature of this Utillian is the ability to be in control of the airflow. Located underneath the vaporizer itself, you can move around the airflow, allowing you to either get more or less airflow when vaping. In particular, this feature is one of a kind with all dry herb vaporizers, let alone just the Utillian. Additionally for best use, I usually recommend keeping the airflow completely open.
Comparing the Utillian 421 with other Utillain vaporizers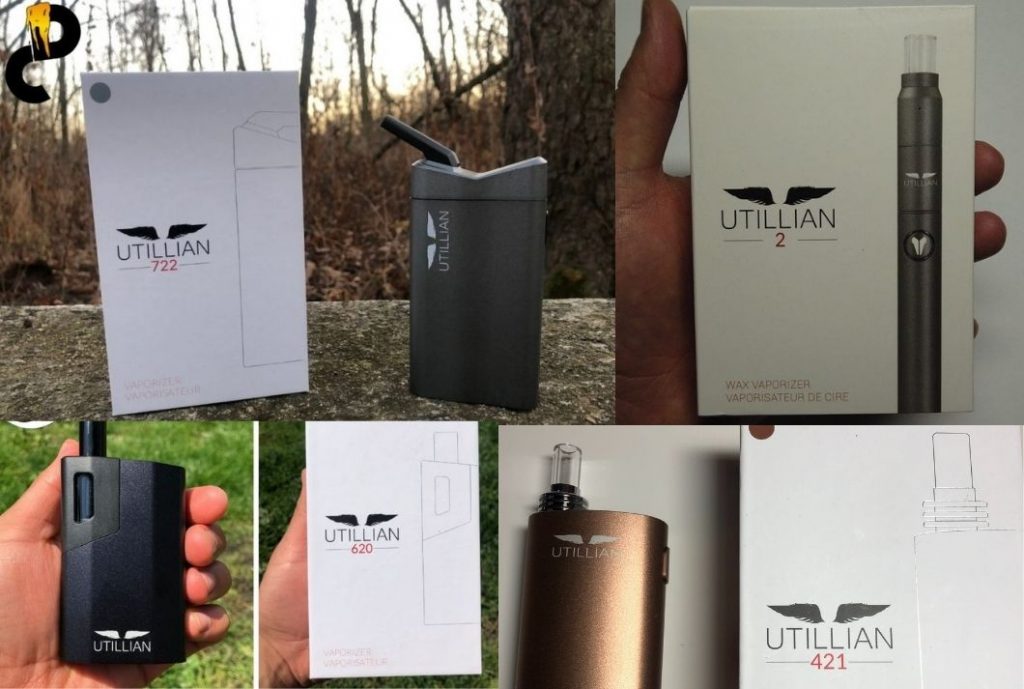 The Utillian brand provides a variety of different types of vaporizers. Vaporizers for dry herbs, wax, and even both in one. Here on DabConnection, we've reviewed most of their vaporizers, and let me tell you they all provide a fascinating experience.
First, for just vaporizing herbs, the Utillian 620 is a great vaporizer. In comparison with the Utillian 421, they are almost the same size, but the 620 is a bit more efficient and effective. Additionally, it gives you more options to set your personalized temperature setting.
Additionally, for wax, we've tried the Utillian 2 which is also a great product. Moreover, this inexpensive wax pen provides amazing portability But if you prefer something that works for both dry herb and wax, you might want to look at a vaporizer, for instance the Utillian 722. This vaporizer is an amazing battery that delivers strong, efficient hits. Unlike the other vaporizers, this is the only one you can use both herbs and wax.
For its value and its efficiency, good cost
Currently, the price for this vaporizer is $75, which is a fair price for a good quality vaporizer. Around this price range is where you find pretty good quality dry herb vaporizers, I've noticed that anything lower tends to not hit as efficient nor effective. But at this price, it is a fair deal.
Concluding the Utillian 421 review
To conclude, the Utillian 421 overall provides an outstanding experience. From the build quality all the way up to its efficiency and effectiveness, this battery is quite an impressive dry herb vaporizer. Additionally, this vaporizer delivers fascinating hits and provides a comfortable feel. Without a doubt, this vaporizer is well worth its value. You can learn more about the Utillian 421 vaporizer here.
Share your thoughts on the Utillian 421 and on other Utillian brand vaporizers. Let us know here in the comments or in our forum.