REVIEW OVERVIEW

SUMMARY

The Mighty Vaporizer delivers fascinating hits and high-quality vaporization. Very smooth and efficient yet very effective, this vaporizer provides a unique and good experience. A bit high in value, but the Mighty gives an overall great experience.
Here in this review, we have the Mighty vaporizer by Storz and Bickel. A unique and high-quality vaporizer built for both the use of dry herbs and concentrates.  The Mighty is the first portable vaporizer built by Storz & Bickel. Delivering smooth and potent hits, this vaporizer overall gives a great experience.
Pros:
Heats up efficiently and effectively
Two batteries, very durable vaporizer
Generous size chamber
Easy to use, pack, and clean
Cons:
Takes a bit to heat up
Slightly big in size
A higher-priced vaporizer
Recommendations: Nothing much other than the cost of the Mighty.
Mighty Vaporizer by Storz and Bickel – Well-built vaporizer delivers excellent performance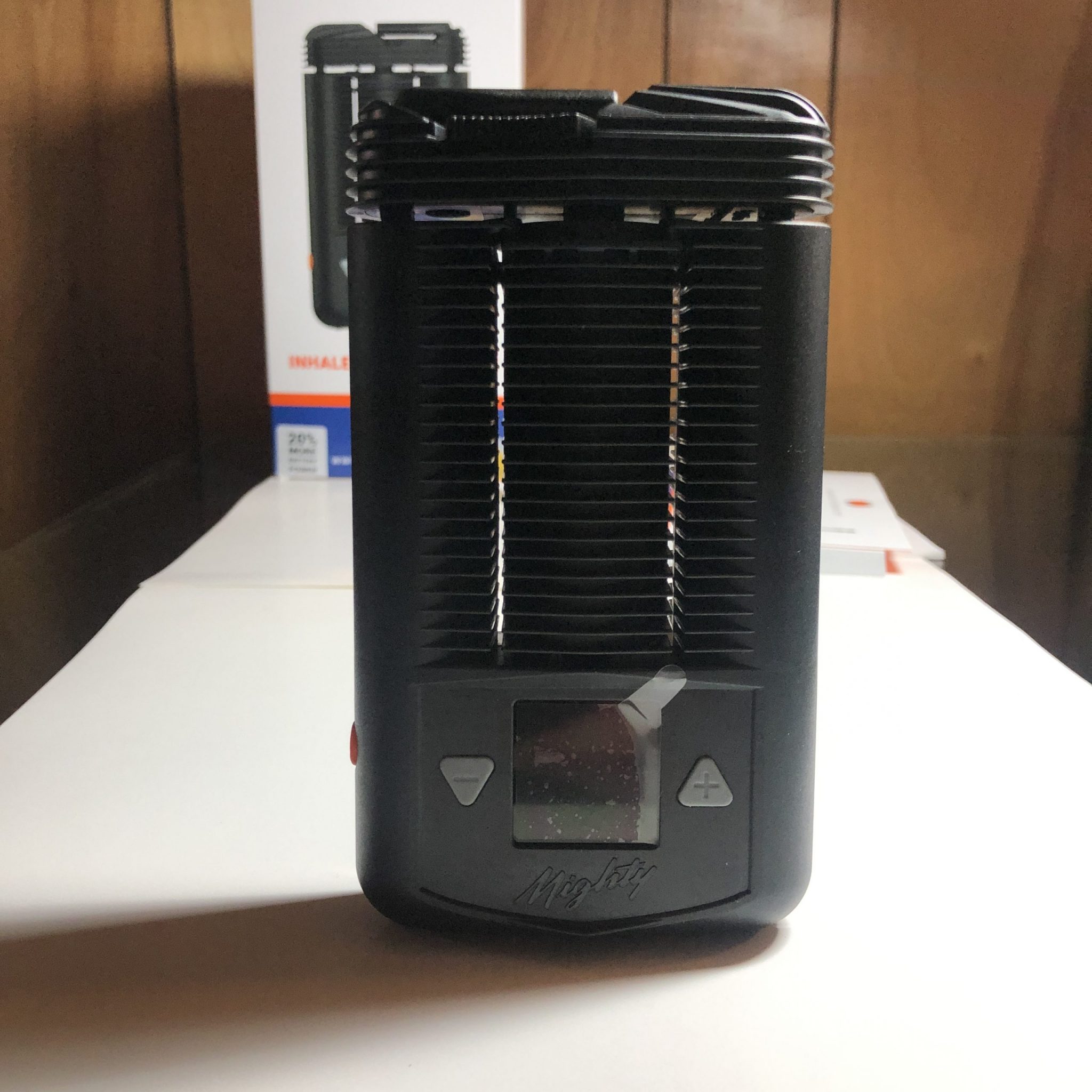 After using the Mighty a few times, this vaporizer delivers some great hits and overall good performance. From the way it heats up to the design and its built-quality, you can tell this is a well-thought-out vaporizer. Its design makes it very simple to use, maintain, and clean, yet the way it's built and heats up helps provide some fascinating hits.
Everything inside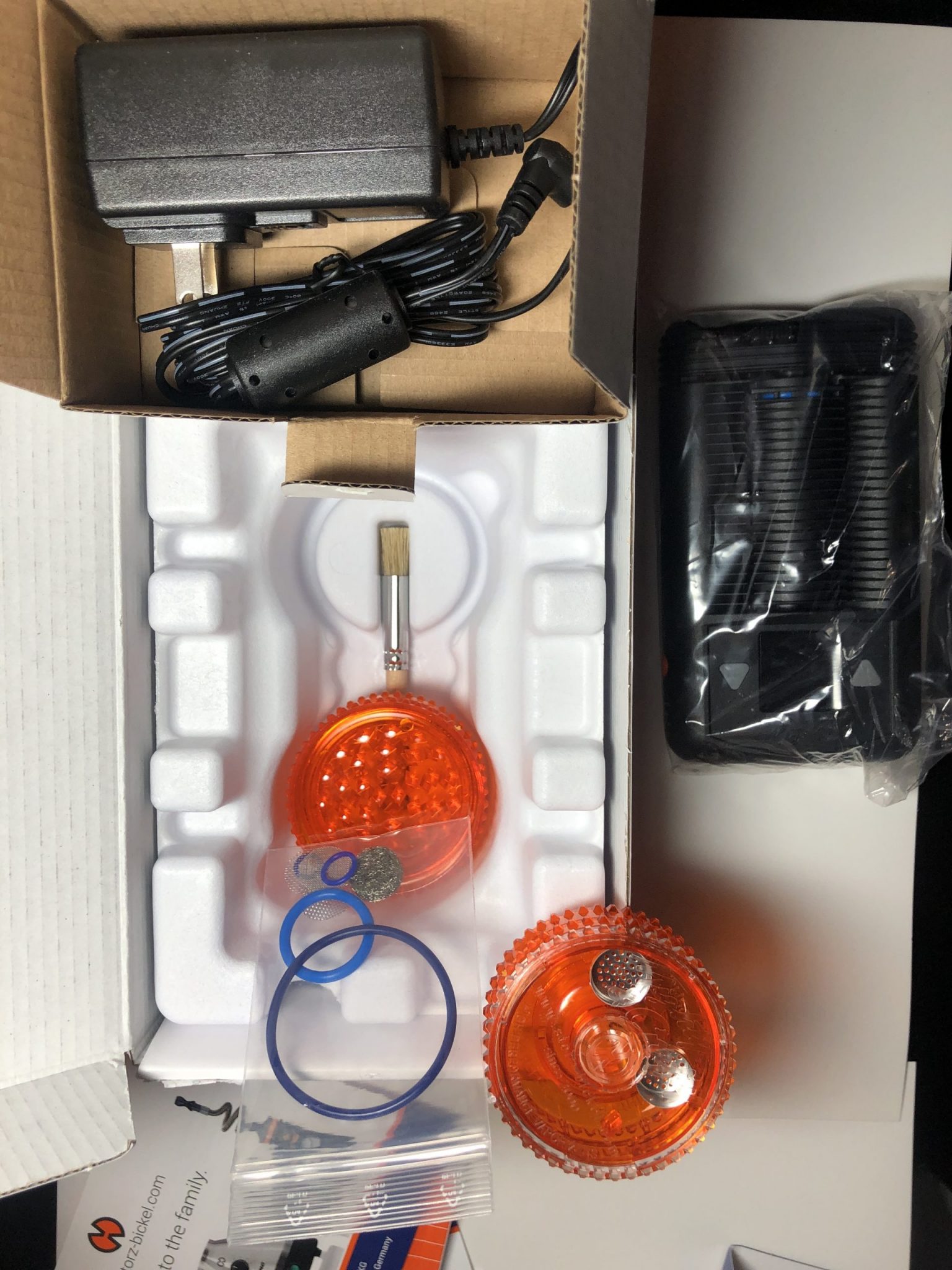 The Mighty vaporizer provides you with a bunch of accessories. Not just to help clean and maintain the vaporizer itself, but to help better your experience. Below is everything provided by this vaporizer:
The Mighty vaporizer
A charger/power adaptor (110 V)
Set of seal rings/screens
Filling aid
Grinder
A metal dosing capsule
A liquid pad for wax
Cleaning brush
How to use: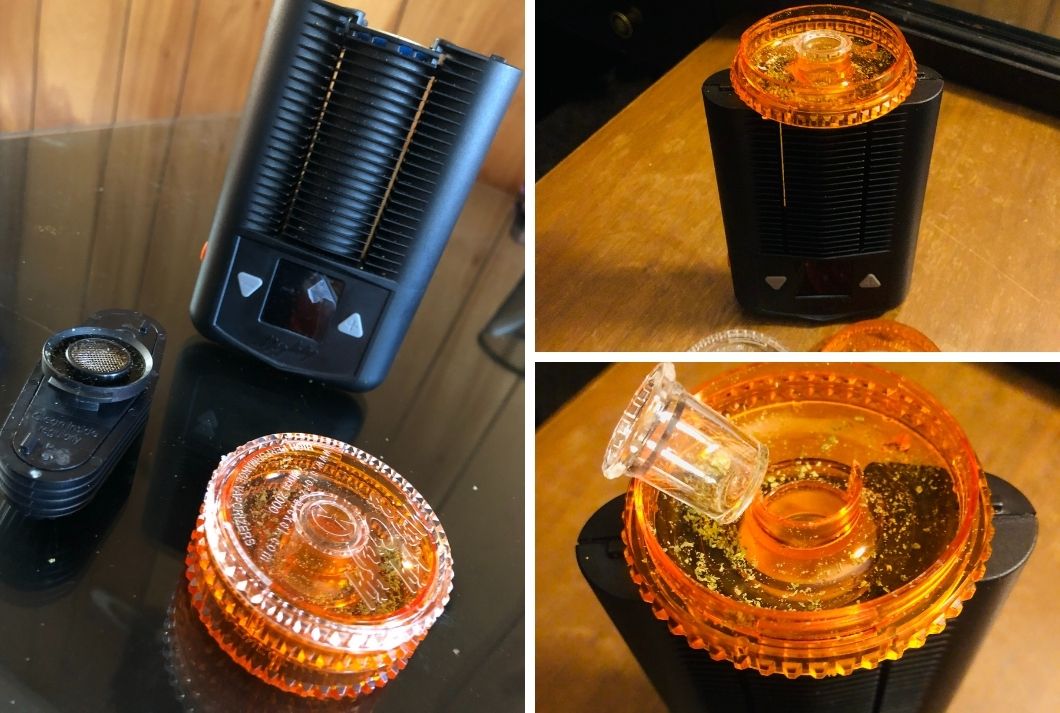 Open the cooling unit
Pack the Mighty using the filling aid (as shown above)
Once packed properly, close the cooling unit and open the mouth-piece
Press and hold the side button for a second, the vaporizer will vibrate and turn on
Set to your desired temperature setting with the plus and minus buttons
Wait until the Mighty reaches the temperature, it will vibrate when ready
Once ready, start vaping without having to press anything
(Optional) Press and hold both the plus and minus buttons simultaneously to change from Celcius to Fahrenheit 
The Mighty Vaporizer is slightly big in size, however great design
Taking a look at the vaporizer itself, it is a fairly big battery. It does fit comfortably in your hands, but it is a pretty big and very wide vaporizer. Somewhat portable, you may fit this in your pockets but as I said, this is a relevantly big portable vaporizer. 
Besides that, the design of the Mighty is pretty simple and neat. Because of the way the mouthpiece is built, it prevents from getting hot and harsh hits. 
Convention heating and precise temperature control allows for efficient and effective hits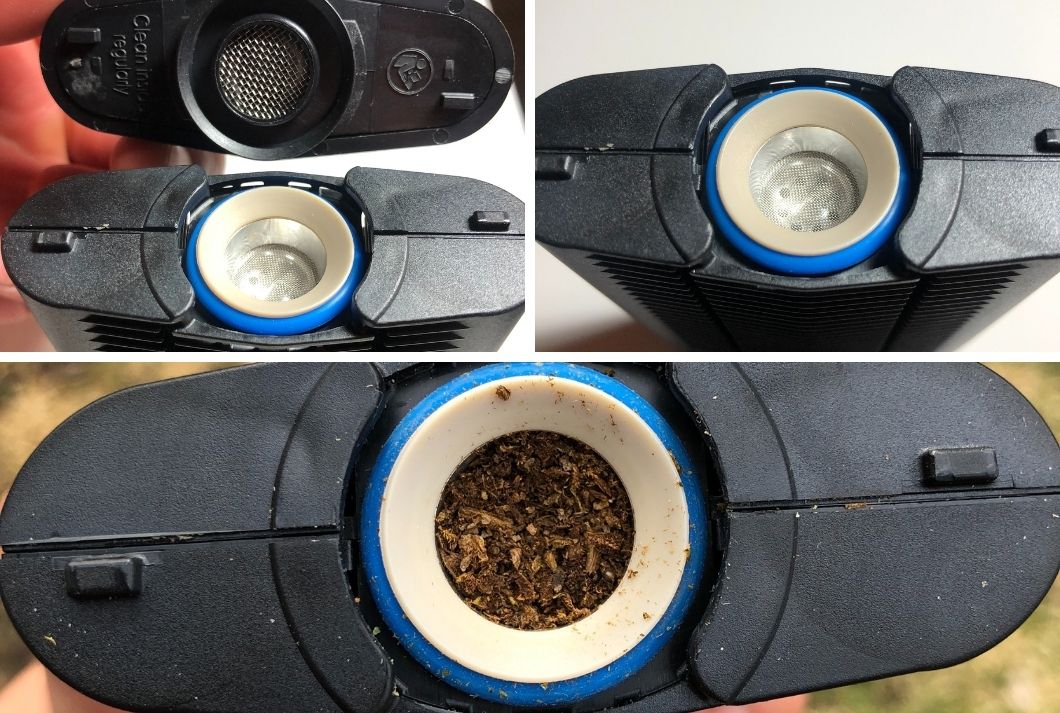 The Mighty vaporizer uses a convection and conduction heating method. Meaning, it uses hot air to vaporize your herbs. This helps provide the best vapor quality, delivering smooth and satisfying hits. 
Along with this, the Mighty gives you the option to adjust to your preferred temperature settings, ranging from 104°F-410°F (40°C-210°C). For best hits, it's preferred to set at a higher temperature setting, around 400°F. For beginners and first-time users, you can set at a lower temperature and still get great flavor and fair hits. But for those experienced and who want more potent hits, setting at a high temperature will give great strength. Not the thickest clouds, but very effective hits.
Dosing capsule delivers just as great of hits
An additional accessory this vaporizer provides is a micro-dosing capsule. Looking at the dosing capsule, my first thought was that it would deliver much lighter hits than without using it. After testing out, it turns out that the dosing capsule delivers just as efficient and effective hits. You wouldn't even realize that you're using it. This makes the experience more convenient, great for if you're looking for smaller sessions and for quick packs.
Vaporizing wax with the liquid drip pad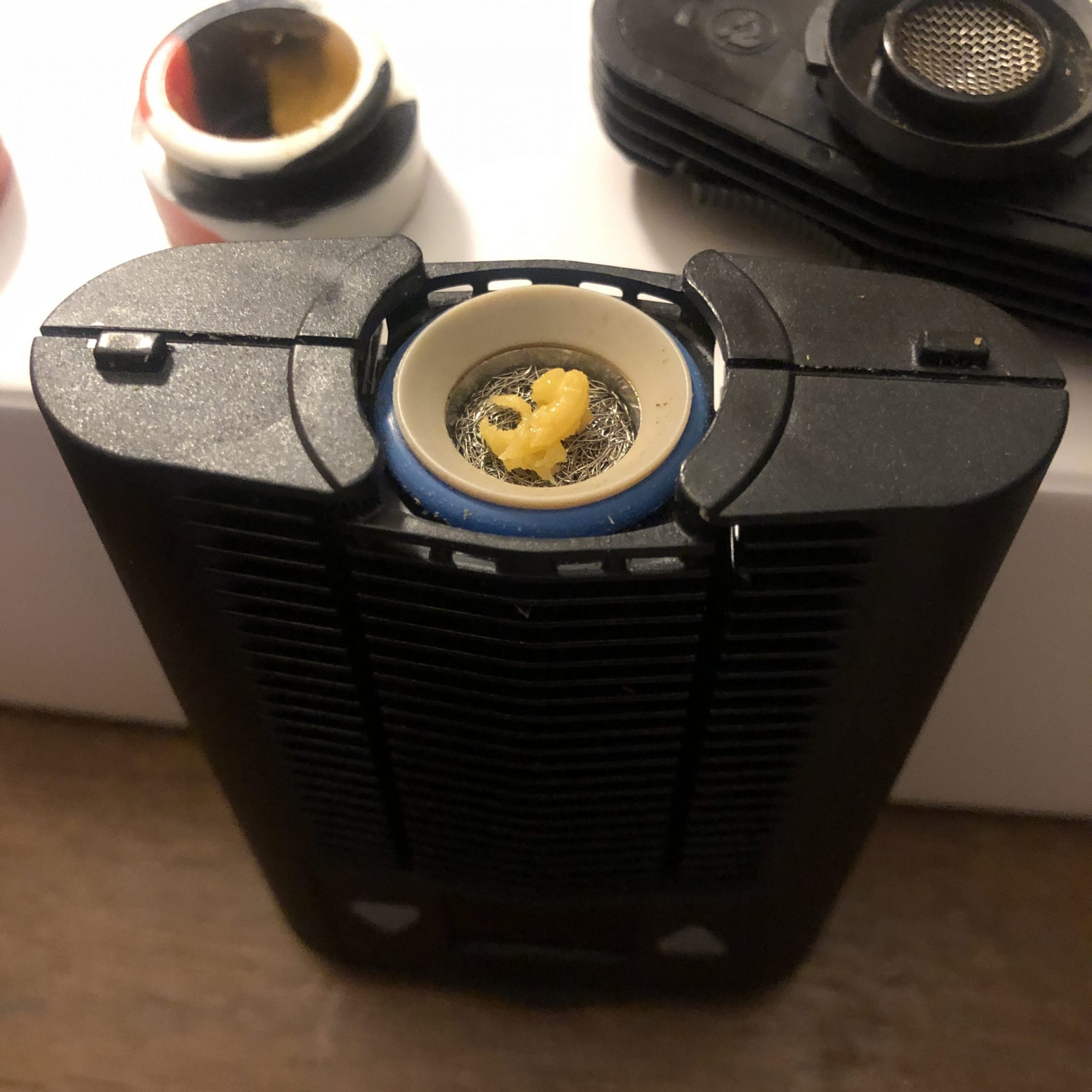 Another thing that makes the Mighty very unique is the liquid pad that you use to vaporize liquids and oils/wax. Furthermore, the drip pad is made of stainless steel and fits perfectly into the chamber of the Mighty. Easy to use, simply place into the chamber and pack with dabs sufficiently.
Never having tried vaporizing wax in this method, I didn't know what to expect out of it. After packing some wax, it does take a bit more time to heat up but delivers very efficient hits. It does deliver a bit lighter hits, though it is still very effective. An interesting way of vaporizing dabs, but the Mighty delivers better and more potent hits when using with herbs. What I also like is that you can pack a decent amount of wax without worrying about it clogging and still get an efficient and lasting session.
The Mighty vaporizer carries two lithium-ion batteries, making it very durable and providing long-lasting sessions
A quality feature of this vaporizer is that it uses two lithium batteries. This makes it very convenient, allowing you to take multiple long sessions for the entire day if not more. Th Mighty vaporizer may be the longest-lasting vaporizer I've tried so far. Along with this, charging doesn't take much time with the 110-volt power adapter. The duration of this battery will last you plenty of time before you ever have to recharge it. 
Storz & Bickel Mighty is a high-end vaporizer and high in value, but a good device for connoisseurs
The price for this vaporizer is pretty prohibitive, especially compared to many other dry herb vaporizers out in the market. You can find the Mighty on TVape for around $380, which is more of a higher-end and value vaporizer. But for its quality, performance, and duration, this vaporizer may be worth investment for a connoisseur who enjoys vaporizers. 
Overall, the Mighty Vaporizer is a nice quality dry herb vaporizer
Concluding the Mighty vaporizer, this durable battery gives quite efficient and very effective sessions. This vaporizer really delivers high-quality vaporization and provides a good design. A bit high in price and value, but the Mighty does deliver great performance. You can learn more about the Mighty Vaporizer and purchase yours here.
Readers, share your thoughts on the Mighty vaporizer and other Storz & Bickel products. Is it worth the price? Let us know here in the comments or in our forum.