REVIEW OVERVIEW

SUMMARY
Here we take a look at the Linx Eden. In this review by Dab Rat Labs, we cover the good, the bad, and what could be improved upon with this dry herb vaporizer. Overall, this vape is made of quality materials, but there are definitely areas for improvement.
Pros:
Sleek design.
Intuitive controls.
Pocket-friendly cap.
Brings out the full flavor of terpenes.
Fully vapes herb, no burning.
Cons:
Non-standard charger, so you'd better not lose this one!
The silicon cover sleeve is fiddly. Having it on while you tighten the mouthpiece tends to reposition the cover, hiding the buttons and lights.
Titanium pads difficult to remove after use.
Hard to hit.
Linx Eden review and unboxing at Dab Rat Laboratories
Linx Vapor makes the Linx Eden, a dry herb vaporizer.
Dry herb vapes have become a more popular way to hit regular flower.  Vaping herb, as opposed to burning it in a joint, produces less toxins and odor. UC San Francisco researchers report that vaping cannabis produces the same THC levels without the harmful toxins of smoking. You might also notice a longer-lasting high with less impairment. Finally, the biggest factor in a dry herb vape's efficiency is grinding quality.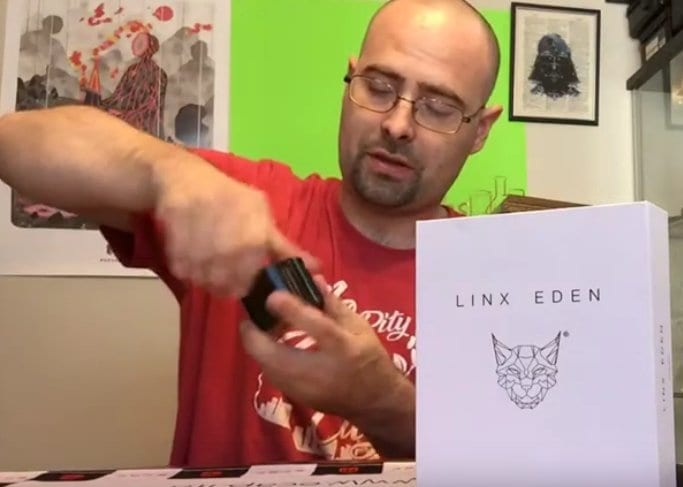 Contents:
The vaporizer itself
USB charger
Lava plates – 1 pair of titanium pads, +1 replacement pair
Scrub brush for cleaning
Silicon vape cover
Replacement glass mouthpiece
Other spare parts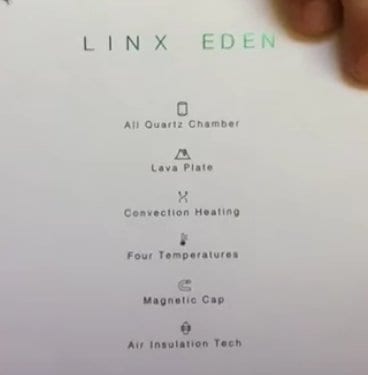 That feature list in case you mobile folks can't make out the text in the box shot:
All quartz chamber
Lava plate
Convection heating
Four temperatures
Magnetic cap
Air insulation tech
Usage:
Pack the chamber half-full with well-ground herb. Spread your extract (about the size of a grain of rice) onto one side of the lava plate.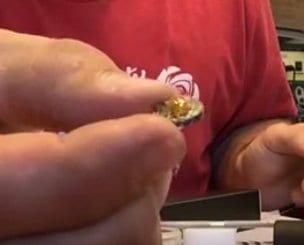 Place the second lava plate on top of the extract, like an Oreo cookie. Place the lava plate cookie in the chamber on top of the dry herb. Close it with the mouthpiece and power it on. You're ready to go.
To clean: Submerge the lava plates in isopropyl alcohol. Let them soak for an hour, then remove them from alcohol and let them air-dry.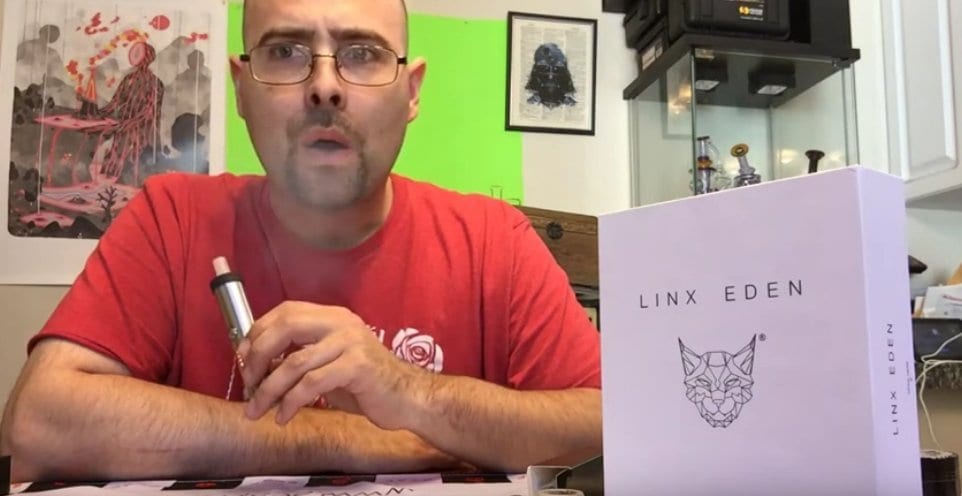 Apparently you have to hit it hard, drawing air through it, to get a good puff of smoke.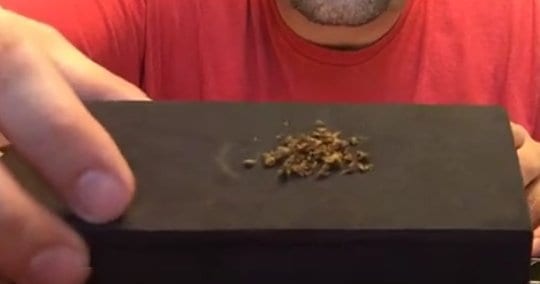 Post-vape, you can see where the herb is not burned, but cooked.
You can find more info on the Linx Eden here.
Have you tried out the Linx Eden or other Linx products?
We'd love to hear from you in the comments below or in our forum!