REVIEW OVERVIEW

SUMMARY
Today we will be reviewing NW KIND's Bruce Banner cartridge. The namesake of B. Banner or Bruce Banner is from the hugely popular TV series and the Marvel comic from the late Stan Lee about a scientist turned monster. Much like the show was dear to me as a kid, so is this strain whose parentage and phenotypes come from the OG Kush strain mixed with Strawberry Diesel.
Pros:
Fantastic flavor and potency
Delivers a strong euphoria
High lasts for hours
Cons:
Rough on big draws
Intense cottonmouth
Dry eyes
Plastic hardware
Recommendations: NW KIND could improve their taste through an upgrade away from the plastic mouthpiece and barrel.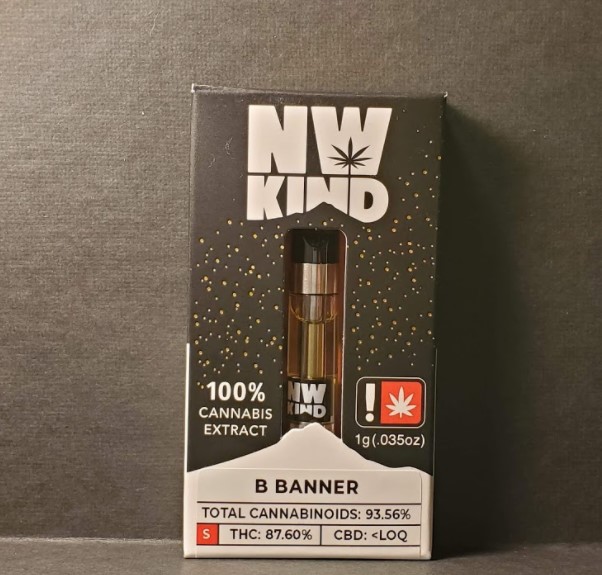 NW KIND offers mid-grade and moderately priced distillate
 This offering from NW KIND is a mid-grade and moderately priced CO2 distillate of good clarity. The color is a sort of lemon-tinted tea that seems bathed in sunshine. This cartridge nearly glowed from the inside. It was certainly beautiful in color and the transparency was practically perfect. This cartridge was impressive, to say the least. 
The most dominant flavor in this particular terpene profile is Myrcene which gives sort of a fruity and floral overtone with pungent spicy and musky oaks underneath. If you're a "connoiseur," this is definitely a strain you should keep in your short quiver. Some of the near strains include Kimbo Kush and Black Cherry Punch. 
History & Strength
When brought to Norcal from Amsterdam, the original Hindu Kush strain divided into 3 phenotypes. One of these became prominent as a Sativa Dominant Hybrid known as Bruce Banner, with Bruce Banner #3 as a close second. This review will center on the Sativa version. 
The numbers break down for this cartridge look like this:
Total cannabinoids at 93.56%

THC at 87.6% and 

CBD is too small to measure.
This gives the cartridge a very high and expressive euphoria lasting four hours.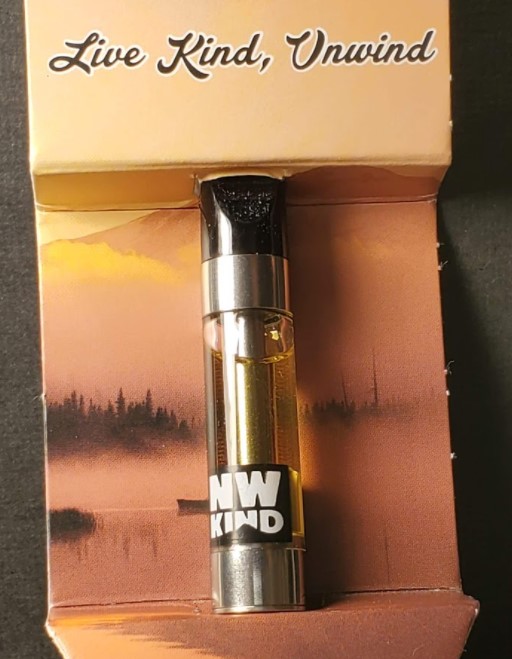 How it's grown
The grow types for this strain can be indoor or outdoor with outdoor grows to produce massive yields of up to 35 ounces per plant. Indoor strains have about ⅔ of that volume but at a much higher potency. These are often in the near 30 percent range for the flower-giving concentrates,  edibles, and extracts an extreme punch quality of effects. 
This strain is durable, rough, and resilient, often putting up with pests or various types of infirmities that would do a lesser strain in. When you harvest matters with this particular strain. The later in the year, the higher the Sativa effects; while pulling in an earlier crop tends to highlight the Indica dominant points.
Taste and color
Now, let's move on to the flavor and appearance. As soon as I open the box the pungent and fruity aroma hit my nostrils. Definite floral overtones with spicy and musky Oaks and hints of leather underneath. A strong and pleasant aroma reminded me very much of fresh fruit and wildflowers.
The appearance of this cartridge was spectacular. Clean and crisp black and white lettering. The package was very well designed with an interior sleeve holding the cartridge firmly inside of a box for display and highlighting its best features. Respect to NW KIND for their designs and background art featuring prominent mountains and northwest trees. Definitely a local favorite. 
I was impressed from the first draw and I felt the effects almost immediately. The flavor was rich and delicate. Like fine wine and cheese from the Venetian countryside.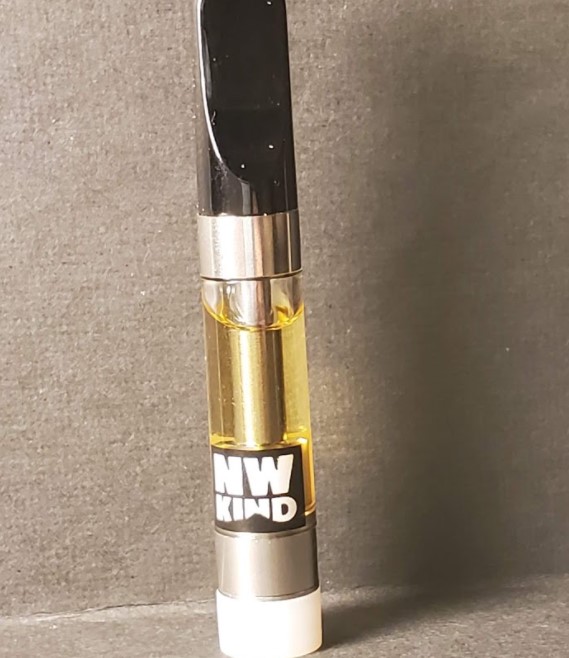 Physical and mental effects
This cartridge is a Sativa dominant hybrid; therefore it gives an energetic and heady euphoria. I found it very mental and giggly, while being fun and creative at the same time. My energy levels were through the roof. My stress melted away like wax on a hot summer day. This cartridge is good for stress relief and the release of anxiety, but pain relief is only possible in the higher dose range as the CBD is nearly invisible to testing. 
After smoking 3 to 4 large puffs I still felt alert and focused yet playful and relaxed. The effects were definitely immediate. I felt my brain surrounded by clouds and yet scrubbed clean in the same moment. The contrast was not at all unpleasant. It was a moment to unwind and let the day go. Pain relief seems to center on things like restless legs and headaches but requires significantly high doses to do so. Because of its potency, the negative effects of Bruce Banner can include occasional paranoia and physical vibrations leading to discomfort.
Conclusion
Overall, my impression of Bruce Banner from NW KIND is that of a strong energetic high definitely capable of lasting all day. I would recommend this cartridge to friends, artists, and musicians. You can find out more about NW KIND products here.  Have you tried them? Let us know in the comments or on our forum.