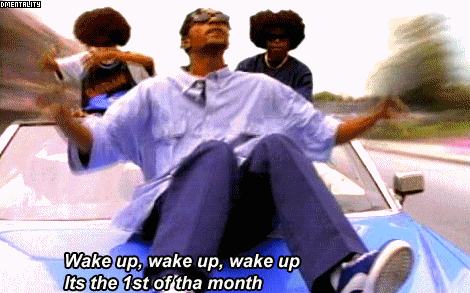 Don't you want it to feel like it's the "1st of that Month" where you're "smokin', chokin', rollin' blunts?" Well, you best, wake up, wake up, wake up. It's time to get yourself some weed subscription boxes so that you can conveniently obtain carefully curated with pipes, papers, wraps, vape pens, lighters, glass, trays, grinders, and a whole lot more at the beginning of each month. Some of these weed subscription boxes even go as far as giving you actual weed products such as edibles, flower, concentrates and topicals (Only in California). Not only do these weed subscription boxes provide convenience and exceptional products at lower prices than at dispensaries and smoke shops. They enable you to have the best smoking experiences possible. Below, Dabconnection goes into detail about the various weed subscription boxes you can have to wait at your doorstep.
420 Goody Box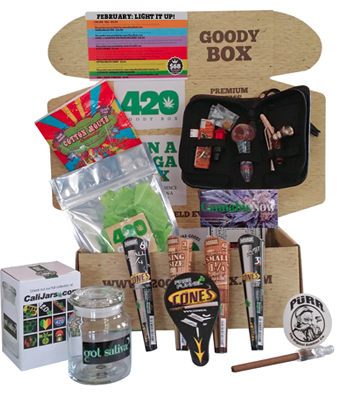 420 Goody Box subscriptions offer premium products at every level. They pride themselves in curating products from reputable independent brands. This box is for those people who want to discover other small brands are not well-known yet but offers underrated product. They provide unique bubblers, grinders, snacks, and stickers. Each box also contains a ticket. On the 18th of the month, they post a video on their YouTube channel and announce up to 10 winners. They give away cash, subscription weed boxes, smoking gear, electronics, gaming devices, gift cards and much more.
At $9.95/mo comes the "Look Pack." This is for casual smokers who need the essentials. It has four to eight items, containing rolling papers, pipe, lighter and other sorts of things.
Their "Goody Box" is unique because it offers a vape pen versus the rest of the competition. This is their most popular box, at $21.98/mo it provides products that total to about $45-85. This box also includes grenade shaped smoking pipe.
Lastly at $79.98/mo you get 7-13 items that are worth $150-$250 and a premium piece in every order. In this box, you can find a premium dab rig, great for your collection.
AuBox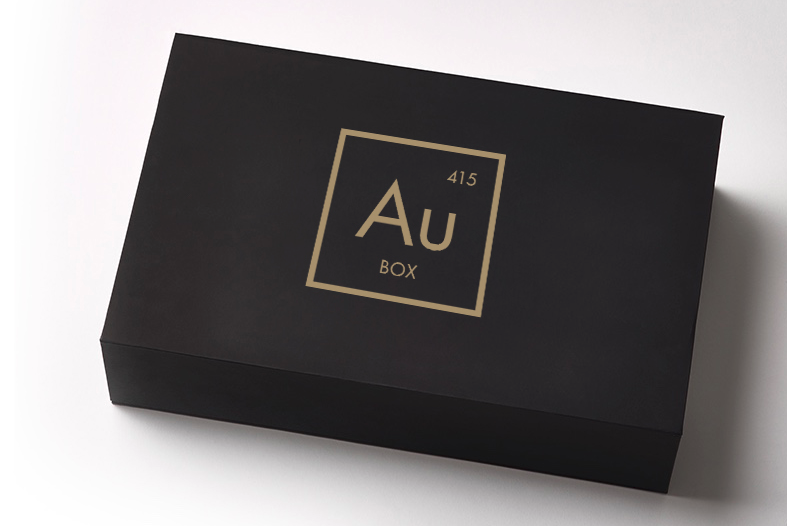 Another luxury cannabis weed subscription box, Aubox strives to deliver a luxury smoking experience that will change the way people perceive cannabis. Their products include 24k Gold Rolling Papers, Gold Vape Pens, they even have a solid $6,000 Gold One Hitter. Are you kidding me? AuBox probably has the most clout within the weed subscription box industry. They have advertised and been featured across prestigious print media such as Sports Illustrated, Vogue, Forbes, Observer, San Francisco Chronicle and much more. Vogue stated that Aubox is "the Luxe Marijuana Subscription You've Been Dreaming Of."
They offer an array of themed boxes such as the "Day and Night Box" that have weed and other accessories that are best suited for morning and evening use. It's for people who like to enjoy Sativa with their coffee with their weed as well as winding down with some Indica for the times where you want to be "in the couch."
Their "Edibles Box" contains eight edibles from their favorite makers. The edibles include indulgences such as cookies, popcorn, chocolates, tinctures, sodas, mints, gum, and candy. The edibles are made to be naturally delicious but also effective.
Since there's a lot of commotion around the internet stating that having sex while being high elevates the experience, AuBox is capitalizing on it by offering the "Intimates Box" This is a box that is designed to foster romance and intimacy, and to enhance pleasure. The items included are a hemp-infused massage oil, bath bombs, and cannabis breath mints. It also offers CBD lubricants that support feminine health and satisfaction and other cannabis-inspired toys and candles.
They also offer a "Sampler Box" for people who are getting into weed. It offers top-shelf Indica, Sativa, hybrids and high-CBD strains. They also ensure that each month that they give you new strains to try out.
As an avid lifter myself, I found a lot of interest in the "Man Box." This box contains cannabis protein shakes, pre-rolls, flowers, and hash. Cannabis protein shakes a fantastic idea when it comes to recovery after the workout. Just imagine all the gains because you'll get a mad case of the munchies even after you downed the protein shake.
Lastly, they offer the "Pet Box." Within this box, they offer treats that are meant for the wellness of your dog. These treats are non-psychoactive and CBD-rich. It also includes CBD shampoos, lotions, waters, and hemp toys.
Cannabox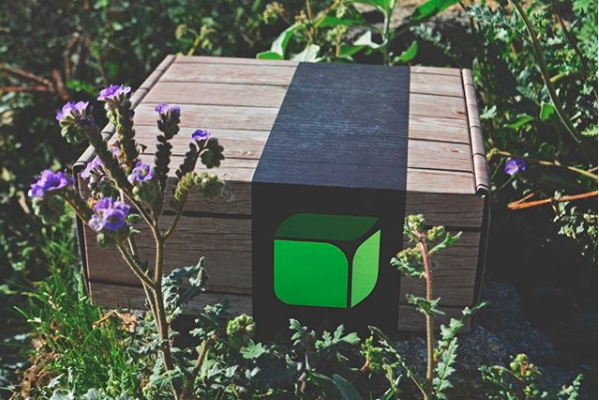 Cannabox focuses on high-quality CBD products. Starting at $20.88/mo they give you $40 worth of items that are usually themed with popular shows such as, Breaking Bad, Better Call Saul, and The Joy of Painting with Bob Ross. These themed items typically come in the shape of a t-shirt, socks, pipes, and ashtrays. One of their most popular themes was a Stranger Things pack that contained a Glow-in-the-Dark Mini Bong that was exclusive to their store. They also offer a CBD box called "Craft" at $49.98/mo they hand pick lab tested CBD edibles, drinks, and smokeables. They have shipped over 500,000 boxes and have gained an excellent reputation over the internet.
ClubM
If you are about luxury, ClubM's subscription was made for you. ClubM is one of the rare weed subscription boxes that offer you real weed in flower, concentrates, edibles and topicals at $97.00/mo. ClubM's curators have been in the industry very long, so they know what luxury smoking is. ClubM subscribers also have access to other premium collections such as the "Love Box" which contains a hazelnut chocolate body spread. "Explore Box" which contains Dapper Labs' moon rocks and a limited-edition "MBox 1k" with THC infused tea, coffee, oil, wax, cookies, and prerolls. For the most premium cannabis experience, they offer the "24K MBox" which contains more than 150 products. This box includes a sparkling vaporizer and has Swarovski crystals embedded into it. Note, this is only for those living in California, they will not ship their product outside of the state. This is an excellent choice for those discreet smokers who do not wish to be seen shopping at dispensaries.
Daily High Club

Starting as low as $1.00/mo, the "All Natural" weed subscription box gives you items that'll give you all your toking essentials for a day such as 1.25 Size All-Natural Papers and Filter Tips, Organic Bee Wicks, and a Matchbook. This box is recommended if you want just to ensure that you have the basics instead of smoking out of a random object.
Next, at $9.99/mo, Daily High Club's "Connoisseur" box has all the essentials. You obtain items such as papers, lighters, cleaning accessories and more. This package is guaranteed to make you become a connoisseur.
Lastly, at $29.99/mo, Daily High Club's "El Primo" box is like your favorite cousin who's always hooking you up with your smoking needs. This box gives you $100.00 worth of products and a new premium glass for your collection. They give you a Bacon Box, Raw Organic Rolling Papers, Raw Tin Case, Mango Hemp Wraps, Clipper Full Size Lighter, Wiz Khalifa Rolling Tips, A Cinnamon Bacon Air Freshener and a Sticker Set.
Elevated Stash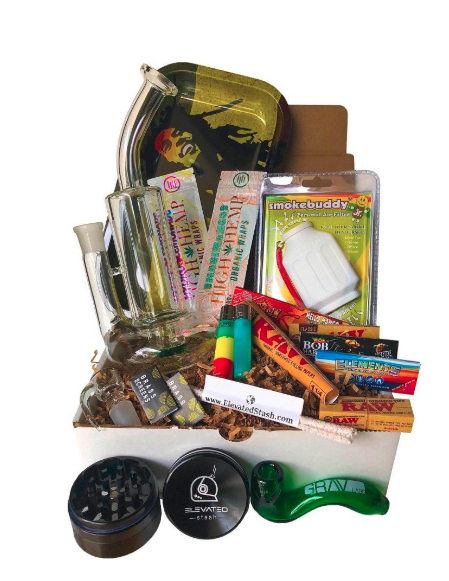 Elevated Stash does the most corporate good when it comes to the industry. A portion of the proceeds goes to helping veterans across the nation. This company is veteran owned and operated, so they truly understand the struggles that veterans face. As of March 2019, they have donated to Operation 1620. A non-profit organization bringing awareness, education, and support to veterans using cannabis as an alternative to pharmaceuticals. Offers four weed subscription boxes.
Starting at $5.99/mo, although small but cool the "Elevated Stash" contains the monthly essentials such as lighter, papers, wraps, and tips.
"Pikes Peak' at $29.99/mo is their most popular subscription box. You get 8-10 products selected by their smokin' gurus. A quniue glass or rig of the month, or a super rad smoking gadget, papers, hemp wraps, lighters, wicks, one-hitters, pipe cleaners and other smoking accessories.
Their flagship box "Mount Everest" $99/99/mo box offers +$200 worth of glass. The glass is a 10 inch Tornado Perc Bong. This bong creates a tornado whenever you hit it, giving you something cool to stare at when you are toking. You also get a GRAV Sherlock Pipe, tolling tray, assortment of 4 papers, lighters, cones, blunt wraps, pipe cleaners, fitler tips, hemp wick, and much more!
EmberBox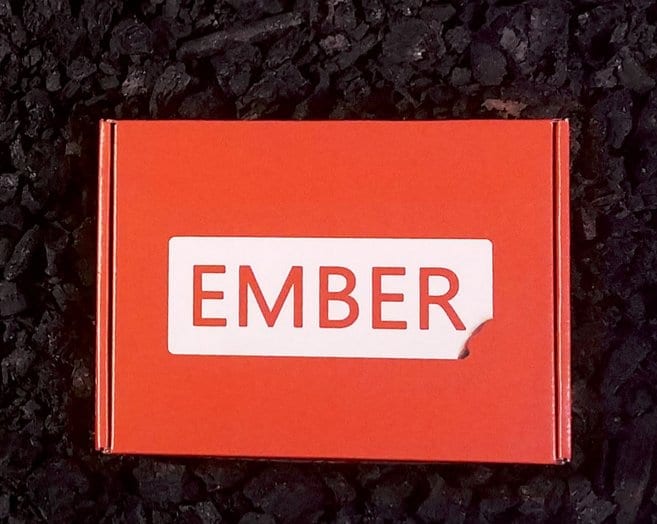 Your EmberBox will come loaded with all kinds of goodies! We search far and wide to find products that meet our high standards and then ship those products directly to your door!
Wraps
Rolling Papers
Filters
Grinder
Cones
and Much More!
A Box with a Purpose
The Ember experience is built around making high quality products conveniently accessible to everyone while simultaneously working to better our Earth. No gimmicks. No nonsense.
Once you receive your EmberBox at the beginning of every month, you can rest assured that you've made the best choice for yourself and the environment. With every purchase, some of the proceeds are donated directly to One Tree Planted who promises to plant one tree for every $1 received!
Buy it now!
Hemper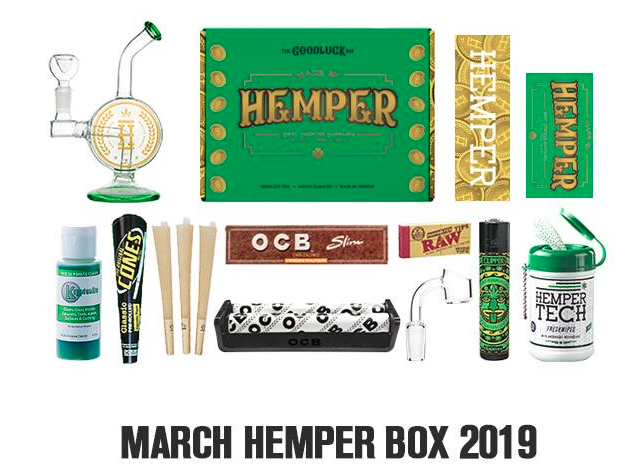 Hemper's dedicated team is always coming up with creative ways to curate a unique smoking experience that you won't find anywhere else. They also ensure that when the box is shipped that is would be in a discreet mailer bag with no branding on the outside, as they value your privacy.
Starting as low as $1.00/mo, they offer "The Bare Essentials" which offers premium accessories and 4 core essentials such as RAW papers, lighters, wicks, filters, and a mystery item.
Next, the "Hemper Pack" at $14.99/mo, valued at#35+ every month, contains around 7+premium pieces and accessories. They provide you with smell proof tech, cleaning gear, and odor eliminators. These items are fantastic especially if you like smoking flower. It really takes the smell of smoke off you when you need to!
Hemper's premium box, at $29.99/mo, it offers a Hemper Lucky Coin Rig with a Quartz Banger Nail, essentially giving you a new fantastic rig every month for at a low price. It also provides high-quality rolling papers, roller, and a clipper lighter. Hemper also offers past boxes that offer exclusive swag collabs with artists such as Rico Nasty and Adam Ill.
Hippie Butler
Hippie Butler offers plans from $1.00/mo to $799/mo. At $1/mo they offer the "Party Favor" this box contains the fundamentals for you to spark up at the next party. These items are rolling papers, tips, matches and hemp wick.
The "Roller's Club" at $15.99/mo provides you with a dapper bowtie ashtray, rolling papers, hemp wraps, pre-rolled cones, lighters, and other small gags and useful accessories.
Their most popular box "Butler Box" at $32.99/mo is for the people who use glass and papers daily. You will receive a glass piece, rolling tray, grinder, pre-rolled cones, cotton mouth candy cure for dry mouth, hemp wraps, rolling papers, lighters, hemp wick and more.
At $139.99/mo the "Master's Club" is for the people who consider themselves high class. This box contains, dry blends, concentrates, and other mixed variations. It also includes a high-quality smoking pipe great for your collection.
At $799, "Mod Sun Opulent One Time Box" probably the most premium weed subscription box's you can get on the market. This box is in partnership with Mod Sun music company and RooR. RooR is a world-renowned German glassmaker, all done through an intricate hand-blown process. This box offers various Mod Sun products such as a hard rolling case so you can bring your premium smoking experience anywhere, high-quality RooR torch, and a glass rolling/ashtray. This is definitely the stuff that you want to bring to show your friends. You are not wanting to go back to the usual way of smoking ever again. Be mindful that this box is specially crafted, it'll take customers up to 4 weeks to ship.
Kush Cargo
Kush Cargo is another weed subscription box company that provides actual weed products. They have three types of packages, the "Nug Cargo," "Dab Cargo," and "Combo Cargo." The "Nug Cargo" contains flower while the Dab Cargo contains weed concentrates such as oil. In their "Executive Class" box, at $70/mo they provide 3-6 nug related products, a guaranteed glass every month, and discreet shipping. Kush Cargo odes itself for shipping its products without a logo just in case you are a low-profile toker.
MonthlyStash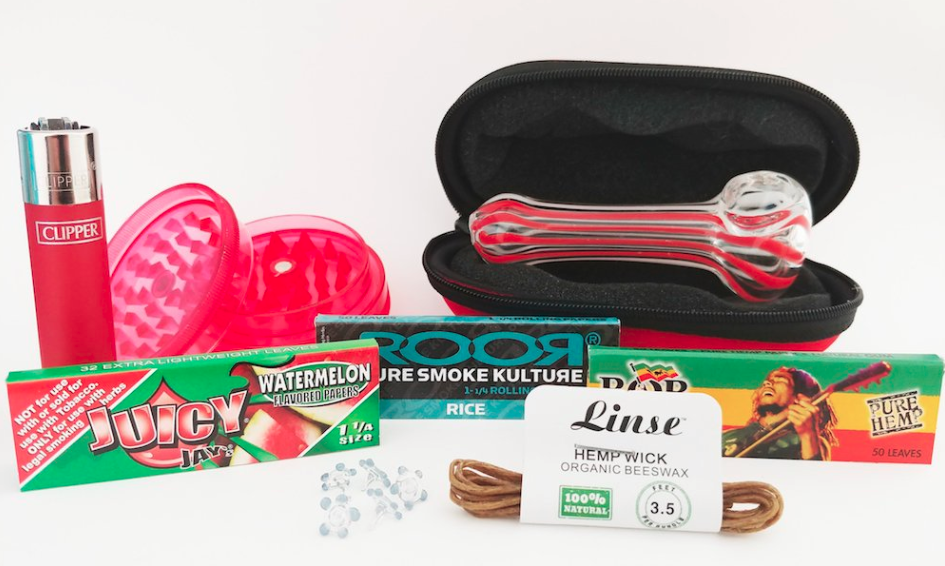 At $29.99/mo MonthlyStash prides itself in saving you money. They state that the order in large bulk quantities straight from the manufacturer making the price significantly lower than the competition. They encourage you to compare what you receive for $30 with what you would pay for similar items at your local shop. This box offers you 3-4 packs of premium papers or blunts and a glass bowl. They also give you 3-4 useful, non-gimmicky, surprise items such as a cigarette roller, pre-rolled tips, grinders, lighters and much more.
PufferBox
Starting at $26.00/mo plan to a 6 month $24/mo plan, Pufferbox will stuff your weed subscription box with all the best contents they can find. They also do a unique and fun theme every month. They offer you 8 to 10 items that are fun and unique theme. You'll always be sent a premium glass piece, a box of the latest accessories and some munchies. In 2019, they offered a "Spider-Bud" box that offered a web-slinger glass piece, five smoking accessories, spider munchies, and a magnet and sticker. One of my favorite ones that they offered was the "Twisted" theme. They offered a Twisted glass pipe as well as a RAW hemp plastic roller, and the best item, fruit-by-the-foot candy.
Puff Pack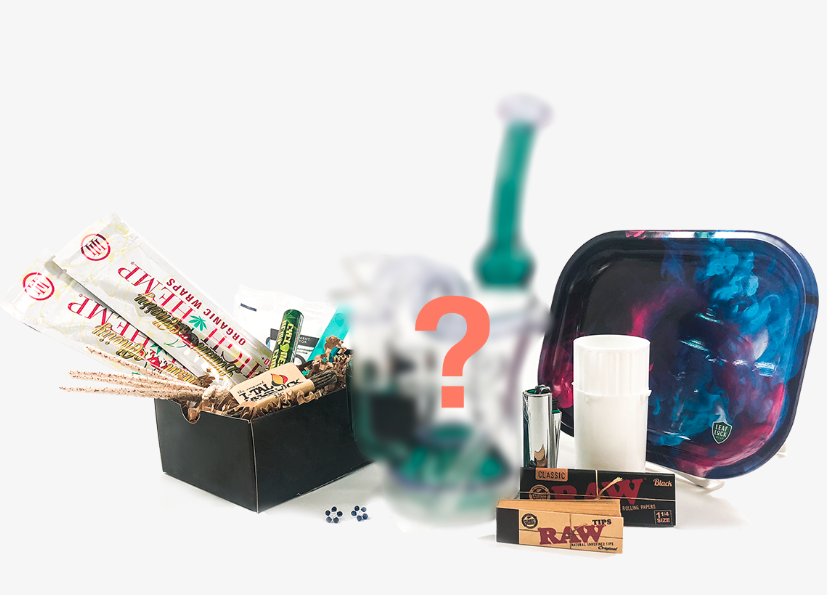 PuffPack's offers around 5 weed subscription boxes. Starting at $1/mo, the "Economist" contains everything you need to spark up, without spending much money.
Next is the "Mediator" at $12/mo, contains numerous RAW products such as rolling papers, filter tips, and a hemp wick. It also includes a lighter, hemp wraps and a hitter glass pipe. This box is perfect for people who want affordability and quality.
The "Artisan" at $24/mo, is for people who like smoking all month. This box contains enough smoking accessories that'll allow you to smoke every day, constantly. This box includes RAW rolling papers, filters, hemp pre-rolls, bowl screen, pipe cleaners, and a mystery glass pipe.
The most popular pack with over 509 reviews, the "Mystery Pack" at $28/mo is for people who enjoy monthly surprises. You get 5-7 mystery items that are always quality name brands. New products each month and a mystery glass piece.
Lastly, PuffPack's flagship box "The Premium Club" contains accessories for connoisseurs craving a more luxurious smoking experience. At $90.00/mo This box contains 10+ mystery items, +$160 worth of accessories, new products, mystery premium glass, and other exclusive premium items.
SensiBox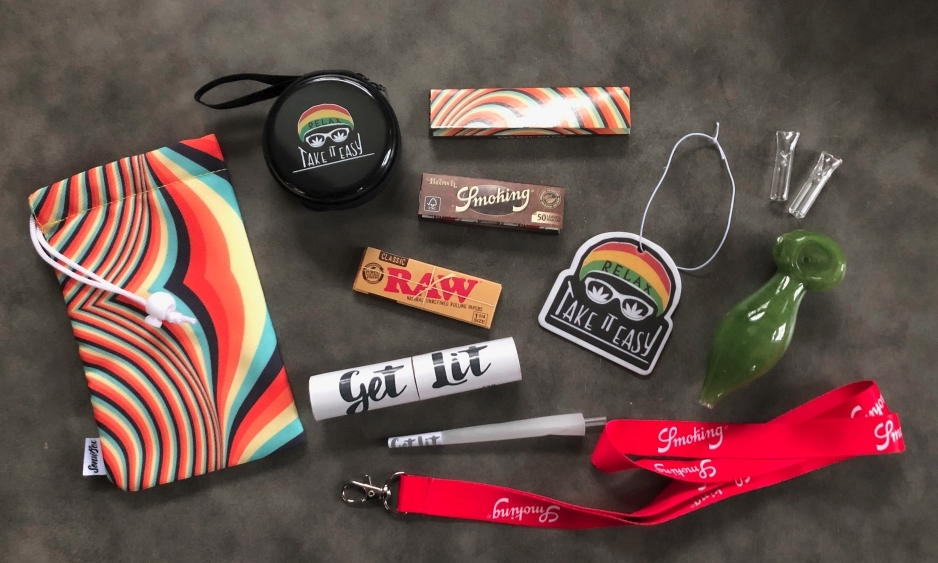 SensiBox offers more aesthetically pleasing products to your doorstep. They also provide different weed subscription boxes such as the "SensiLight Box" that's $20/mo for 5 items and the "SensiBox" that's $35/mo for 7 items. They also offer a prepaid plan for 3, 6 and 12 months. Some of the items that are included in these boxes are a custom hand pipe, custom padded pipe pouch, "take it easy" car freshener, rolling papers, cones, and a "take it easy" hat pin.
Toker Pack
Tokerpack offers three different weed subscription boxes. "The Mini Pack," $5/mo, contains 3 quality rolling papers. The "Accessory Pack" is for those who want new accessories to smoke out each month. This pack contains brand rolling papers and various glass pipe attachments. Lastly, "Bundle Pack" is a little bit of everything put together, in this box you get a quality name brand glass pipe that stands up to 10″ tall.
There Are a Ton of Weed Subscription Boxes Out There For You To Choose From
If you're subscribed to one of these boxes please leave us a comment below or post in our forums and tell us about your experience with these boxes or other boxes we should add to this list.