Although cannabis is legal for adults in Washington DC, the legal framework behind it is still somewhat murky. If you're wondering how to find weed in DC, check out our article below to find out more about the best places to get it.
Weed in DC: What the Law Says
The law in Washington, DC, allows people to possess up to two ounces of marijuana for personal use. Consumption is allowed in a private place, and residents can grow up to six plants.
However, there's a catch: Initiative 71 — passed overwhelmingly in 2015 — doesn't allow for selling or buying. It gets a bit more complicated. Congress passed an amendment to the bill in 2015 that stops the District from using any money to regulate or enact any new laws on the marijuana market.
That leaves DC marijuana in a strange, legal limbo or gray area, and it remains frustrating for pot entrepreneurs who want to branch out and sell weed in the traditional way.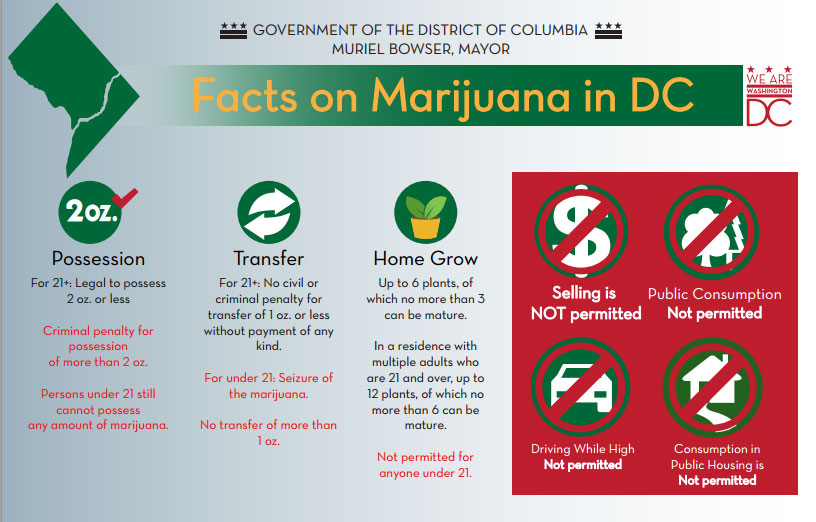 Can You Buy Weed in DC?
It's also disappointing for users trying to buy weed in DC. The only legal way to do that is to purchase another item as a good or service. Then, you receive a free marijuana product that's "gifted" or donated by the vendor.
After you've got your weed, don't think you can light up in a hotel or relish a smoke out in public. If you're hoping to enjoy the urban aroma right by the Lincoln Memorial, that's also a no-go. You cannot smoke cannabis on federal land.
People wonder why Congress is budding in on the growing cannabis culture for DC, but that's the way it goes. Although DC elects its own mayor and council, the city still needs Congress to agree to any legislation that is passed.
Weed in DC: Workarounds
That leaves vendors to become very creative in how they enact a seller/buyer interaction. Some hold pop-up events around the nation's capital and advertise these happenings at bars, private homes and eateries via social media.
At a pop-up DC weed event, you're purchasing an item like a t-shirt, raffle ticket, cup or sticker, and your weed comes along as a gift/donation. However, police have been cracking down on gifting markets because some users and vendors allegedly try to bypass the gifting process.
Weed Delivery in DC
In the meantime, some folks don't want to head out to a pop-up event and would rather order some DC weed in the privacy of their surroundings. You can have weed delivered to your door, hotel or a pickup location via DC weed delivery services. There's often a large variety to choose from, including flowers, vape carts, concentrates and edibles.
As far as medical cannabis goes, that's legal, but those patients who qualify for the program must have a recommendation from a healthcare practitioner. There's a waiting period of at least 30 days for the Department of Health to process the application. There's also a $100 fee.
With 20 million tourists pouring into Washington, DC, annually, the city's cannabis market could usher in $20 million of revenue yearly for local government. However, Congress has blocked the DC Council's attempts to fully tax and regulate marijuana.
Washington DC readers, how's it going out there?
This has been a guest post by contributor Carl Rogers. We've talked before about the bizarre legalization gray area of Washington D.C., where it's a tough call to figure out what is legal there at all. We welcome your continued commentary on the D.C. situation in our forums.