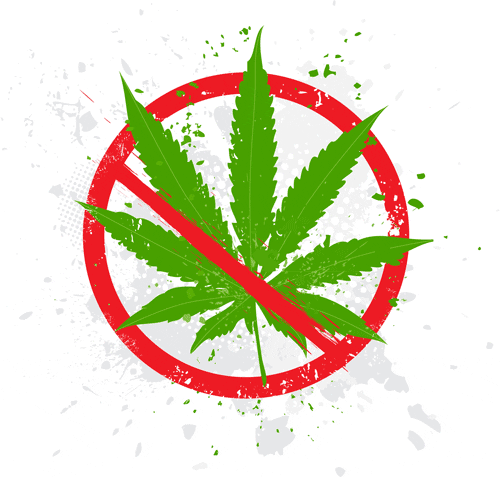 Attendees of the 2017 Vegas High Times Cannabis Cup are not happy. Day two of the event was cancelled this weekend due to bad weather reports. Complaints are coming in from visitors claiming there was no organization whatsoever.
High Times Cannabis Cup is the leading marijuana trade show. For decades they've celebrated the plant and the expanding weed culture it's created. It's a place for the cannabis community to come together. Enjoying the freedom to try products, attend seminars and network with fellow advocates. There are music performances, competitions and more. This year the main artist was Ludacris.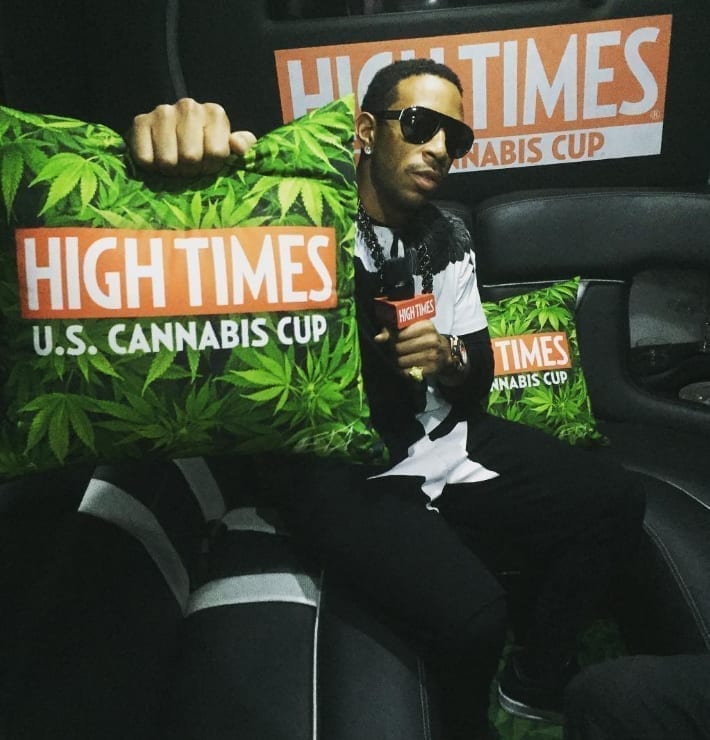 Bad Weather
Strong winds were the cause of many unhappy customers this weekend at High Times. Wind was forecast to reach up to 40 MPH with 60 MPH gusts to top it off. The National Weather Service (NWS) issued a high wind warning from 8 in the morning to 10 at night for Sunday in the Moapa Valley, where the event was held.
"Obviously, the safety of our patrons is of the utmost importance to HIGH TIMES and we cannot put anyone in the middle of these dangerous weather conditions. After an exciting first day of celebrating cannabis in Nevada, we are deeply saddened that Day 2 cannot go on." The Cannabis Cup said in a statement.
Sunday was called off completely. No refunds have been offered by High Times. They are however offering everyone who had ticket to the event a free pass to the Southern California Cannabis Cup.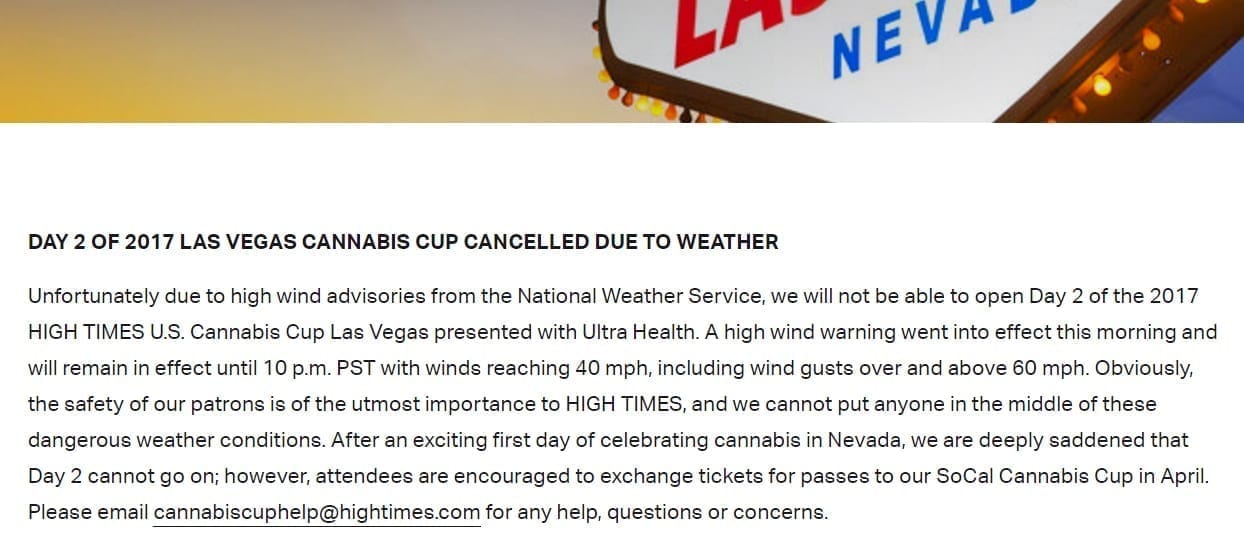 No Weed?
Two weeks ago, a U.S. Attorney in Las Vegas sent a letter to remind organizers of the High Times Cannabis Cup that; "the transport, possession, use and distribution of marijuana is illegal under federal law." The warning came after Sean Spicer and Jeff Sessions made comments to press on plans by the Trump administration to hammer down on recreational marijuana.
Anyone smoking pot at the Vegas event ran the risk of being prosecuted. This was bad news for anybody attempting to celebrate recent legalization! In January, Nevada joined Washington, Alaska, Colorado, and Oregon in legalizing recreational pot for over 21s.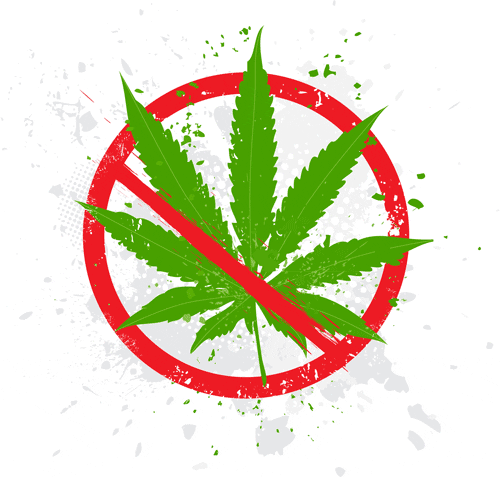 What's a Cannabis Cup with no cannabis?
High Times released a last minute statement, explaining the new circumstances. It seems many visitors were not fully aware of the significance.
"Federal authorities have intervened directly with our host venue, the land of the Moapa Band of Paiutes. Subsequently, we've been informed that our upcoming Cannabis Cup event in Nevada on March 4-5 can proceed as planned…vendors, guests, performers and attendees are advised to comply with all local, state, and federal laws regarding the use and distribution of cannabis and cannabis related products. In order for the cannabis industry to continue to earn legitimacy and social acceptance, we understand that rules and laws need to be abided."
According to CBS Sacramento, spokesperson Joe Brezny said it would be just a concert this year.
"We've removed the marijuana," he said. "There will be no smoking area, no edibles competition, no cannabis topicals or lotions."
More than 10,000 tickets were sold for the two-day event. That's a lot of people who were disappointed to learn about the crack-down on smoking.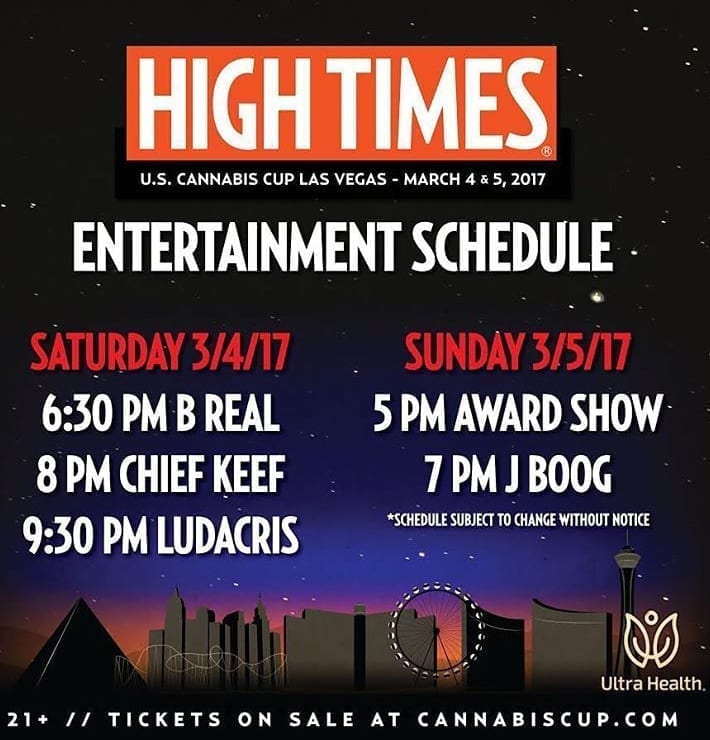 Instagram Complaints
Comments do not appear on most High Times Instagram photos from this weekend. Odd? The one picture that has comments pretty much says it all.
One attendee spoke about the strict 'no smoking' policy, only to find other guests dabbing out in the rosin tent. They had ditched their J to avoid trouble, and were sorely disappointed to find others had received contradictory information.
"I went to the show and it was so disorganized. There was no weed unless you brought your own and they didn't even state that we could bring our own either. It was a big shit show. You guys shouldn't have even tried to throw the event knowing the heat you were getting from the government. I want my money back. You're nothing more than a money hungry corporation. If you guys were really about the weed like you guys claim you are, then you should refund all our money back. You guys have pissed of a shit ton of stoners!!" another dissatisfied guest commented.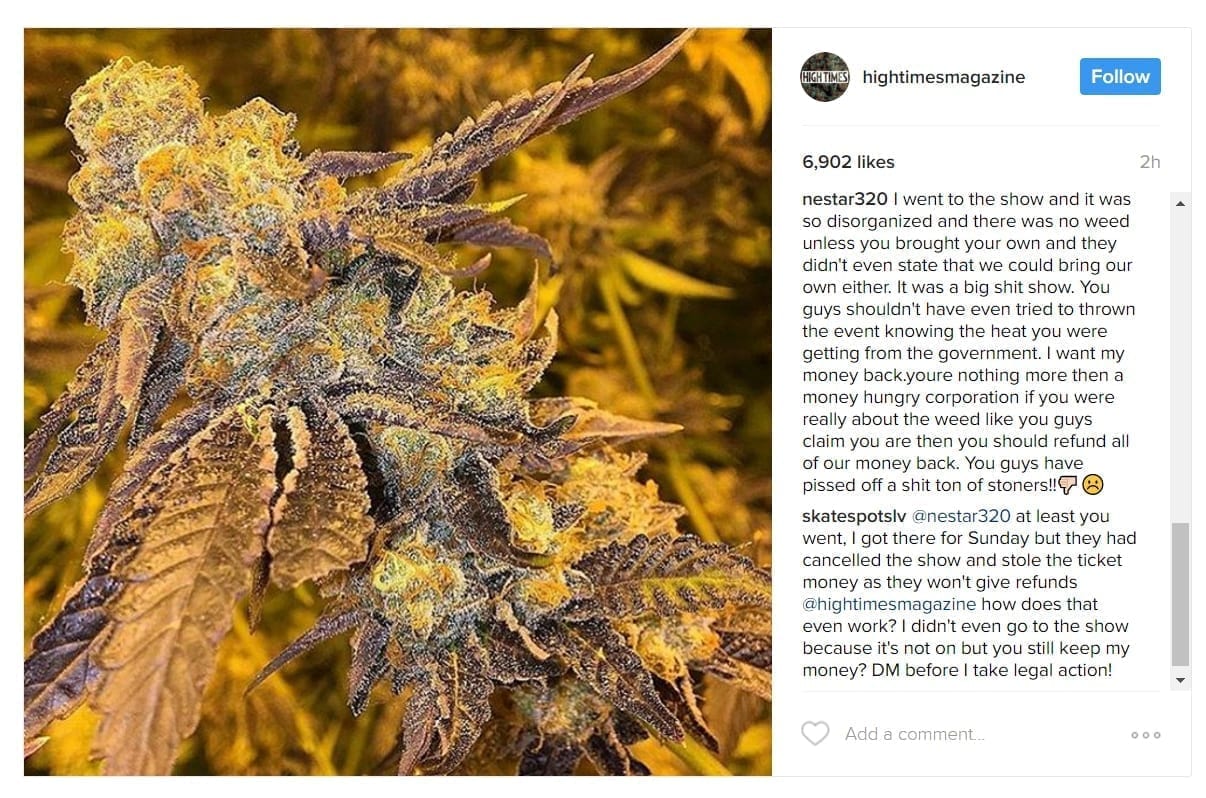 Miscommunication
Ouch! Clearly, there was a breakdown of communication over this weekend at the event. No weed, bad weather, Sunday cancelled and no refunds? Organizers told guests to exchange their tickets for entry into the SoCal Cannabis Cup in April. Many people had traveled a long way to attend are insisting on a refund.
The Cannabis Cup website claims;
"Going strong for nearly three decades, HIGH TIMES Cannabis Cups are the most established and trusted in the marijuana industry, continually fighting for the political legitimacy of the plant."
With big claims like this, there's no wonder guests are feeling slightly betrayed.