Prices of California Recreational Marijuana Might Be More Than Medical With New Marijuana Legalization
The 1996 passing of Proposition 215 in California left many questions unanswered. While it gave patients with a doctor's recommendation the right to grow, buy, and use cannabis, it didn't require California to provide licensing. That burden was left to each county. Nor did it allow California to receive compensation through taxation and regulation. Proposition 64 is a new step in marijuana legalization for California. It  makes weed legal in California for non medical purposes and brings with it elements left out of Prop 215. As a result, most authorities predict a rise in California recreational weed and wax prices.
Current Prices Of Medical Marijuana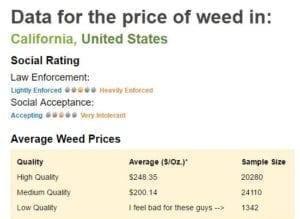 Before we jump into what the future of marijuana prices in California might be, let's take a look at current prices. Marijuana prices fluctuate across the State of California. According to Price Of Weed, the average price for an ounce of weed today runs $248.35 which is for high quality marijuana. Mid range weed in California runs an average of $200.14, so not that big of a drop from high quality bud.
Compare two counties, San Diego and San Bernardino.
In San Diego county, marijuana delivery services are sometimes the only way to get weed in cities like Oceanside. Thus the dispensaries that are open in neighboring cities like Vista charge $50-60 for top shelf 1/8s of weed. A top shelf gram of wax will run you $50-90. In the actual City of San Diego, dispensaries are getting shut down all the time, which also keeps costs high and comparable to what they are in Vista.
In San Bernardino county, its easy to find a dispensary.  Top shelf wax can easily be found for $35-45 per gram. One dispensary even has 10 grams of good quality solventless wax for $250, quite a deal! Top shelf weed can be found for as low as $30 an 1/8th. Half ounces can be found for $110.
What Prop 64 Says About Marijuana Taxation
Proposition 64 allows the State of California to tax weed in two ways.
California will excise a 15% sales tax on all recreational purchases of marijuana.
Growers will pay the State of California a cultivation tax of $9.25 per ounce of buds and $2.75 per ounce of leaves.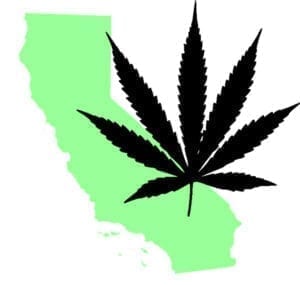 *Above information as reported by the LA Times.
Just to add a bit of perspective, current California sales tax on non alcohol and tobacco products sits at a total of 7.25%. Sales tax can run as high as 9.75% after adding on district rates. Marijuana will be taxed double the amount of California's base sales tax rate which doesn't take into account the money they'll get for licensing or cultivation tax.
Will Medical Marijuana Card Holders Pay Taxes?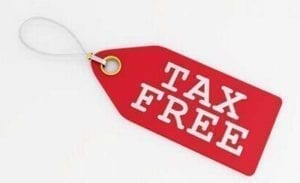 Food and prescription drugs classify as tax free goods in the State of California so medical marijuana card holders won't be required to pay sales tax. This is where licensing fees and cultivation tax will have an effect. It's hard to see a path where these costs don't end up on the consumer.
Card holders may not have to pay sales tax but they'll pay more if the base cost of weed goes up. As it stands, the landscape of California recreational marijuana prices is a complex economic model with too many question marks. Because cities and counties have so much control over how weed can be distributed, no one really has a definitive price.
Medical Vs Recreational Marijuana – Will Dispensaries Sell Both?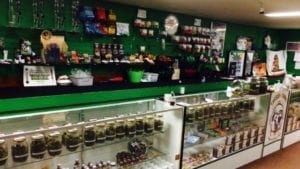 Many cities in California have existing medical dispensaries created under Proposition 215. Counties will decide whether medical marijuana dispensaries can sell recreational weed. In counties like San Diego officials have hinted that this may be the best course of action.
Proposition 64 requires the creation of a new Bureau inside the Department of Consumer Affairs. The Bureau of Marijuana Control will decide upon licensing and regulation which could also affect how cities allow sales, if they do at all.
New Marijuana Licensing & Regulation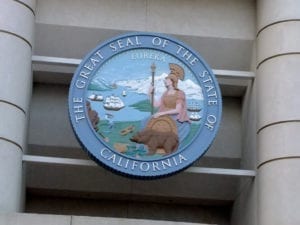 Going from only medicinal to adding recreational marijuana legalization is a big step. The Bureau of Marijuana Control formed shortly after Proposition 64 passed and employees currently work to draft all the new licensing and regulations. Licensing will break down into distribution, storage, transportation, and sale of marijuana. You may see trucks going through scales loaded with ganja.
Marijuana farmers will get licensing through the California Department of Food and Agriculture. Commercial growers and sellers will need licensing from both agencies. The California Department of Public Health will also be involved. They have the task of issuing licenses to organizations that want to grow weed for scientific study.
Final Thoughts
Proposition 64 gives the State of California until January 1st, 2018 to prepare all the necessary licensing and regulatory documents. That gives the State more than 11 months from the writing of this article to develop their policies. It also gives each city time to prepare, many of which have already banned the sale of marijuana. Proposition 64 gives each city that right to deny marijuana legalization to their residents.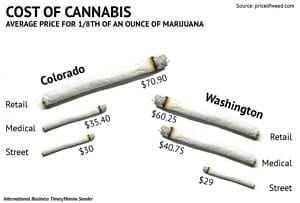 Many Californians look to states like Washington, Oregon, and Colorado in an attempt to estimate California recreational marijuana prices. Colorado for example has recently seen a surplus in marijuana leading to a decrease in price per ounce while demand is high. No pun intended. However, medical marijuana prices remain steady.
As January 1st, 2018 approaches we'll see more information about licensing and regulation coming from the State. More importantly, local information will become more prevalent and available which is where it really counts. Regardless of initial California recreational marijuana prices, one thing is for certain. We have a new industry in California which will have its own economics. Prices will change over time. Full marijuana legalization is here!