Please Stand By For New Updates  – Don't see your event here?
Email updates@dabconnection.com and we will add it to the list!
Cannabis may not be legal yet in NYC, but you can still join in these 4/20 events to celebrate the most laid-back day of the year! However you choose to partake in the spirit of this nationally recognized holiday, check out the list of ganja-friendly cannabis events New York 2019. We're not saying all New Yorkers should take a dab, hit a blunt or eat a brownie, but you could…
Cannabis Events New York 2019
*David Peel Tribute 420's Eve Countdown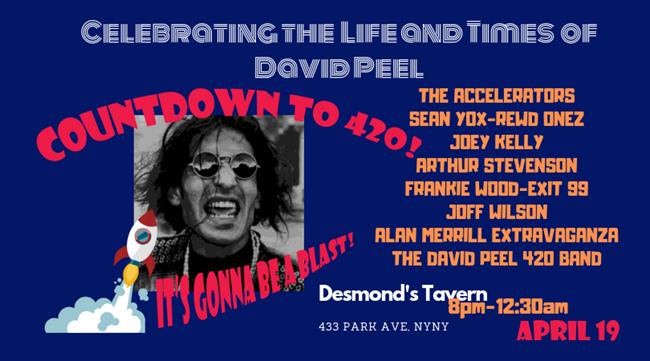 When: Friday, April 19, 2019, 8:00 PM
Where:
Desmond's Tavern
433 Park Avenue
New York, NY 10016

Price: FREE
The Friends and Family of David Peel get together to celebrate the life and times of the legendary David Peel with stellar live bands, singers and poets, a mini exhibit, video clips, a David Peel sing-a-long, and stories about King of Punk and old New York until the midnight hour when we count down to 420!
More HERE
*Higher Etiquette Live! Exploring the World of Cannabis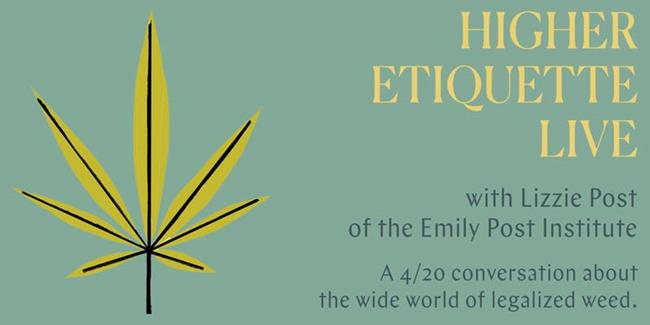 When: Saturday, April 20, 2019, 10:00 AM EST
Where:
114 5th Ave
New York, NY 10011

Price: FREE
At HIGHER ETIQUETTE LIVE! we'll be exploring and celebrating the wide world of legalized weed.
Brendan Francis Newman, culture journalist, author of Brunch Is Hell, and EP of The Paris Review Podcast, will lead a candid conversation with Lizzie Post, co-president of The Emily Post Institute and author of the new book HIGHER ETIQUETTE, Denis Zabludovsky, Director of Research and Education at Nugg, and Boris Shcharansky, COO of Papa & Barkley, as they discuss:
Where to begin your journey with cannabis
How to bring cannabis to a dinner party or give it as a gift
Why eating it is different from inhaling it
Why different strains affect you in different ways
How to determine the proper dosage, and where to find guidance as you experiment
Panelists will be answering questions after the conversation. You'll also enjoy brunch cocktails from RECESS and CBD brew from Flower Power Coffee. All guests will leave with a signed copy of HIGHER ETIQUETTE: A Guide to the World of Cannabis, from Dispensaries to Dinner Parties.
More HERE
*Cannabis Freedom 2019 by ButterMilk420Farms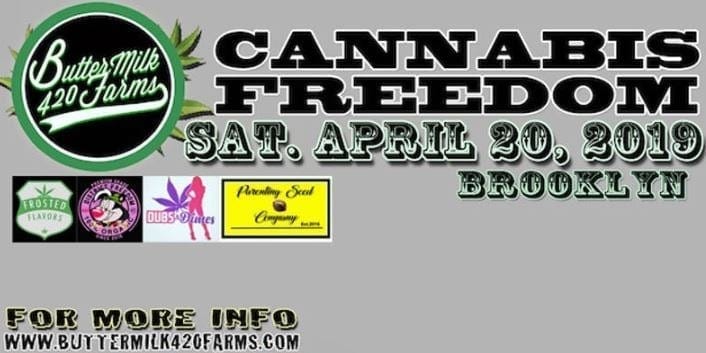 When:
Saturday April 20, 2019 12:00 PM – 4:20 PM EDT
Where:
Brooklyn
Brooklyn, NY 11206
Price:
$2.50
Private Event – Vendors, and more info >> 21 and over with ID <<
Want to learn about cannabis, the multi-billion dollar industry? Ask questions to our professionals.
Excited for New York to legalize Cannabis for adult use? Want to start your own Business? come talk with our professional council on Cannabis investments.
Looking for investment opportunities in the emerging Cannabis markets? Learn Infused Cooking, make cookies, candy, and cannabis drinks
Come and enjoy the highest quality Cannabis products in the world?
Cannabis Art, Live Jazz Band, Door Give Aways, Surprise Free Gifts, Goodies Bags
More HERE
*6 City Soul Tribe Network 420/Earth Day Synchronicity Walk and Clean Up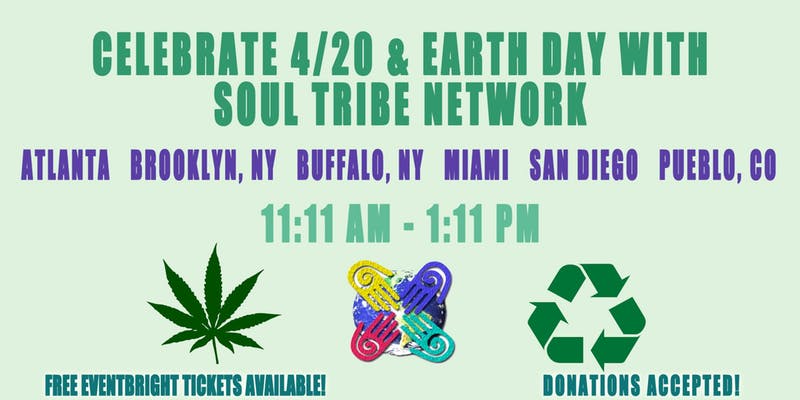 When: Saturday, April 20, 2019, 11:00 AM
Where: 
Prospect Park West
Brooklyn, NY 11215

Price: FREE
Soul Tribe Network is Hosting our first National Event! Join us on our 4/20/Earth Day Synchronicity Walk and Clean Up in 6 Major Cities!
About this Event
A Synchronicity walk is when a group of open minded individuals get together and let the universe lead the way, as we listen to prompts and directions from our intution. It's all about relinquishing fear, and letting our higher-selves and synchronity be our guide. Along the way, we will be giving back to Gaia by cleaning up any garbage we find. We will be helping heal and activate mother earth by being in synch, ebb and flow with Gaia.
If you are 4/20 Friendly, make sure you blaze up before you come out, and bring some green with you for our secret after party event! Get ready to exercise your higher self, and get alligned with Gaia! All meeting locations are TBA.
More HERE
*Demystifying CBD: What You Need to Know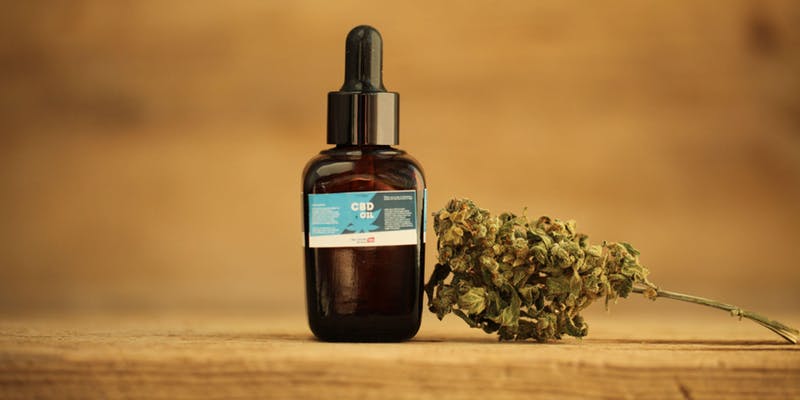 When: Monday, April 22, 2019, 6:00 PM
Where:
Landmark / Immunocologie
475 Park Ave South 25th Fl
New York, NY 10022
Price: $45
A quick Google search of the term "CBD" yields an interesting bevy of articles with titles like "CBD Oil products promise miracle cures. But does science support the hype?" from NBC to "Jelly Bean creator debuts line of CBD Beans" in Forbes. CBD-mania is everywhere, but not all CBD is created equal. We'll learn why It's important to read product labels and to check manufacturers' websites for transparency regarding how their product is grown, extracted, processed and tested while gaining a deeper understanding of the best uses of CBD. Join us for a lively panel discussion featuring Tara Grodjesk, Founder of Tara Living Wellness, Aryn Sieber, Award-winning Cannabis Expert and Stephen LeTourneau, Chief Brand Officer for Cannuka. Mellow Giraffe will provide mini-treatments for mellow moments! Healthy nibbles, wine and great networking.
More HERE
*Cannabis Investment: Real Estate, Opportunity Zones, REITs, & NY NJ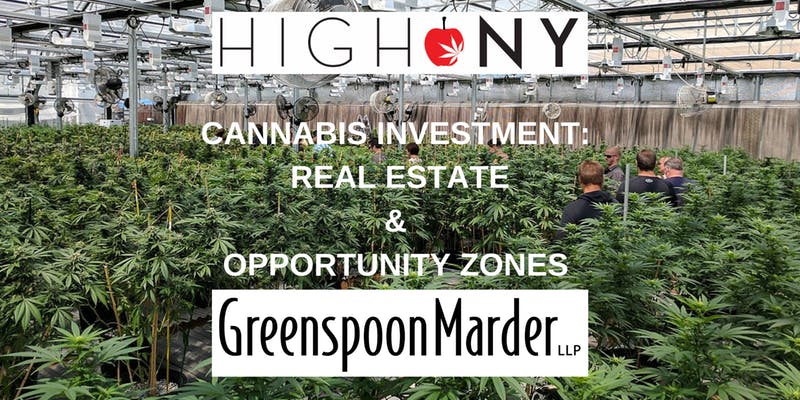 When: Wednesday, May 1, 2019, 6:30 PM EDT
Where: 
Greenspoon Marder LLP
590 Madison Avenue
#Suite 1800
New York, NY 10022
United States
Price: $45.31
High NY & Greenspoon Marder proudly present an evening of professional networking and a detailed panel discussion about Cannabis industry real estate investment opportunities.
You'll learn about:
Federal Opportunity Zones & Cannabis
Cannabis Real Estate Development
Navigating the Regulatory, Compliance & Tax Landscape
Cannabis REITs
Financing Cannabis Real Estate Deals
This event is for real estate investors and professionals, property and land owners, and prospective New York Cannabis license applicants.
More HERE
*NYC Cannabis Parade & Rally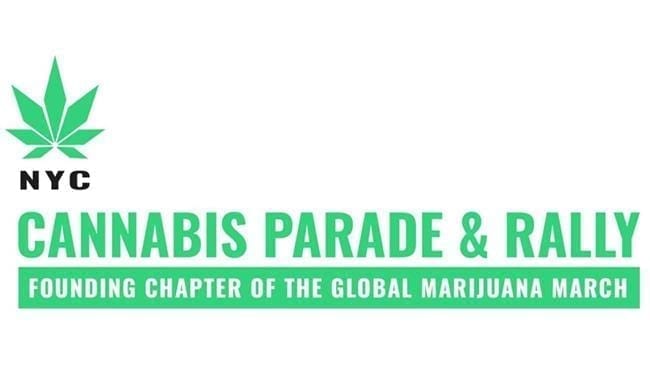 When: Saturday, May 4, 2019, 11:00 AM- 5:00 PM EDT
Where:
Union Square – Park South Plaza
New York, NY

Price: FREE
The New York City Cannabis Parade & Rally (NYCCPR) is among the longest running marijuana events in the world. What began as a "Smoke-In" in Washington Square Park organized by the Yippies in 1970 has evolved into a two-part Event: a Parade down Broadway and a Rally in Union Square Park, all on the first Saturday in May (this year it's on May 4). Sister events take place in more than 300 cities worldwide on the same day. NYCCPR is the founding chapter of the Global Marijuana March.
Our mission is to end the prohibition of cannabis at all levels – international, federal, state and local. Ten states have legalized marijuana since 2012. New York and New Jersey are both on paths to legalization. Thirty-two states allow access to medical marijuana, including New York, New Jersey and Connecticut. By May, perhaps New Jersey will have passed legislation, while in New York it might take a little longer to pass The Marihuana Regulation and Taxation Act.
These factors make this year's Parade & Rally all the more important. We've come a long way from when 50,000 New Yorkers were being arrested a year for marijuana possession. Arrests are down and policy has changed since last year. Now the goal is complete legalization, with a commercial marketplace, like in Colorado, California and Massachusetts. We're close but not there yet. Join us this year for the NYC Cannabis Parade & Rally and be part of the solution.
More HERE
*Curaleaf Queens Practitioner In-Service: Women's Health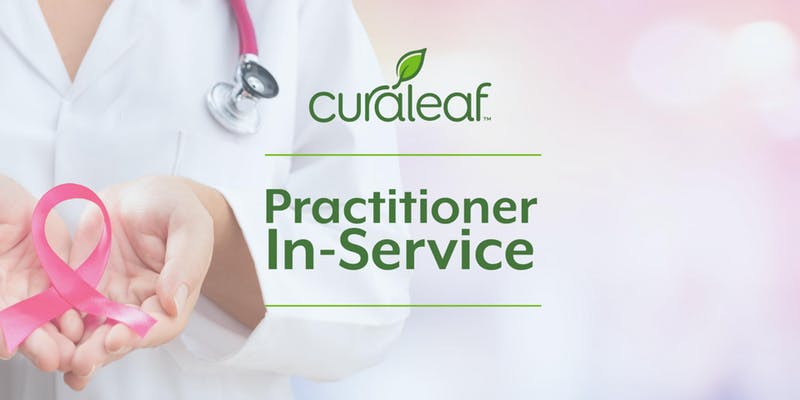 When: Wednesday, May 15, 2019,  7:00 PM EDT
Where:
Curaleaf Queens
107-18 70th Rd
Forest Hills, NY 11375

Price: FREE
This event is designed to help educate practitioners on the use of medical cannabis as it applies to women's health. Both registered and un-registered practitioners are invited to join Curaleaf Practitioner Liaison Stacia PharmD for a free webinar.
More HERE
*CuraCares – Finding Relief From IBD, Chronic Migraine & Fibromyalgia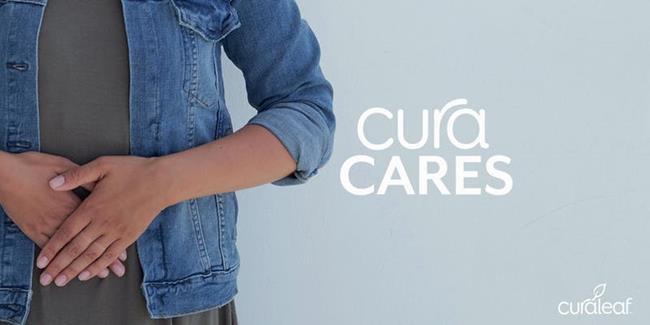 When: Thursday, May 23, 2019, 6:00 PM
Where:
Curaleaf Queens
107-18 70th Rd
Forest Hills, NY 11375

Price: FREE
Did you know inflammatory bowel disease (IBD) and chronic pain are qualifying conditions for New York's Medical Marijuana Program? If you are living with IBD or chronic pain, or if you know someone who is, Curaleaf is here to offer support.
Curaleaf Queens Outreach Coordinators Andrew and Sharron will lead the care conversation with a Curaleaf pharmacist on Thursday, May 23 from 6-8pm at Curaleaf Queens on the ways this medicine can provide relief for patients and caregivers living with IBD and chronic pain.
All are invited. Walk-ins are welcome, and RSVPs are requested. Let us know you're coming. You are welcome to email your dispensary care team at queens@curaleaf.com or call (646) 968-2872 if you have any questions.
*CWCBExpo New York 2019

When: Wednesday, May 29, 2019 – Saturday, June 1, 2019, 9:00 AM – 8:00 PM
Where:
Jacob K. Javits Convention Center
655 West 34th Street
New York, NY 10001

Price: $99 – $400
The industry's top conference program details out the local landscape as well as the national outlook as you prepare to develop your brand, increase efficiencies, or look for investment. Learn at CWCBExpo from the professionals and experts who are currently leading the pack.
CWCBExpo (Cannabis World Congress & Business Exposition) is a business-to-business trade show event for the legalized cannabis and hemp industries. It is held 3 times per year in the largest financial, business and media markets: New York, Los Angeles, and Boston. It is the leading educational and sourcing forum for dispensary owners, growers, suppliers, investors, medical professionals, government regulators, legal counsel, and entrepreneurs looking to achieve business success and identify new areas of growth in this dynamic and fast-growing industry.
More HERE
*CuraCares – Finding Relief From PTSD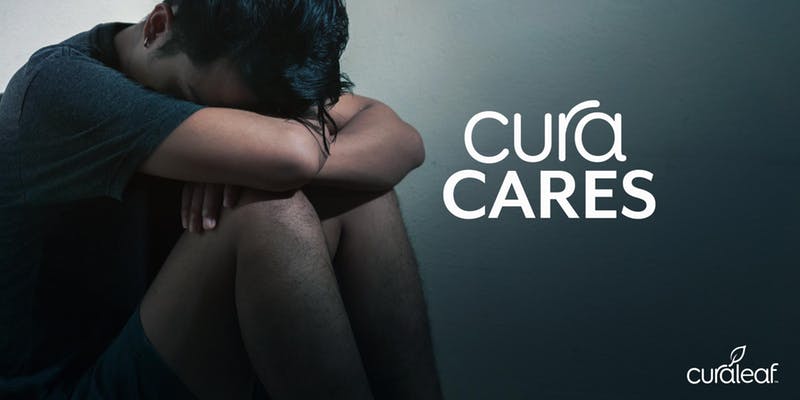 When: June 20, 2019, Thursday, 6:00 PM – 8:00 PM EDT
Where:
Curaleaf Queens
107-18 70th Rd
Forest Hills, NY 11375

Price: FREE
PTSD (post-traumatic stress disorder) is a psychiatric disorder that persists over time, forcing people to relive an initial trauma through waking flashbacks, nightmares, or intrusive memories. Are you or someone you know living with PTSD? Curaleaf is here to help you find relief. PTSD is a qualifying condition for the New York Medical Marijuana Program.
Join the online care conversation on Thursday, June 20 from 6-8pm to discover the ways this medicine can provide relief for patients and caregivers living with PTSD.
Webinar Link: www.freeconferencecall.com
Online Meeting ID: curaleafcares
We also invite you to attend by phone, although please note you will be unable to see the presentation if calling. Dial into (605) 313-4415. The access code is 161389, and the PIN is 1707.
More HERE
*Medical Marijuana Budtender and Brand Ambassador Sales Training – New York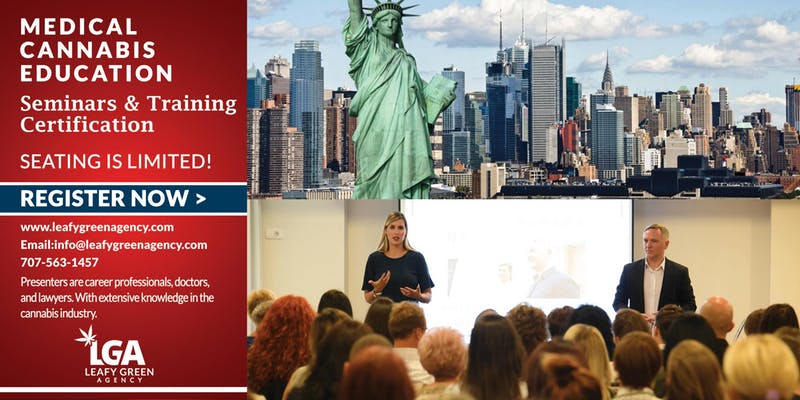 When: June 29, 2019, Saturday, 9:00 AM – 12:00 PM EDT
Where:
Hilton Brooklyn New York
140 Schermerhorn St
Brooklyn, NY 11201
United States
Price: $199
Advanced Medical Cannabis Budtender and Brand Ambassador Sales Training
For People Who Want to Step up Their Game, Become Brilliant Sellers, and Land Jobs and Promotions in the Cannabis Industry
If you want to take your cannabis career to the next level, then the Advanced Medical Cannabis Budtender and Brand Ambassador Sales Training seminar is for you. In this intensive course, you'll gain critical knowledge to establish yourself as a highly professional budtender and set yourself apart from other budtenders in the industry.
You'll learn to identify patient needs and use advanced sales techniques to increase revenue per customer by selling more add-on products and effectively explaining why the products you sell are better than competitors' products based on proven chemistry.
As a Certified Advanced Medical Cannabis Budtender and Brand Ambassador, dispensary owners and hiring managers will instantly recognize you as an expert who can help them exceed their sales goals and satisfy patients' needs.
More HERE
*Breaking Into Medical Marijuana Industry for Entrepreneurs and Investors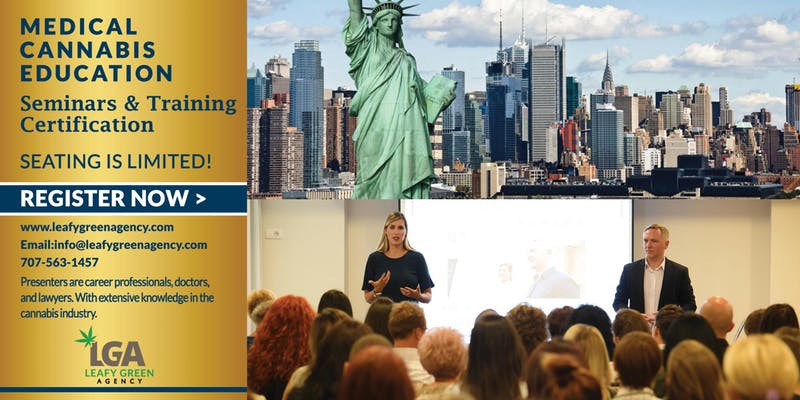 When:  June 29, 2019, Saturday, 12:30 PM – 3:30 PM EDT
Where:
Hilton Brooklyn New York
140 Schermerhorn St.
Brooklyn, NY 11201
United States
Price: $199
The Breaking into the Medical Cannabis Industry for Entrepreneurs and Employees: Working Across the Supply Chain from Cultivation and Processing to Dispensing seminar is intended to help individuals who want to land jobs in the medical cannabis industry or start their own medical cannabis businesses. The course covers everything from cannabis laws and regulations to cultivation basics, available products, proper dosage, and more.
At the completion of the course, your value as a cannabis dispensary or delivery service employee will increase significantly as will your chances of landing a marijuana job.
More HERE