Cannabis Events Michigan 2019
Please Stand By For New Updates – Don't see your event here? Email updates@dabconnection.com and we will add it to the list!
*The First Michigan Medical Cannabis Forum: Physician-Led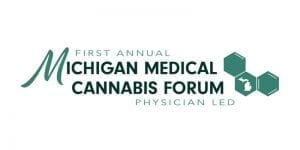 When: June 8, 2019, 7:00 AM – 4:00 PM EDT
Where: 
Price: $150
The forum is led by physicians in an effort to promote public awareness of current evidence in the medicinal use of cannabis. We would like to introduce a forum that is led by physicians in an effort to promote public awareness of current evidence in the medical use of cannabis.
More HERE
*MJ Freeway Michigan Roadshow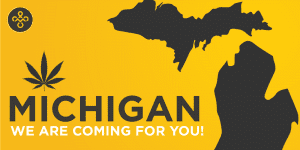 When: June 20, 2019, 9:00 AM – 12:00 PM EDT
Where:
Crowne Plaza Detroit Downtown Riverfront
Price: $25
MJ Freeway is coming to the Great Lakes State! Michigan's cannabis market has vastly changed since the original passing of Proposal 1 in 2008, legalizing medical cannabis. This year brings new leadership in key state government seats, a new regulatory agency forming and the legalization of adult-use.
More HERE
*CannaCon

When: Jun 21, 10 AM – Sat, Jun 22, 6 PM EDT
Where:
Price: $40-$150
CannaCon is dedicated to creating and strengthening lifelong partnerships within the emerging cannabis industry. Their mission is to provide a global venue for Cannabis businesses, entrepreneurs, investors, and community partners to showcase industry products, people and innovations; to cultivate business values within the cannabis industry through education and responsible community involvement.
More HERE
*Marijuana Business Operations Training Seminar

When: Jun 24, 2019, 9:00:00 AM – 4:30:00 PM
Where: 
WYNDHAM GARDEN ANN ARBOR 
2900 JACKSON AVENUE
ANN ARBOR, MI 48103
Price: $359
Learn How to Effectively Own and Operate a Marijuana Business
The legalization of marijuana has created a multitude of business opportunities, but it has also created many questions and uncertainties for attorneys advising businesses. With so much legal grey area it gets hard to define many aspects of how to actually run the business. In this full-day program, expert attorney and accountant faculty will equip you with the essential skills you need to effectively (and legally) run a marijuana business.
More HERE
*Grand Rapids Cannabis Connection Networking Mixer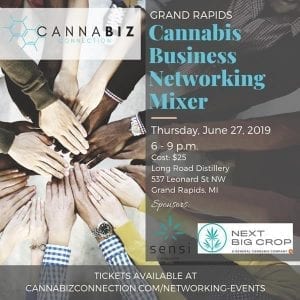 When: June 27, 2019 from 6:00 PM to 9:00 PM (EDT)
Where:
Long Road Distillery
537 Leonard St NW
Grand Rapids, MI 49504
Price: $25
Anyone interested in participating in Michigan's commercial cannabis industry is invited to participate in networking mixers. Sponsors and participants include established cannabis business professionals, investors, service providers, innovators and advocates.
More HERE
*Platinum Leaf Cannabis Education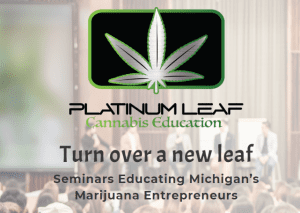 When: Jul 18, 2019
Where: 
Hagerty Center
715 East Front Street
Traverse City, MI 49686
Price:
$199 Standard
$149 Early Bird
Contact Details: 231-590-5588
Turn over a new leaf
Seminars Educating Michigan's Marijuana Entrepreneurs
If you would like to start a marijuana business in Michigan, these Cannabis Business Seminars are for you. Our legal and industry professionals will help guide you in the right direction, with the latest rules, regulations and licensing requirements as well as recreational marijuana business requirements.
More HERE
*MICBD Presents: Michigan Patient and Caregiver Conference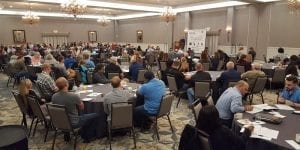 When: July 28, 2019, 10:00 AM – 7:00 PM EDT
Where:
Radisson Hotel Lansing at the Capitol
Price: Free
Get to know the new players in Michigan's medical, legal and hemp industries at the Michigan Patient and Caregiver Conference. Sunday, July 28th, browse our expo of exhibitors from Michigan's cannabis entities and ancillary businesses in a cannabis-free environment. Sit in on one of our informative speeches from the state's leading hemp, cbd, cannabis and business leaders. Find out which provisioning centers are near you, and what services they offer. Meet the people who are leading the new industry in Michigan.
More HERE
*Green Rush B2B Expo Cannabis Expo
When: August 7- 8, 2019, 10:00 AM – 4:00 PM
Where:
Renaissance Schaumburg Convention Center Hotel
1551 N Thoreau Dr North
Schaumburg, IL 60173
Price: $125
A cannabis business to business trade show, come connect with industry professionals. Growers, Security, Banking, Insurance, Lighting and more! Entrepreneurs interested in the cannabis industry and seasoned veterans should not miss this show. If you are a business and are looking for a new opportunity or if you are in the industry currently this is the show for you.
More HERE
*Cancer Prevention Convention: Hemp, Health and Hope for Cancer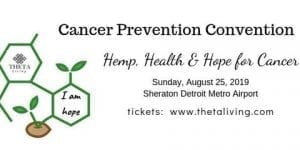 When: Aug 25, 2019, 9:00 AM – 7:00 PM EDT
Where:
Sheraton Detroit Metro Airport
8000 Merriman Road, Romulus, MI 48174
Price: $79.00
For four years, the Cancer Prevention Convention has brought light and hope to the word cancer here in Michigan. What we have been conditioned to believe about treatment, has been one sided. (If you've heard me talk before, you know that I always say "a half truth is a full lie"). There is an entire world of cancer treatment that we'd like to introduce you to: TRUE integrative cancer care.
A conventional only approach still offers the same treatments it did when pharmaceutical medicine was introduced to the industry: surgery, chemo and radiation. And for just as long, we have been running for (or from??) the cure. The results and outcomes are not good enough.
More HERE
*West Michigan Cannabis Expo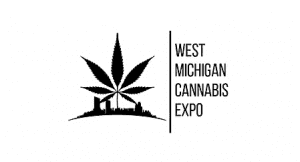 When: Oct. 5, 2019 – 10:00 AM – 5:00 PM, Oct. 6, 2019 – 10:00 AM – 4:00 PM
Where: The DeltaPlex Arena and Conference Center
2500 Turner Ave. NW, Grand Rapids, MI 49544
Price: $1,250 – $2,000
West Michigan Cannabis Expo is one of the first events of its kind, focusing solely on the newly emerging Michigan market. Many cannabis industry leaders, policymakers, entrepreneurs, and newcomers will convene to discuss best practices in emerging topics, brush up on policy issues and exchange insider secrets.
Exhibiting opportunities can be customized for any company or organization. WMCE provides a unique opportunity to develop new business leads, to strengthen client relationships, to brand your company name, and to generate awareness of your organization.
More HERE