The current trend within the United States to legalize cannabis brings with it a new agricultural industry. While the growth of marijuana goes back ages, regulation and taxation of weed within the United States unwraps before us like a brand new toy. Glitter and gold sparkle in the minds of investors as their eyes turn toward marijuana stocks, hoping to strike it rich.
Before we get into it, the legal statement:
This is not, and should not be regarded as investment advice or as a recommendation regarding any particular security or course of action. Opinions expressed herein are current opinions as of the date appearing in this material only and are subject to change without notice.
Marijuana Stocks Offer A Mixed Bag Of Value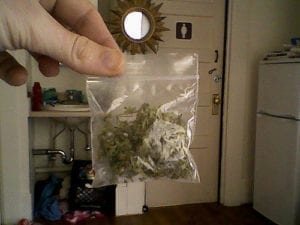 Many investors believe this new industry is about to explode. Others recommend caution, warning that the marijuana industry is still unstable. Predicting a stock market boom is a crapshoot at best. Still, a look at marijuana stocks shows some that carry real value while others appear set on becoming money pits.
The Marijuana Penny Stock Drop Off Your Money Forever Scam
Marijuana stocks, like any other stocks, hold true and false value. If indeed marijuana stocks do rise tremendously, there are ones to invest in and ones to avoid. Wolfofweedstreet.com for example pushes penny stocks much like the character in the movie.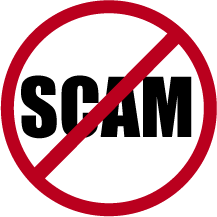 Penny stocks appear harmless because they're so cheap to begin with. That's for 1 share and would be millionaires buy much more than that. In the movie Wolf of Wall Street the antagonistic hero creates a huge amount of hype over penny stocks, most of which are bound to fail.
He's able to sell thousands of shares often to one buyer by first selling the cheap nature of the stocks, then closing big deals by creating the illusion of an impending boom. Penny stocks that explode can roll into the blue chip arena. That's the dream anyway. The wolfofweedstreet is Jason Spatafora and he appears to have taken his script directly from the movie.
Tim Sykes, owner of profit.ly, known for trading penny stocks with verified gains, says "99.9% of these stocks fail" when referencing penny stocks as a whole. There has been some social media beef between him and the wolfofweedstreet, as he has stated many of the stocks are bunk. Tim's 99.9% statement might be a guesstimate, but it is true that most penny stock companies do indeed fail.
That does not mean money cannot be made. Some stocks will keep going up, some will crash. Penny stock history just points to more crashing.
Examples Of Marijuana Stocks To Look Twice At
MCIG
Bogus marijuana stocks sell when overly enthusiastic buyers fail to do some simple homework. MCIG presents a perfect example of a company with high value but looking at their annual revenue tells a different story.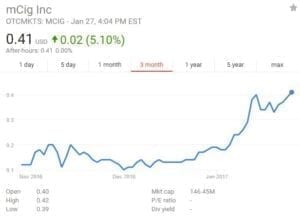 MCIG out of Henderson, Nevada started out selling electric cigarettes and vaporizes. They've recently moved into building construction specifically for the cultivation of marijuana.
The November election that saw states like California and Nevada legalize weed provided a huge boost in the sale of MCIG stocks. MCIG has gone up just recently quite a bit. It has had an all-time low price per share of $0.02, an all-time high of $1.09, and now is at $0.40.
MCIG might not be a poor long term investment decision. However, MCIG has a current market cap of over $140,000,000. Their revenue was well under $2,000,000 for last year. There are plenty of small businesses down the street from anywhere that have more than $2,000,000 in gross revenue. In fact, the average annual revenue of one Mcdonald's location is $2,600,000. Is one McDonald's location worth anywhere near $140,000,000?
MJNA
Medical Marijuana Inc. based out of Poway, California seemed ready to burst wide open before and just after the November election. Investor anticipation deflated quickly now that shares are down even lower than before the election. MJNA has had a low per share price of below $0.01, a high of $1.95, and currently trades at $0.16 (1/30/2017).
MJNA provides management solutions to current and upcoming marijuana related companies. They estimate close to a 400% annual return on stock investments.  MJNA hasn't paid dividends at all in over a year.
According to Nasdaq.com, MJNA's 2016 revenue was just under $5,500,000. That is pretty good, but does that really support a current market cap (company value) of $476,000,000? You be the judge.
IIPR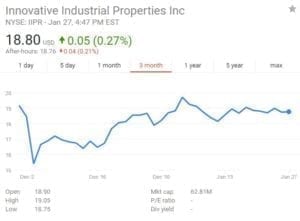 Innovative Industrial Properties Inc. gives further proof of a false stock boom. They also saw a nice spike in stock purchases just before the November election. Investors licked their chops but stocks quickly came back down and leveled off.
IIPR out of Maryland acquires commercial properties then leases them to licensed marijuana facility operators. This company is brand spanking new. No record of their business exists because there isn't one.
Will IIPR conduct business with integrity? No one knows but they sure are throwing money at it. Jump on their bandwagon at your own financial risk. Smart investors will watch IIPR for at least a couple years to see how they operate.
What To Look For In Marijuana Stocks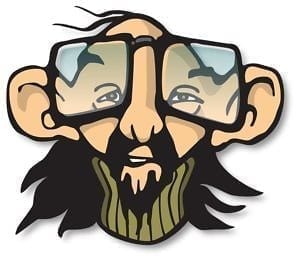 Our main concerns when looking into marijuana stocks relate to the reported value of a company and whether or not the annual revenue is in line with that number. We also want to see proof when a company predicts large returns.
So many marijuana stocks today base their numbers on nothing more than a guess within a growing industry. When a company like MJNA projects such huge growth, they better show us signed contracts with other companies that spell out that growth. Otherwise, Vegas slot machines might provide better investment results.
Examples Of Solid Blue Chip Marijuana Stocks
SMG – Scott's Miracle Grow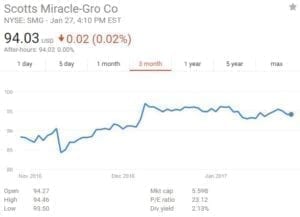 Scott's Miracle Grow provides some of the best plant nutrient products on the market. They're a solid company that will be increasingly sought out by the marijuana industry. However, their product really can't be tied to any marijuana legislation.
Scott's recently moved closer to the marijuana industry by investing in hydroponic companies. Still no question of legality here and SMG raised their target stock price from $70 to $85 in anticipation of new trading. They closed yesterday January 26th at just over $86.00.
Scott's is a pretty solid company, but they too cannot be protected from the whole market turning down if it does. It should be noted we are currently at all time highs.
GWPH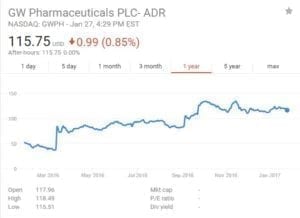 GW Pharmaceuticals comes regarded as a safer investment in the world of marijuana stocks. Based in Salisbury, United Kingdom GWPH studies marijuana. Their efforts to create pharmaceutical drugs by altering the chemical makeup of marijuana draws mainstream attention.
GWPH has been granted the facilities to grow and study marijuana using state of the art scientific technology. They gained international attention with their product Sativex which is used in the treatment of multiple sclerosis. Trading with a market cap of $2.92 billion, GW Pharmaceuticals moves big money. They're targeting a 1 yr stock increase of $150 and closed a bit down today at $115.75 (1/30/2017)
Wrapping Up The Stocks
Please understand that the information reported here gives no guarantees on the performance of any marijuana stocks. For all we know marijuana stocks could go boom, but the experience of knowledgeable investors warns otherwise.
Marijuana legalization continues to gain momentum, but Feds and the DEA don't appear close to budging on any reclassification of cannabis. The changing of guard in the White House also leaves unanswered questions when it comes to the regulation of marijuana.
We wouldn't presume to tell anyone where to stack their chips when it comes to marijuana stocks, we just don't want to see people get burned. Learn all you can about a company before you buy marijuana stocks. Make sure they're running legitimately and legally before handing over any money.
My prediction is that on most marijuana penny stocks experienced traders will ride the waves of these marijuana stocks, long and short, and the average investor will get burned. Who really knows where it could go, you might find the golden goose!