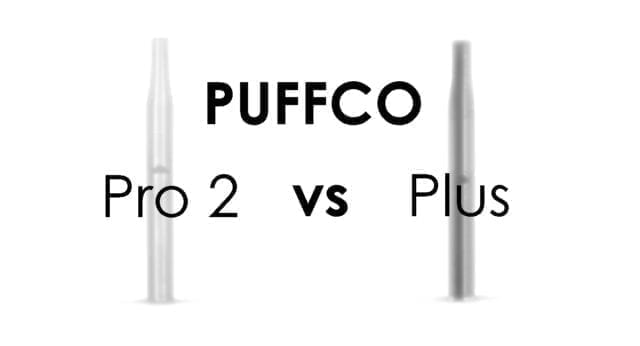 For this review, we will compare two Puffco models that people have recently been interested in. The Puffco Pro 2 vs Plus!
Puffco's third vaporizer, the slim, polished Puffco Pro 2 is their smallest vape pen yet. Featuring a stainless-steel body and easy to access single coil chamber. It's a good looking, solid little pen.
Puffco's motto is "The New Standard". The Puffco Plus is smooth and easy to use with the Puffco Dart, and we think original from top to bottom. In comparison to the Pro 2, the Plus is better overall (except for the tiny size difference). Is this $99 vape pen "the New Standard" in vaping?
Below are the individual category results of each vape pen review.
| | | | | | | | | | | | |
| --- | --- | --- | --- | --- | --- | --- | --- | --- | --- | --- | --- |
| Model | Design | Ease | Strength | Efficiency | Versatility | Portability | Discretion | Taste | Value | Replacements | Final Score |
| Pro 2 | 6 | 5 | 8 | 7 | 1 | 9 | 9 | 1 | 2 | 2 | 5 |
| Plus | 8 | 9 | 7 | 9 | 4 | 8 | 9 | 9 | 6 | 6 | 7.5 |
What Does Each Include?

Design & Quality: Puffco Plus Wins
Puffco Pro 2
The PuffCo Pro 2 comes in a small plastic case that holds the battery, atomizer and mouthpiece, a wide (flat) loading tool, and a thread-on USB charger. The stainless-steel construction gives it a solid feel, and there's a shock absorbing silicone cap on the bottom. This is a nice touch, for durability's sake. A silicone splash guard has also been placed inside the mouthpiece.
The PuffCo Pro 2 is one of the smallest pens around at 12.5mm wide. However, the 430mAh battery means small capacity, and doesn't last a long time. The Puffco Pro 2 battery threads together with the atomizer, and the mouthpiece easily twists off. To power the Pro 2, a squishy cloud shaped button is used to activate the vaporizer and cycle through each of the three heat settings. Double clicking will activate the newly added twelve second 'sesh mode', originally limited to the Puffco Plus.
The PuffCo Pro 2 employs a single white ceramic rod with an "Iron/chromium/aluminum alloy" wire wrapped around it four times. PuffCo support confirmed they specify Kanthal heating wire, and join their heating wire to non-resistance leads with crimps. However, they couldn't satisfactorily answer why our heating wire had a large glob of unknown material inside the ceramic cup.
White ceramic is quite non-porous, it doesn't have the capacity to absorb or wick oil. For that reason, the white rod serves mostly to hold the wire in place. A small amount of oil adheres when initially loaded, but once hot tends to run away from the hot wire. The thin wire wrapped only four times doesn't provide much surface area for heat transfer. The air inlets have been moved for better airflow across the heater, which is a positive improvement.
Puffco Plus
The Puffco Plus looks like a vape pen designed by Apple, with a beautiful gunmetal design. The mouthpiece blends perfectly into the battery with just 4 small slits for airflow. Inside the mouthpiece you'll see the new ceramic Puffco 'Dart' which acts as a dab tool, and a carb cap! This definitely comes in handy later.
For vapers who wish to stick with their own high-powered mod, the Puffco Plus may not be for you. Unlike the Puffco Pro 2 that uses a standard 510 connection, the Puffco Plus looks like an eGo connection. This prevents you from using other batteries. The 530mAh battery operating sub-ohm drains quickly, so if you like to use Sesh Mode on high, you'll need to charge it within 30 minutes.
The Puffco Plus atomizer is a sub-ohm ceramic cup with 4 air holes in the middle. The heating element is a ceramic plate. Unlike cheap quality ceramic plate vaporizers, this ceramic cup fits snugly inside. A good line up on the ceramic plate is important for this type of atomizer, to avoid major leakage.
The Puffco Plus battery features a very subtle cloud light on the bottom of the battery. Just like the Pro 2, the silicone cloud power button is a nice change from the typical hard plastic button found on most vape pens. The battery has 3 standard heat settings. There is also the additional "Sesh Mode" option, which activates the battery and heats for 12 seconds on your select temperature.
The sub-ohm atomizer produces a lot of heat (like most coil-less atomizers). The outside of the chamber gets very hot with back to back Sesh Modes on High.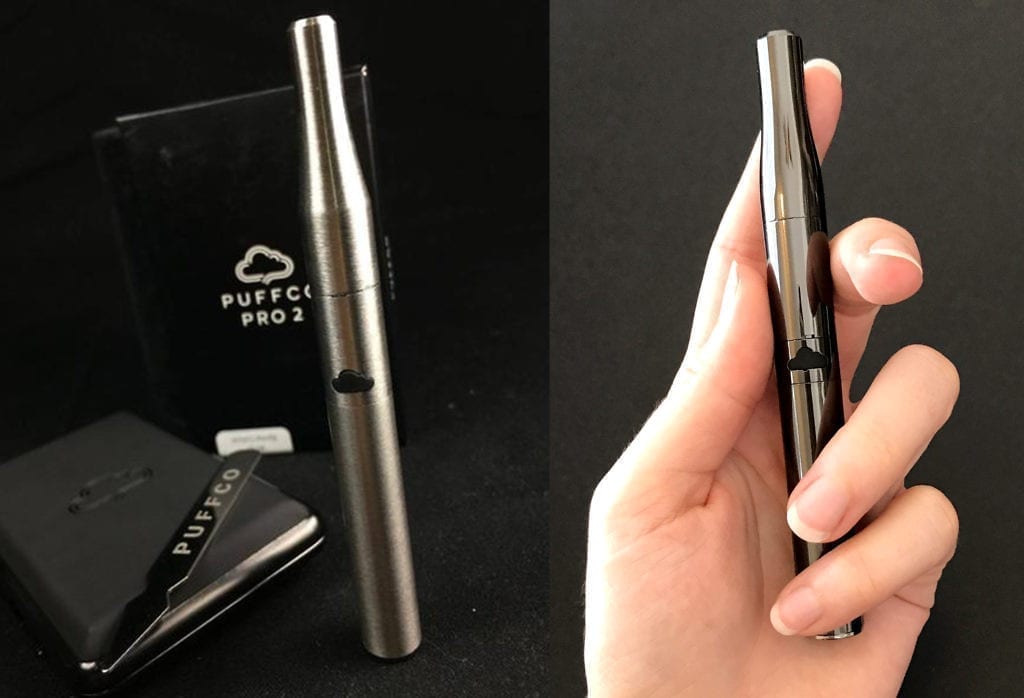 Ease of Use: Puffco Plus' Dart Takes The Cake
BOTH vape pens are extremely easy to assemble and use, as explained on enclosed instruction card;
Click the silicone cloud five times to turn the battery on or off. Press four times to get to the next heat level. Green for low (580 °), Blue for medium (650 °), and White for high power (720 °). Just double click to activate "Sesh" mode at any power setting. Sesh mode sends power for twelve seconds straight.
Having to remember to bring the charger with you is an added annoyance. A micro USB port could've made for a much easier set up. The threaded charger requires you to unthread the atomizer for each charge, which can also be a hassle.
The airflow on the PuffCo Pro 2 disappoints compared to other pens. I was surprised to find it difficult to inhale through the Pro 2's atomizer. Even before the first load, the Pro 2 had a very restricted airflow.
The Puffco Plus is ridiculously easy to use. So far this vape pen wins the overall award for ease. To load your Puffco Plus twist the mouthpiece off quickly with a half turn. The Puffco 'Dart' is built inside the Plus mouthpiece. Acting as a dab tool, the ceramic tip picks up your material and perfectly places it on the heating element when screwed on. After you fill the Plus vape pen, just replace the mouthpiece and lock with a half-twist. This feature is a Puffco Plus winner, and really adds to ease of use.
Sesh Mode
When looking at Puffco Pro 2 vs Plus, you need to consider that even the same function works differently with different atomizers and batteries. PuffCo decided to incude "Sesh mode" in the Pro 2.  Pulse the button twice for 12 seconds of continuous heating. If you use this mode on Blue or White, buckle up – a lot of hot vapor is coming your way. I only enjoyed it on Low Green, and honestly just prefer taking another hit normally.
Sesh Mode shines more on the Puffco Plus. Load the pen easily using the Dart, pulse the button twice and puff away. Puffco Plus's coil-less atomizer needs a few seconds to warm up to begin with, so 12 seconds works well. Unlike the Puffco Pro 2, which would burn wax after 6+ seconds of sesh mode as the coil got too hot.
Strength: Puffco Pro 2's Coiled Atomizers Deliver Harder Hits Than The Plus
The Puffco Plus will give out strong hits, but this vape pen was really built for flavor. Sesh Mode on white (high) on the Plus is still not as strong as on the Pro 2!
The Puffco Pro 2 on the other hand is the opposite, with strong hits being one of its biggest features. Despite the restricted airflow, the Pro 2 effortlessly delivers clouds. Even the lowest setting churns out visible vapor hits, and White is hot enough to choke me out (maybe too hot for this coil). The Pro 2 packs a lot of power in a small package. However, the single wick coil doesn't have the same quality of vapor or vapor production at any heat level, compared to a coil-less atomizer like the Plus.
Efficiency: The Coilless Atomizer On The Plus and The Dart Give The Plus a Win
The PuffCo Pro 2's high powered heating wire ensures efficient use of your wax, but only if loaded sparingly. Too much and you'll splatter un-vaped oil on the chamber walls and inside the splatter guard. The guard is effective at preventing splatter from reaching your mouth, but the shape makes it difficult to recover and use. I ended up taking it out and leaving it that way. Without a real wick to feed oils into the heater, a little oil pooling is unavoidable.
The Puffco Plus is one of the most efficient vape pens we've reviewed, so far. Unlike other ceramic plate atomizers, the Puffco Plus' atomizer was snuggly fit with almost surgical precision. This means that almost no wax is lost or un-vaped. You'll still get some wax on the walls, but this can be easily recovered since there aren't any coils or rods. The Puffco Dart also adds a lot to efficiency. This Puffco Pro 2 vs Plus comparison shows us that you need to look at all the details in order to really understand how each vape pen works.
Versatility / Atomizer Options: Kind of Weak On Both
The Puffco Pro 2 only supports one style of heating element. The single white ceramic rod with four wraps of thin gauge unknown alloy wire, fit to the Pro 2's mouthpiece. The PuffCo Plus also has a single type of atomizer, a ceramic plate coil-less atomizer.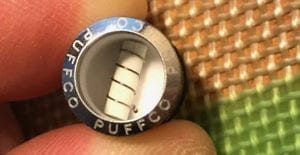 PuffCo Pro "1" owners were already upset at the need to purchase a completely new vaporizer with a very similar form to experience the new heating chamber. PuffCo explained that the Plus' battery is more powerful than the Pro, so it was required. As vapers love to have flexibility in their products, PuffCo's decision to require complete units to try different heating elements seems out of touch. When most vape pens have at least a coiled and coil-less option available for a vape pen, the Pro 2 feels very 2015.
If you want something easy, you're better off with the Plus.
Portability of Puffco Pro 2 vs Plus: Pro 2 Smaller, but Dart On Plus Helps Portability
The PuffCo Pro 2 is one of the smallest wax pens, and is very portable on its own. If you'll need to charge it however, you'll have to bring along its special USB charger. Unfortunately, the Pro 2 carrying case can't accommodate the assembled vape pen. It requires unthreading the atomizer off the battery each time you put the pen in the case. You may also need the case to carry your dab tool, etc. Luckily, the Pro 2's stainless body holds up well in your pocket (even against keys), so if it's fully charged and filled, you're good to go.
The Puffco Plus is not as small as the Puffco Pro 2, but redefines the meaning of portability with its new Puffco Dart. The Puffco Pro 2 may be smaller, but you need either extremely stable wax (easy to move) or must carry a dab tool. With the Puffco Plus, you just take the Plus itself and your wax! The Dart acts as the dab tool and is built right into the mouthpiece.
The newly designed cap for atomizers not in use are great for pre-loading an extra atomizer for later, instead of bringing a small container. Neither Puffco Pro 2 vs Plus battery is brilliant, but the Plus is a slight improvement.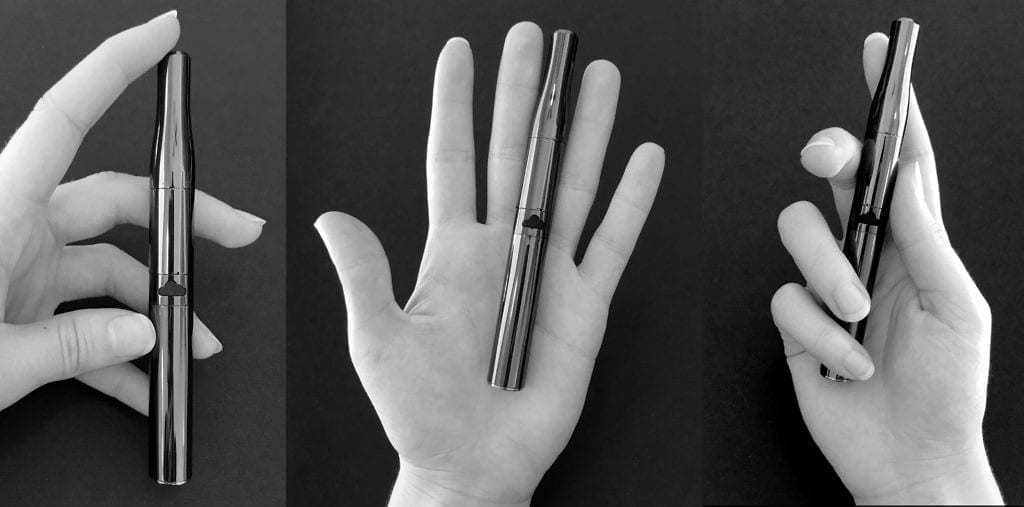 Discretion: Pretty Close
The small size of the PuffCo Pro 2 allows you to throw it in a pocket and bust it out anywhere you see fit. It is pretty shiny, so it would be nice to see it available in a darker color, for those really going for discretion. Other than that, there isn't much that could be improved upon here.
The Puffco Plus is about as discreet as they come, with sleek gunmetal exterior and small size. Take a hit on low power and few will notice. The light on the bottom of the battery is faint (unlike the Kandypens Elite) and can be easily covered with a finger. The Dart adds to discretion by eliminating any need to fiddle with extra tools.
Taste of Puffco Pro 2 vs Plus: Coilless For Sure Playa
With PuffCo Pro 2's emphasis on ease and cloud production, there's no surprise that flavor isn't a big factor. The first hit on a load with a freshly cleaned chamber tastes great, but the flavor degrades quickly after (even with small loads). When kept on Green (low) the taste stays decent for some time, and the first hit or two are nice and fresh. After those first hits I never get the same level of flavor until I do a full deep clean. Even after trying PuffCo's high temp burn off suggestion and going back to a fresh load on Green, the taste could not be restored. If you are looking for a vaporizer to deliver fantastic flavor from terpene rich oils, keep looking.
On the other end of the spectrum is the Puffco Plus, which tastes incredible. The low setting on the Plus provides perfect low temp hits which allow all those nice terpenes to shine. Even the White (high) Setting still leaves you with a great taste in your mouth. Those looking to savor their wax are in for a treat. You won't get the burning wax taste on this vape pen. The downside for some is no super hard rips.
Value: Shell Out a bit More For The Plus
Previously priced at $89.99, the PuffCo Pro 2 is now down to $75.95 on the website (saving you $14). The Pro 2 packaging and look certainly give an impression of quality, as does its solid build quality and precision of parts. It comes with a  charger, case, and dab tool. However, the four-wrap Kanthal wire around a single ceramic rod heating element and chamber seems quite dated in comparison to many pens today. Others have managed to employ dual coil heating elements, porous black ceramic wicks, quartz walls & rods. Not to mention wireless, donut style, and the next gen of sealed chambers like the PuffCo Plus.
The flavor and performance of the Pro 2 reflect the technology of the heat source. Though the price has dropped, the high cost for a vape pen with restricted airflow, one atomizer and low flavor potential doesn't seem like the first choice.
The Puffco Plus was originally $99.99 when released, but then they raised their price another $20 to $119.99. However, It was just recently lowered back to $99.99.
The kit includes the Puffco Plus, a charger, a pack of 4 cotton swabs, and a Puffco Grip sleeve. The Puffco Grip is a great little silicone sleeve that was added later. It makes it easier to hold your Puffco Plus, and also stops it from rolling around. You don't get a case, but the built in Dart means you rarely need one. It also includes an extra chamber atomizer with a cap. Count the extra chamber for its retail $25 and you're paying around $75 for the Puffco Plus.
It also comes with a 1 Year Warranty that covers the sub-ohm battery and charger. The Plus is an incredible, self-contained vape pen.
Replacement Costs: You Get What You Pay For
Replacement costs aren't great for either Puffco Pro 2 vs Plus. The Puffco Pro 2 replacements for its white ceramic single coil are $19.99. This is a high price for a low-tech heater of white ceramic single coil with four wraps of an aluminum-alloyed metal. So, take good care of your coil as these will get expensive to replace over time.
Puffco Plus replacements come in at $24.95 apiece. You can get 5 of them for $100. It's on par with other atomizers, but also includes a cap when you purchase separately. Just don't lose your battery, or you're paying $50 for a Puffco battery replacement.
Final Thoughts on Puffco Pro 2 vs Plus
The Puffco Pro 2 might be just what you're looking for if strength is your priority. The Pro 2 is the smallest choice between Puffco Pro 2 vs Plus. It's solid and has a nice polished exterior. However, if taste matters more, this is probably not the vape pen for you! The single coil atomizer gets extremely hot and though gives strong hits, can burn wax.
We think the Puffco Plus is one of the best vape pens out right now. The Plus includes an extra chamber and is ridiculously easy to use with the built in Puffco Dart and Sesh Mode (which is now on both, but works better with the Plus' coil-less atomizer). The Plus gives you flavorful hits every time. We also love the darker and more discreet look of its gunmetal exterior. It's got a slightly better battery than the Pro 2, but still be wary of the battery life when you go out.
The Pro 2 comes with a case and dab tool. However, the Plus includes the Puffco Dart and an extra ceramic atomizer, which are more valuable in our opinion. For those looking for ease of use and constant smooth, tasty hits, the Plus is our Puffco Pro 2 vs Plus comparison choice for sure! The Puffco Plus wins!
The current lowest Puffco Pro 2 price from an authorized reseller we could find is $75.99 at GotVape. Puffco Plus seems to be $99 at all authorized retailers.