REVIEW OVERVIEW

SUMMARY
Today we will take a look at the White Series HHC disposables from Eighty Six Brand. Eighty Six Brand currently offers an assortment of wellness products that contain Delta-8, HHC, and/or THC-O on their official website. Prior to this review, we tried their Delta-8 disposables. For this review, I will sample three Eighty Six Brand HHC Disposables.
Check out our video review of the Eighty Six Brand HHC Disposables here.
Pros:
Elegant design
Solid potency
Strong airflow
Improved oil visibility
Fair price
Cons:
Slightly harsh flavor
Would not recommend Gush Rush
Recommendations: The flavor of Gush Rush could be improved.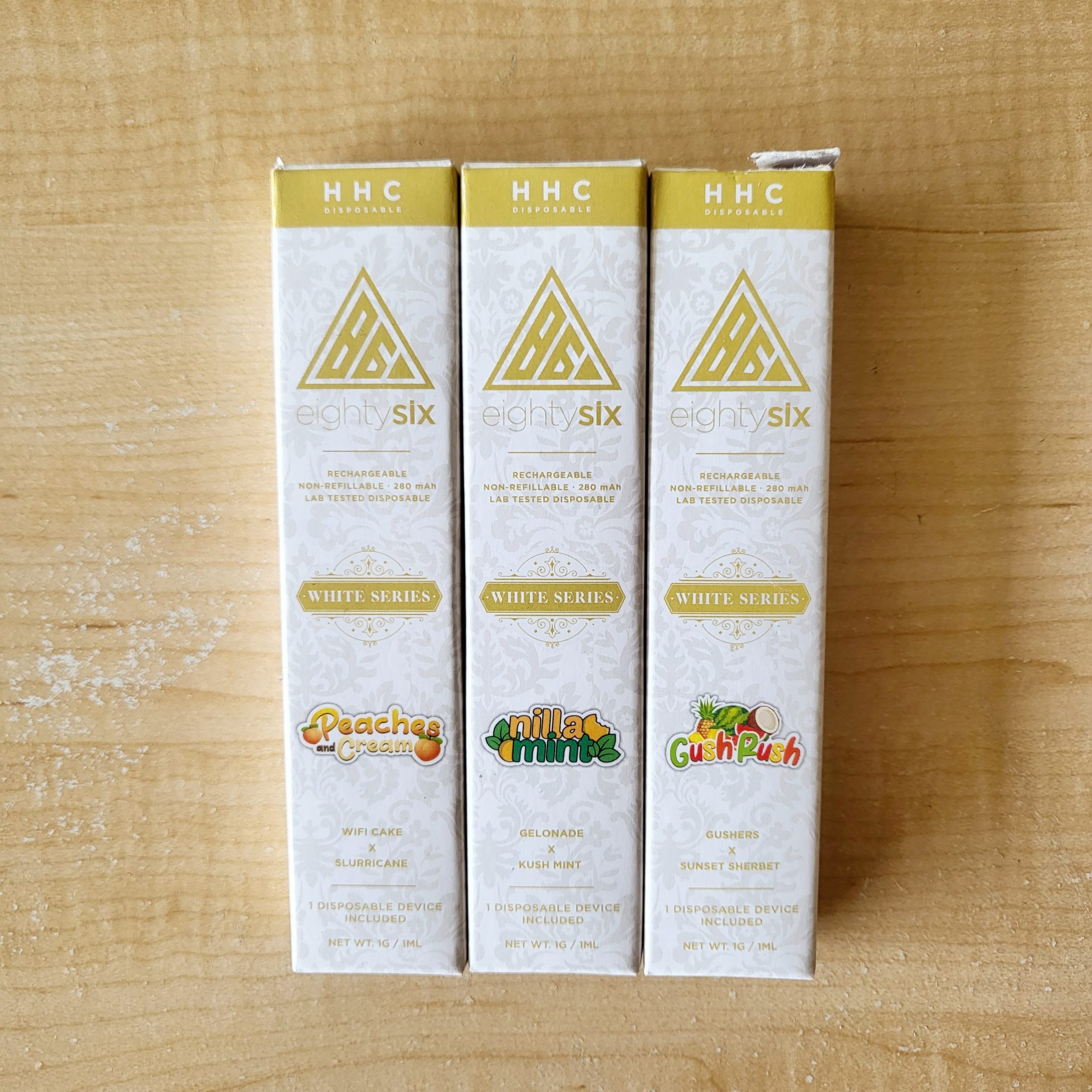 The Eighty Six Brand HHC disposables are elegant and white, whereas the Delta-8 disposables are sleek and black
Before my thoughts on each three, let's take a look at their packaging, which is similar to their other lineups of disposables. The HHC disposable comes in a thin white box clearly labeled White Series with the strain name and logo artwork printed on the front of the box. The 280mg disposable is draw-activated and rechargeable via a USB port located on the bottom of the unit, much like their counterpart Delta-8 and THC-O disposables. 
(Side Note: While each one's experience may be different, I personally enjoy the more balanced high of HHC over the effects of Delta-8, Delta-10, and THC-O. In my case, HHC provides better and stronger medicinal effects than other alternative cannabinoids.)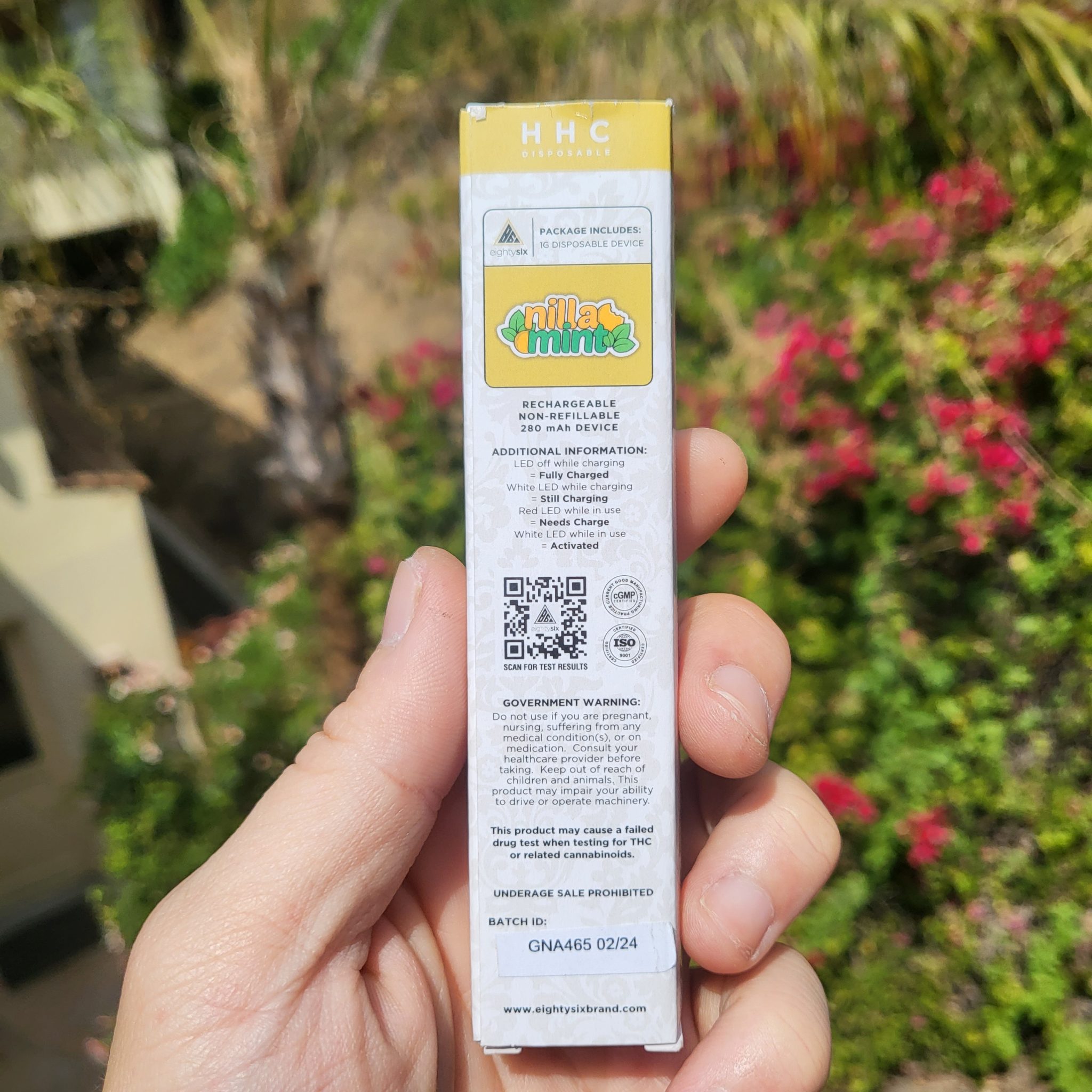 The three current strains for their HHC disposables are Nilla Mint, Peaches N Cream, and Gush Rush
The first one I tried was their Nilla Mint, which is their cross between Gelonade x Kush Mints. This one felt slightly more Indica dominant as its effects are listed as happy, social, and relaxed. The flavor of Nilla Mint is earthy, spicy, and nutty with notes of citrus, mint, and pine.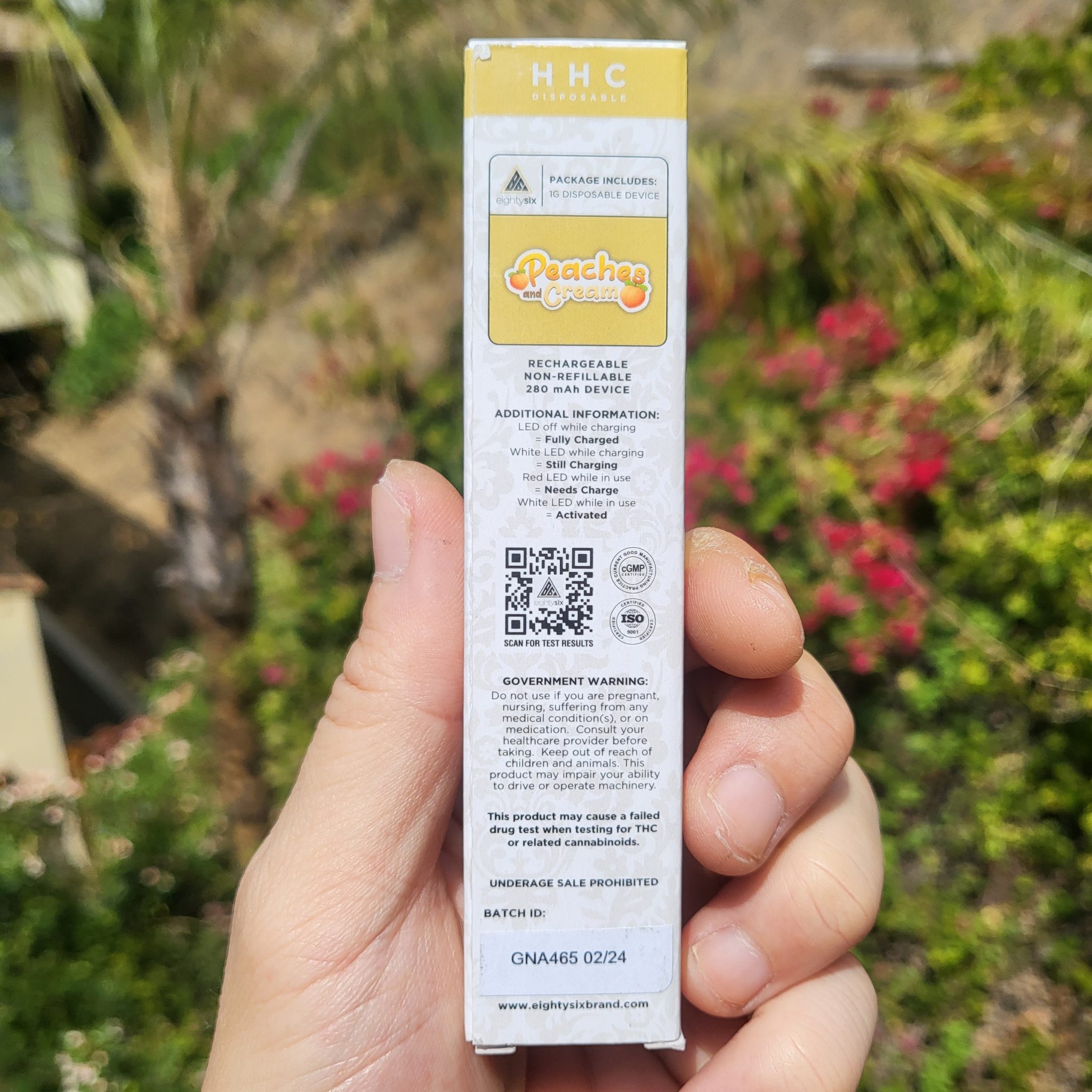 The best of the bunch is their Peaches N Cream with its sweet orange vanilla creamsicle flavor
The next one I tried was their Peaches N Cream, which is their cross between Wifi Cake and Slurricane. The flavor of Peaches And Cream is easily the tastiest and smoothest of the three, less spicy than Nilla Mint and less earthy than Gush Rush. The effects of Peaches N Cream felt slightly heavier as its effects are more creative, sleepy, and euphoric. The flavor of Peaches N Cream also tastes better than Nilla Mint with its sweet orange vanilla creamsicle flavor.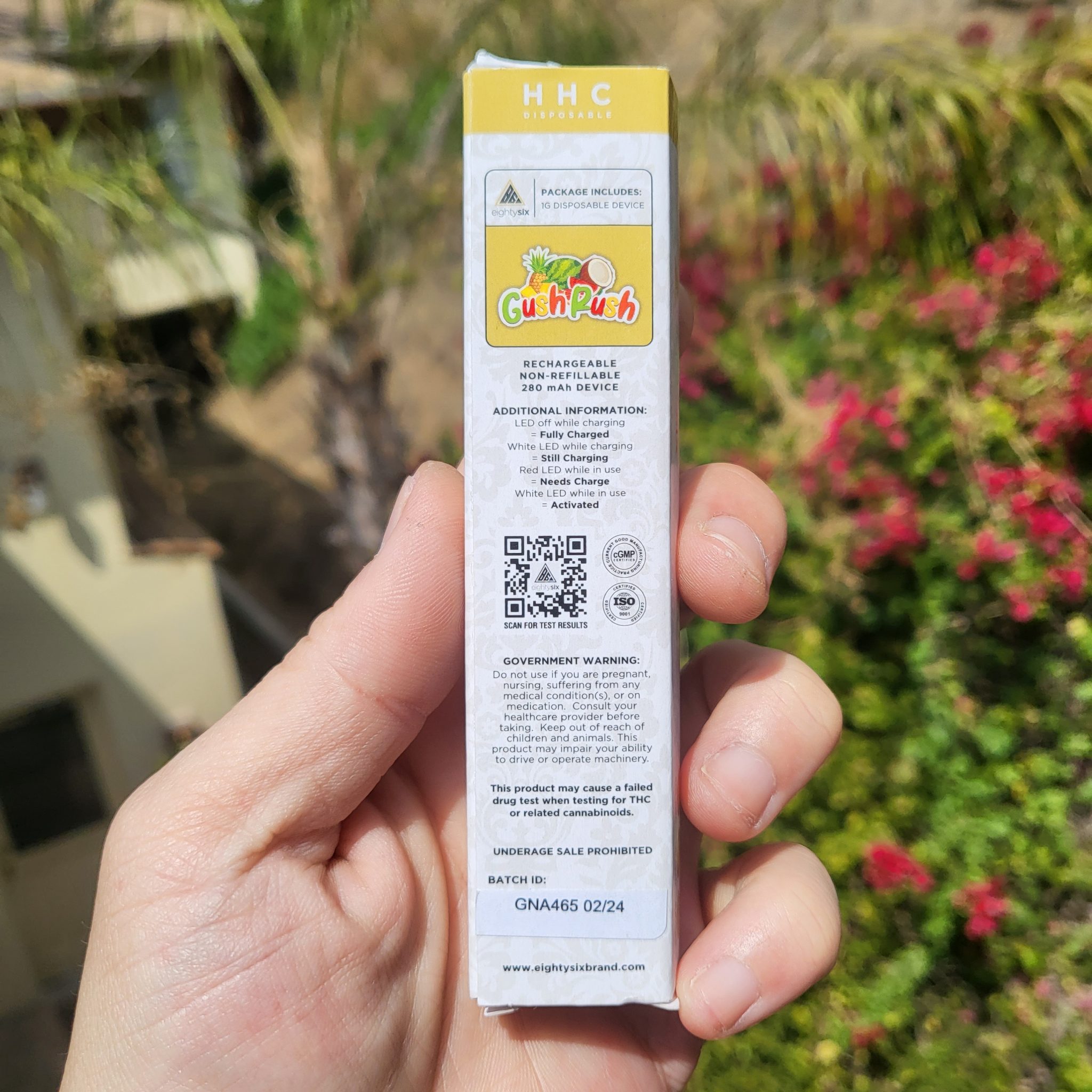 The most disappointing of the bunch is their Gush Rush with its harsh generic flavor
Lastly, I tried their Gush Rush, which is their cross between Gushers and Sunset Sherbet. While it sounded as tasty as their Cereal Milk Delta-8 disposables, it felt like the most disappointing of the three with a harsher, earthier yet still very generic taste. The effects of Gush Rush felt perfect for any time of day as it felt focused, relaxed and euphoric. Despite looking forward to this one, their Gush Rush felt mostly disappointing.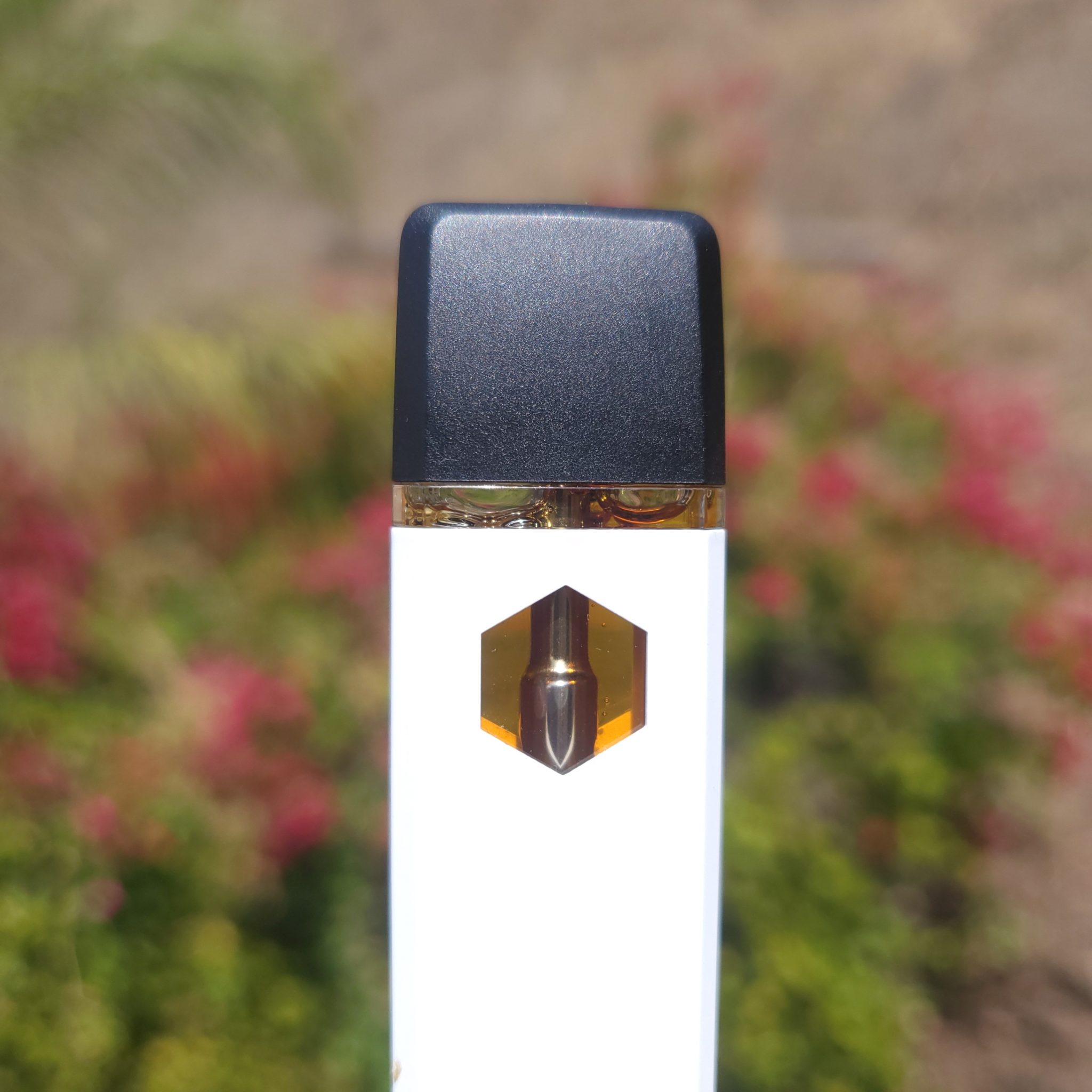 The full retail price for each disposable from Eighty Six Brand is $29.99 per unit
While Eighty Six Brand Delta-8 disposable felt solid yet harsh, the Wild Orchard Hemp HHC disposables felt more potent with their formula. Their proprietary formula contains a balanced mix of full-spectrum HHC, THC-O, and Delta-8 THC with natural terpenes. On the other hand, the hardware for Smilyn THC-O and Hellfire Delta-10 disposables have the option of using variable voltage settings.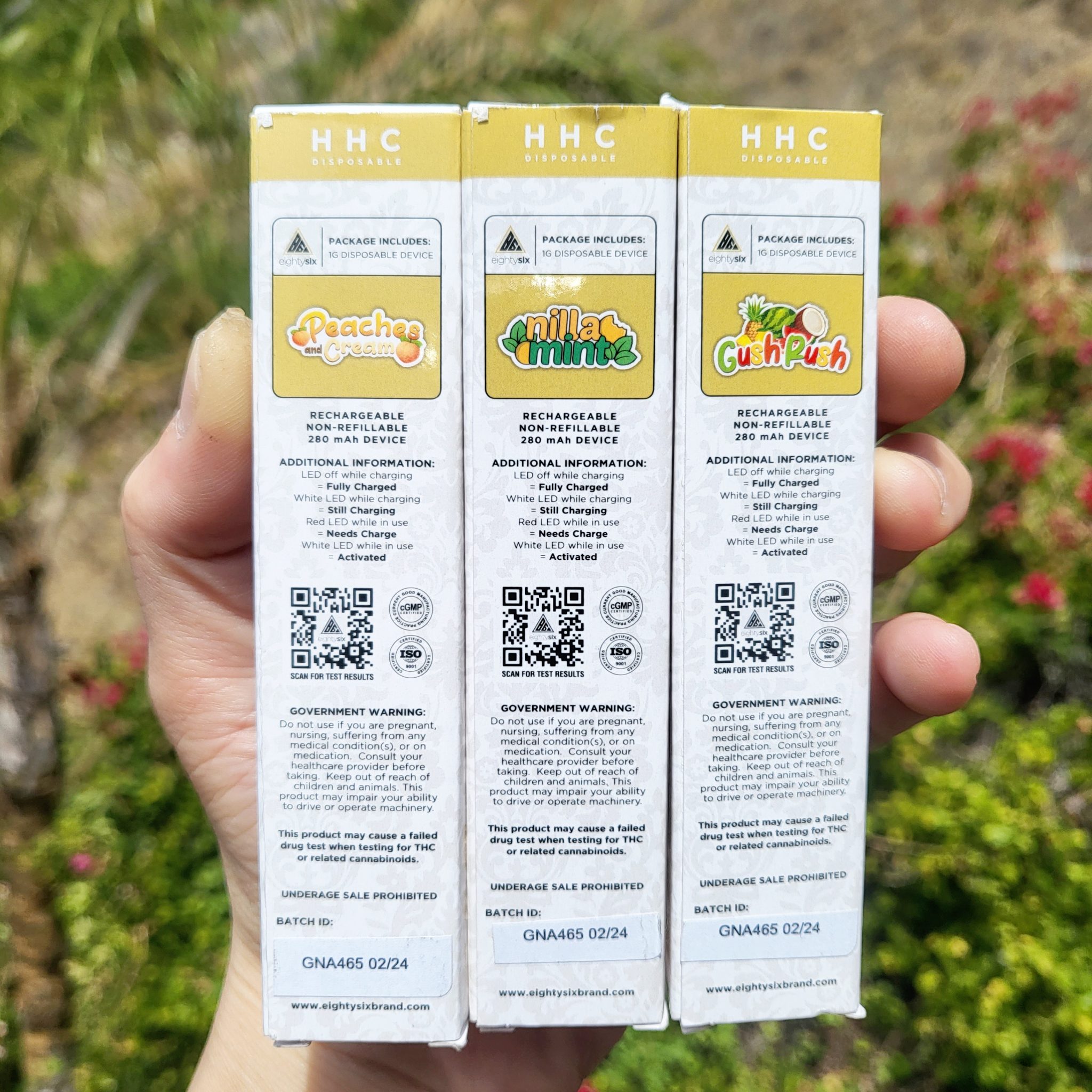 Ultimately, Eighty Six Brand HHC disposables rank as one of the best I've had so far
So, the bottom line is: These Eighty Six Brand HHC disposables would be a definite recommendation for their elegant design, solid potency, strong airflow, and improved oil visibility at a fair price. Overall, I would highly recommend Peaches N Cream and Nilla Mint, but felt Gush Rush was subpar in terms of its flavor and smoothness. While I would recommend Peaches N Cream for the best flavor, the Nilla Mint is still recommended for its relatively stronger potency and effects. All things considered, these might be my favorite HHC disposables that I've sampled so far.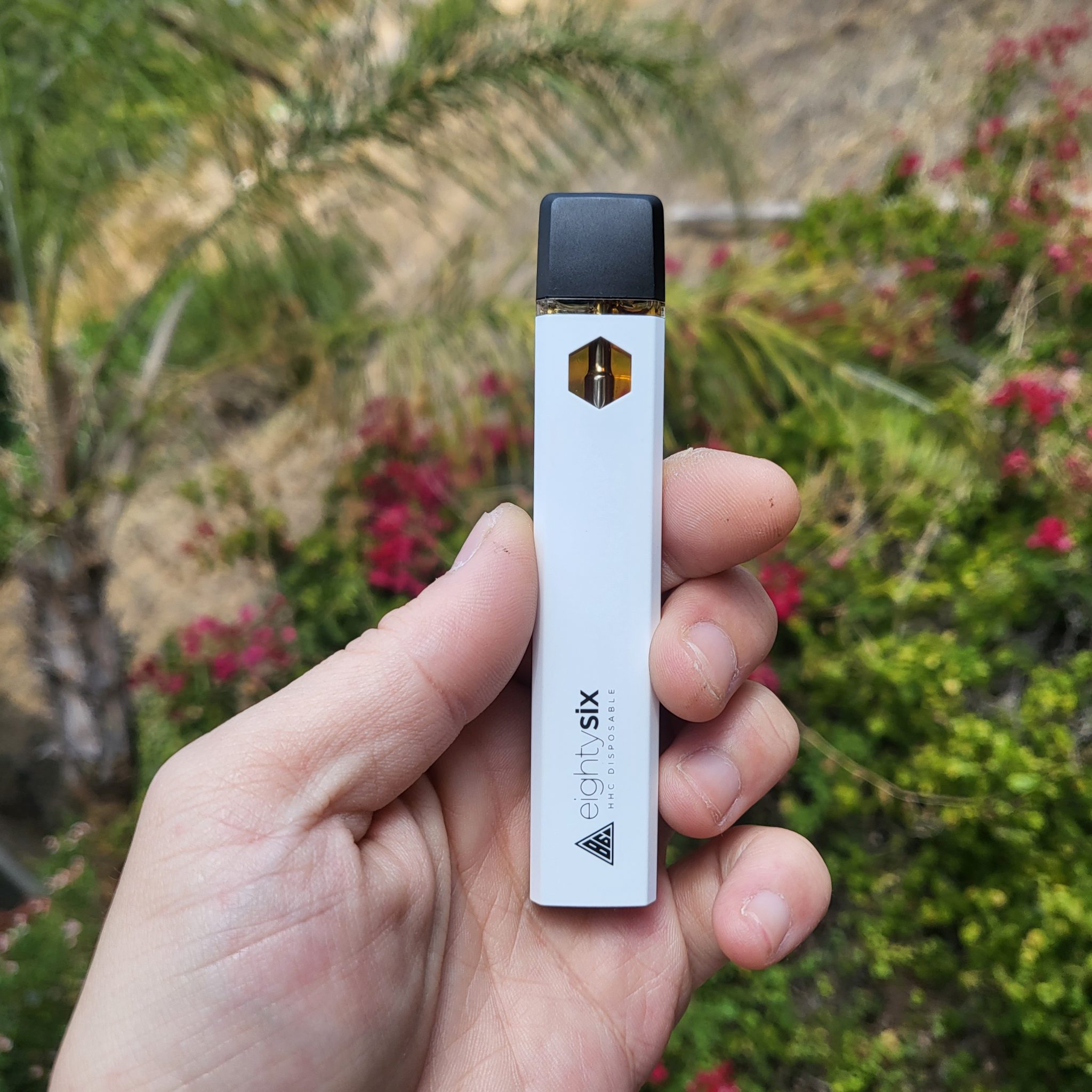 Currently, the White Series HHC disposables are out of stock on their official website until further notice.
Have you tried White Series HHC disposables? Let us know in the comments or on our forum.