Our "WeedStock Report" will post here every Friday, rounding up the stocks and business news in the cannabis industry. Investors can pick up a tip or two here, while the rest of us can bask in the reassurance that big business money means cannabis legalization will march on.
This just in…
---
Cronos stock plunge blamed on vape scare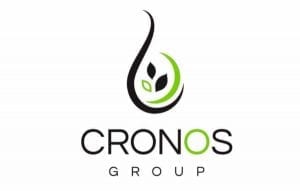 It's Friday the 13th, which is quite a fitting day given the recent vaping scare from black market cartridges and the impact on the legitimate market. Canadian company Cronos has already taken a 50% drop from its peak since March, a loss blamed on struggling sales. But an additional 5% drop recently is blamed on the vaping crisis, at least at Investor Place.
With a death toll up to six and many more hospitalized, tainted vape cartridges have become an epidemic. The latest evidence at least confirms black market vape cartridges are the culprit, with indications that vitamin E acetate and other illicit vape juice cutting methods are the root cause. Yet by the time this story gets through to the typical TV news 6 o'clock broadcast, nothing is left but the word "vape," and all vapes, legal or not, get blamed in the public's reaction.
Meanwhile Canadian Aurora Cannabis Executive Chairman Michael Singer expressed worries over the impact of the vaping crisis in the US. Canadian cannabis industries are regulated by Health Canada, enjoying full government backing which US cannabis companies still lack at the federal level.
President Donald Trump has called for a ban on "flavored e-cigarettes," which, predictably, is several doors down from the real problem and executing the wrong scapegoat at that. It's like banning coffee because somebody went blind from drinking moonshine. In fact, punishing the legal market just makes more room for the black market to take over, so it's even throwing gas on the fire.
Likewise, people are backing off buying vape products at the counter until more is known about the epidemic. We just hope they aren't turning to black market cartridges off the street instead.
---
California legal trade crippled by black market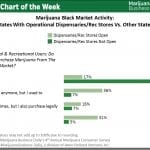 Some 3K illegal marijuana businesses turned up in a California audit. That's three times the size of the legitimate, registered market. The United Cannabis Business Association counted 2.8K unlicensed dispensaries and delivery services in California, while the CA BCC reports a mere 873 licensed, legal businesses. In parallel, a financial audit predicts that unregulated cannabis businesses in California will have a volume of $8.7 billion, towering over the $3.1 billion frequently projected as California's legit sale target for the year.
Cannabis industry spokespersons are leading the call for regulation to stop fake vapes and other illicit cannabis trade. One part of the problem is that while cannabis is being regulated on a state level, on the federal level it's still illegal. This fuels illicit products, hinders research and limits the ability to develop consistent regulations. Aaron Smith, executive director for the National Cannabis Industry Association, calls the vaping-related deaths and illnesses "yet another terrible, and largely avoidable, consequence of failed prohibition policies."
In the meantime, the black market issue warps all financial cannabis news. Every time we look at the cannabis market, we have to remember that we're just seeing the tip of what's really going on.
---
Aurora Cannabis gets more good buzz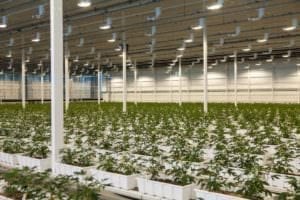 We briefly mentioned Aurora Cannabis as a good stock to watch just last week. Aurora continues its good news streak by closing a loan deal worth CA$200 million (roughly USD$150 million). The cash inflow is happening in part because larger operations have developed their infrastructure and developed material market share.
Aurora is Canada's largest medical cannabis company by revenue. Aurora is planning significant entries into the US market for CBD products derived from hemp. Aurora Cannabis just slipped from their projected net sales target of CA$100 million, reporting CA$98.9 million in fiscal fourth-quarter earnings. That's still a 94% gain over the previous quarter, nearly doubling their volume in just three months. Despite this, Aurora stocks dipped 8.3% this week.
Much of the Canadian cannabis strategy hinges on prospective developments in US legalization progress. For instance, Canopy, another Canadian firm, is reaching out to New York-based Acreage Holdings for an agreement to buy Acreage should the US government remove federal prohibition.
---
Til next time, fans, stay lit!